The Macallan 1824 Master Series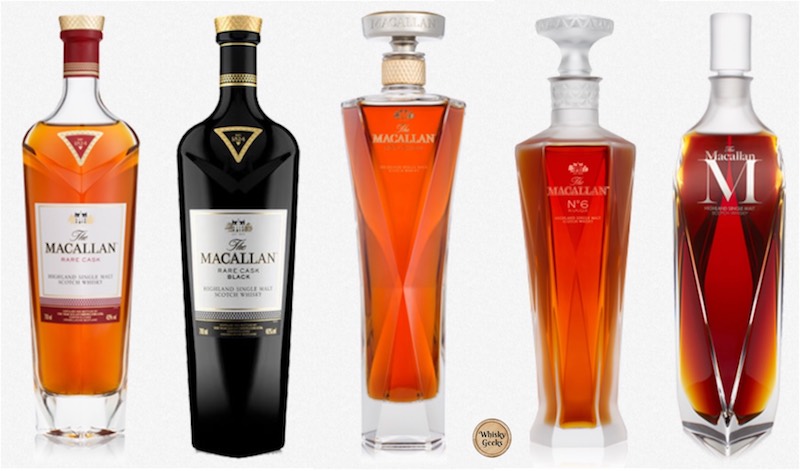 The Macallan 1824 Master Series is a luxury range within The Macallan portfolio. It showcase the top-notch quality of The Macallan's use of sherry casks and each expression increase in rarity as you go up the tier. All the whiskies in the range are hand selected by their Master Distiller, Bob Dalgarno. The 1824 Master Series is a level up from the 1824 Series that we have shared previously. This Master Series starts with the Macallan Rare Cask, which is one tier higher than Ruby, the last of the 4 bottles in the 1824 Series.
The luxury range of The Macallan 1824 Master Series are made with first-fill, 100% sherry-seasoned casks. It showcases the 100% natural colour that The Macallan is so proud of, and the beautiful spectrum of colours brings to life the interaction of the peerless spirit and the exceptional oak casks. The Macallan's unique Six Pillars are definitely at the heart of this luxurious collection.
The Macallan has taken time to release the 1824 Master Series, starting with the Rare Cask and the Macallan M, before releasing Reflexion and No. 6 to complete the series. The Rare Cask Black was later introduced to the market as a peated expression to contrast the Rare Cask. Each expression is housed in striking decanter, with the decanters getting more and more preciously beautiful as you go up the tier. The angled decanters in the higher tiers are specially made to reflect the "M" in Macallan. The exquisite details of every decanter is as amazing as the liquid itself.
The rarity of the series can be sum up in an auction house in Hong Kong, where the Macallan M was sold at a whooping USD$628,205!! That's what we called opulent!
In Singapore, the 1824 Master Series was introduced through various mediums, including an exclusive launch of the Rare Cask where the public was invited to a tasting session. The whole series were introduced again during the Edition No. 1 launch in Singapore, where The Macallan hosted "Toast the Macallan" event at the Black Swan in 2016. In that event, both the 1824 Master Series and the Edition No. 1 were given equal priority. It was also during this event that they introduced the Rare Cask Black to the general public.
The exclusivity of the 1824 Master Series makes it hard for normal whisky lovers to have a taste of the exquisite whiskies housed in those precious decanter but getting to know the different expressions is in itself, a great experience.
Here's a video that was posted on Vimeo by Macallan's parent company, Edrington. Enjoy!
We will speak more of the individual bottles in our next few posts, so stay tuned!
Like what you have just read?
http://www.whiskygeeks.sg/wp-content/uploads/2017/08/Final_Macallan_1824_Master_Series-small.jpg
471
800
Zerlina Zhuang
http://www.whiskygeeks.sg/wp-content/uploads/2017/07/logo_WhiskyGeeks-300x138.png
Zerlina Zhuang
2017-08-09 12:12:37
2017-08-10 16:25:03
The Macallan 1824 Master Series