Back in December, Whiskygeeks was invited to an exclusive Cognac Park tasting. After trying some non-traditional Cognacs, I found an excellent malternative.
What is a malternative?
As enjoyable as whisky might be, having too much of a good thing could get boring or burn you out. It's essential to give your palate a break sometimes, and a Malt Whisky Alternative, or Malternative, could give you such a change. 
Good whisky Malternatives should be quality spirits as well, and one such example is Cognac.
What is Cognac and how is it made
Cognac is an aged grape spirit from the region of Cognac in France under a specific set of rules called the AOC designation, dictating how it can be made. You can find the document (in French) here. 
White grapes will ferment for 2 to 3 weeks till it reaches 7-10% abv. Cognac distilleries use Charentais copper pot stills for double distillation in a similar fashion to Scotch single malt. In the first distillation, the white wine becomes Brouillis, equivalent to low wines in Single Malt distillation. The brouillis, at approximately 30%, undergoes a second distillation, also known as Bonne Chauffe. The distillates then split into heads, hearts and tails, just like whisky. Only the heart portion goes into French oak barrels for maturation. The distillery will not throw out heads and tails. Instead, they will add the head and tails back into the wine or brouillis for the next distillation. Both distillations require about 24 hours in total, so the Charentais pot stills are running 24/7 during distillation. 
The cognac "new-make spirit" or eau de vie goes into French Limousin oak casks for maturation. The angel's share is around 3% on average, slightly higher than Scotland.
How is it different from Whisky?
In whisky, producers use a wide variety of barley strains, but Cognac distilleries primarily use Ugni Blanc after the phylloxera mould crisis of the 1960s. The grape is disease resistant, high in acidity and low in sugar. Such properties make Ugni Blanc a suitable grape for making Cognac. Cognac Park uses approximately 60% Ugni Blanc for their Mizunara range. Imagine if the SWA proposed that rule to use barley varieties like Golden Promise, Triumph or Bere Barley. 
The Charentais stills for cognac distillation use must be direct-fire heating as well. Many Scottish distilleries, on the other hand, that have switched to steam coils.
Unlike Scotch and many other spirits, Cognac distillation, with accordance to the Cognac Appellation, can only occur around late November to March. 
What makes Cognac Park different?
Cognac Park is in the Borderies, the smallest growing cru in the region, just 4,000 hectares under vineyard cultivation. The soil in the Borderies is prized for its limestone and chalky properties. This terroir could be the reason why cognac from this region has characteristic floral notes of violet. Cognacs in the Borderies region also have a reputation of requiring a shorter maturation time for the same quality. The entire Cognac Mizunara collection are all Single Cru Cognacs meaning that the grapes used are exclusively from the Borderies region.
The Mizunara casks used for Cognac Park must be virgin casks; which means that it cannot have aged spirits before, similar to bourbon. The Mizunara cask finish also cannot extend beyond 12 months. Otherwise, the cask could lose its appellation, and the cask cannot be considered a Cognac anymore.
Tasting the Cognac
Now to the Cognac! The Cognac Park Mizunara matures in French oak for 4 years before a  6-month finish in virgin Mizunara casks. This NAS was one of my favourites before the I tasted Single Cask. With the 10-year-old Mizunara, it generally has more Cognac characters with a nice layer of Mizunara complexity. However, due to the longer 10-month finish in virgin Mizunara casks, the patient drinkers amongst us will be rewarded. Regardless, I would definitely recommend this to anyone who enjoys Cognac previously.
The vintage 2006 single cask was extraordinary, primarily due to its higher alcohol strength that allows the cognac's complexity to shine. This single cask portrays many flavours similar to a youthful yet tender single cask whisky. The last Cigar Blend was mindblowing as well in terms of age and taste. The Cigar blend contains cognac ranging from 25 to 32 years old that has leather and tobacco flavours similar to sherried single malt in its mid-twenties or older!
Many thanks to Spirits Castle for the invite to this exclusive tasting. These bottles can be bought locally here! If you are interested in the tasting notes, I have left my opinion down below!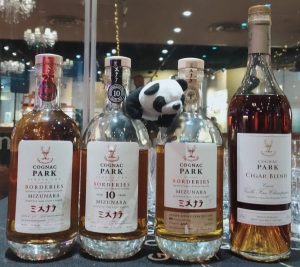 Cognac Park Mizunara Finish
Nose: Notes of raisins, dried fruits. Insense notes, a hint of black pepper and sandalwood. With water, notes of brioche started to appear. 
Palate: Orange peel, sandalwood, incense, herbal note, earthy notes. With water, oak spice and sandalwood.
Finish: Herbal note, vegetal notes, sandalwood, With water, cinnamon spice and black pepper.
Cognac Park 10yo Mizunara Finish
Nose: Soft nose, rich raisins, figs, red apples, black pepper, umami note, floral notes, milk chocolate. With water, cinnamon, star anise, brioche, oak and honey.
Palate: Floral note, orange peel, parfait armour, ripe red apple. With water, vanilla, cinnamon and toasted oak.
Finish: Incense note, black pepper spice, raisins and walnuts.
Cognac Park 9yo 2006 Single Cask Mizunara Finish
Nose: Green Pears, hints of orange, honey, herbal note, black pepper, vanilla, lemon zest. With water, more confectionary sweetness and green apples
Palate: sandalwood, vegetal note, earthy notes, umami notes, confectionery sweetness, With water: green apple, herbal sweets, minty cooling sweets
Finish: sandalwood, black pepper, incense note. Water: more minerality, raisins.
http://www.whiskygeeks.sg/wp-content/uploads/2020/01/IMG20191221185511-e1578201601341.jpg
758
850
Hong Fu Teo
http://www.whiskygeeks.sg/wp-content/uploads/2017/07/logo_WhiskyGeeks-300x138.png
Hong Fu Teo
2020-01-31 11:08:06
2020-01-31 11:10:45
Mizunara Matured Malternative