Whisky Review #20 – The Macallan 1824 Master Series – No. 6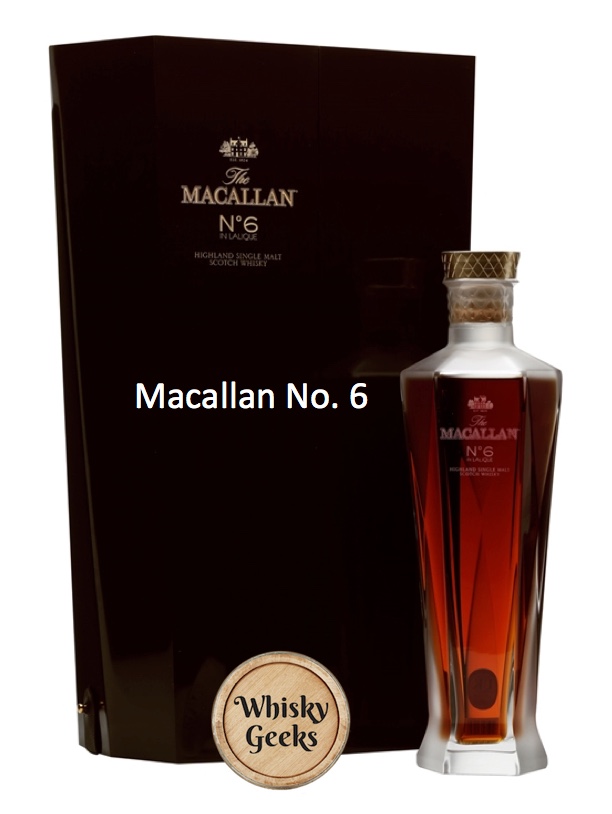 The Macallan No. 6 is the second highest tier of the Macallan 1824 Master Series, and also the last to be released in early 2015. Its rarity only second to the Macallan M, the No. 6 is highly valued and considered to be a highly desirable expression in the Macallan 1824 Master Series.
The Macallan No. 6 combine the art of Bob Dalgarno, Macallan's Master Distiller, and the talented craftmen of Lalique, the makers of exquisite crystal decanters. The result – an amazing whisky encaused in a stunning, most stylish crystal decanter make with the finest materials.
This rich and complex whisky expression is matured in first fill sherry seasoned oak casks that were handcrafted by the master craftmen of Jerez de la Frontera, the cooperage that creates exclusive sherried Spanish oak casks. All the casks that were used in this expression were ordered from this single cooperage in order to create a whisky that is unique and rich in flavour and character. The result is the perfect balance of the quality and character of a classic Macallan.
Here's a video from Edrington Group on the Macallan No. 6
Tasting Notes:
Colour: Spanish Sunset
ABV: 43%
Nose: Raisins, figs and dates march right in at the first sniff, while sultana and toffee apples add texture and depth to this whisky. The flavours of raisins are dominates – dark and rich with great viscosity. Ginger and cinnamon dances at the edges gently. The ginger is slightly dry but the cinnamon is soft. The complexity of the nose is further enhanced by dark chocolate, slightly bitter-sweet but not overpowering as sweet vanilla lingers in the background to complete the sweet profile. (16 points)
Palate: Taste just like a rich and sumptuous fruit cake with raisins, dates, figs, apple, sultana and orange. Ginger, nutmeg, cinnamon and the hints of clove follows after while the velvety oak notes softly mix into the palate. (15 points)
Body: Comforting and luxurious, the whisky envelopes you like a warm blanket. Well-balanced and full of character, the No. 6 feels just like family. (30 points)
Finish: A long and full finish that is like no other, it is silky smooth and rich. (15 points)
Total Grade: 76 points
Comments:
Geek Flora: "Its almost feminine character connects with me immediately, bringing to mind a warm security blanket. Well-balanced between sweet and spice, this whisky is a frisky lady. Definitely something that you would like to pick up if you have the means to!"
Like what you have just read?
http://www.whiskygeeks.sg/wp-content/uploads/2017/08/Final_Macallan_No_6.jpeg
814
612
Zerlina Zhuang
http://www.whiskygeeks.sg/wp-content/uploads/2017/07/logo_WhiskyGeeks-300x138.png
Zerlina Zhuang
2017-08-10 15:32:39
2017-08-19 22:33:56
Whisky Review #20 – The Macallan 1824 Master Series – No. 6