WhiskyGeeks is not just another blog.  We are also a provider of private whisky classes for corporate clients and small groups.
WhiskyGeeks welcome enquires from companies who want to run team bonding whisky events or whisky appreciation classes. Contact us for more information on our customised packages for corporate clients.
If you have a group of friends or family who want to learn more about whisky, we can run a private whisky class for you. Due to Covid-19 restrictions, we can only run online sessions via Zoom at the moment. WhiskyGeeks will be open to offline sessions at your home in future.
For more information about our private sessions, please contact us.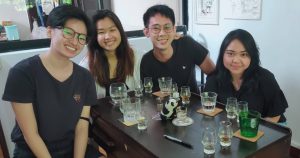 About the Speakers:
We have two speakers running our private events. They work together to bring the best of their expertise to every session.
Teo Hong Fu (Left)
Hong Fu is a passionate whisky geek who went to Scotland to pay homage to the distilleries there. He also travelled to Spain to look at Spanish Sherry bodegas. As our resident technical geek, Hong Fu has first-hand knowledge of a working distillery and could share a lot of information with you. He also experiments with whisky maturation, and have plenty of stories to tell you about his adventures in oak chips maturation. Hongfu's qualification in whisky & spirits includes WSET Level 2 in Spirits (Pass with Distinction).
Zerlina Zhuang (Right)
Zerlina is a writer, a businesswoman and a whisky lover. She started the blog in 2017 and has grown the blog into more than just articles. When Hong Fu joined the company in 2019, the duo decided to share their joint knowledge about whisky through classes and private whisky sessions. Zerlina is a history buff who reads up on distilleries, as well as the history of whisky. There are many nuggets of whisky history from Scotland, Ireland, Wales and Japan that she could share with you. Zerlina's qualification in whisky & spirits includes (2019) Whisky Ambassador, (2020) EWA Introduction to Whisky (SQA-Certified) and (2021) WSET Level 2 in Spirits (Pass with Distinction).