Here's a new whisky event that Geek Flora and Choc went to in less than a week! Bruichladdich Old vs New event happened at The Single Cask on 9 May 2018. Hosted by both bar manager Brendan and Bruichladdich APAC Brand Ambassador Chloe Wood, it was an awesome evening filled with history and amazing whiskies.
The Lineup
The lineup on 9 May was a stellar one. The liquids came from different eras of the Bruichladdich distillery. We had a Signatory Vintage 1990 Bruichladdich, 26 Years Old, a Single Malt of Scotland 1992 Bruichladdich, 23 Years Old, the X4+3 and the Islay Barley 2010 from the distillery itself. The oldest whiskies came from independent bottlers as Bruichladdich was in a less than desirable situation in the 1990s when it still belonged to Invergordon. If you followed our article about the distillery, you would know that Bruichladdich closed in 1994 and did not reopen until 2001.
The X4+3 was a unique expression as it was quadruple-distilled and aged for only three years (hence the name X4+3)! It came from the era of Mark Reynier and Jim McEwan, the legendary distiller. It is almost impossible to find a bottle now, so if you manage to find one, BUY IT! The Islay Barley 2010 is, of course, one of their newer expressions when the distillery came under the guidance of their current master distiller – Adam Hannett.
The Event Proper
The event started not with the whiskies, but with pizzas and garlic bread, compliments from the good folks at The Single Cask and Bruichladdich. After they fed us, the event started with Brendan and Chloe up on "stage".
They explained that they originally wanted to start the tasting session with the old vintages, but changed their minds. They were starting with the youngest one! The reason was simple – we are likely to taste the difference better when we did the young to the old. So, that's precisely what we did!
Islay Barley 2010 (50% abv)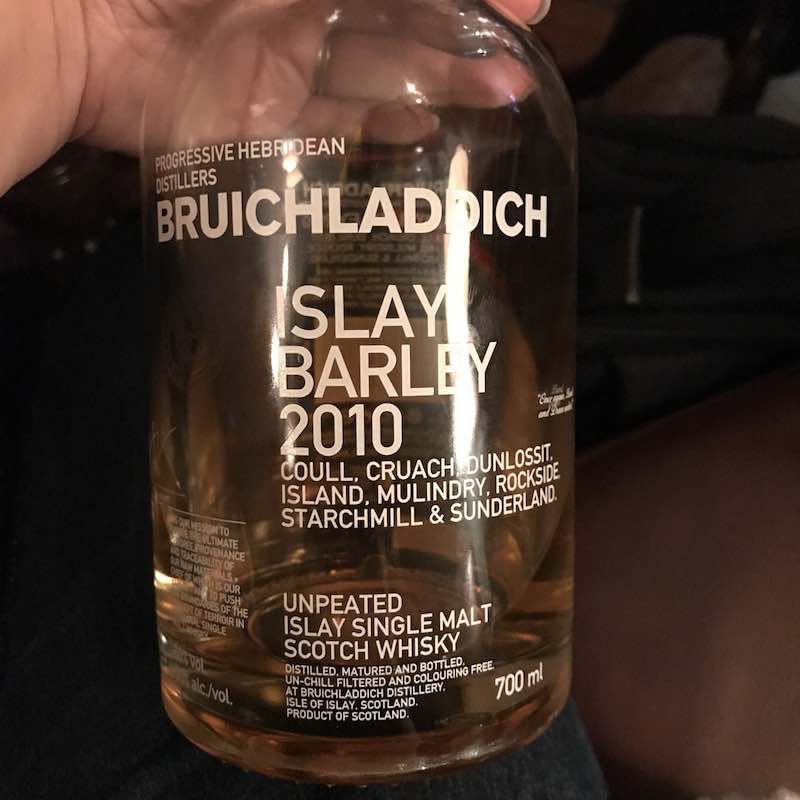 The Islay Barley is slightly different from the regular Scottish Barley as it has a salty tint to it. We would like to think that it is due to the Islay barley used. While the typical sweetness of a Bruichladdich is prominent, there is this unique coastal salt, and toasty cereal notes to it. The spice is also sharper than the regular Scottish Barley. Overall, it is a lovely dram that you can enjoy any time of the day.
X4+3 (63.5% abv)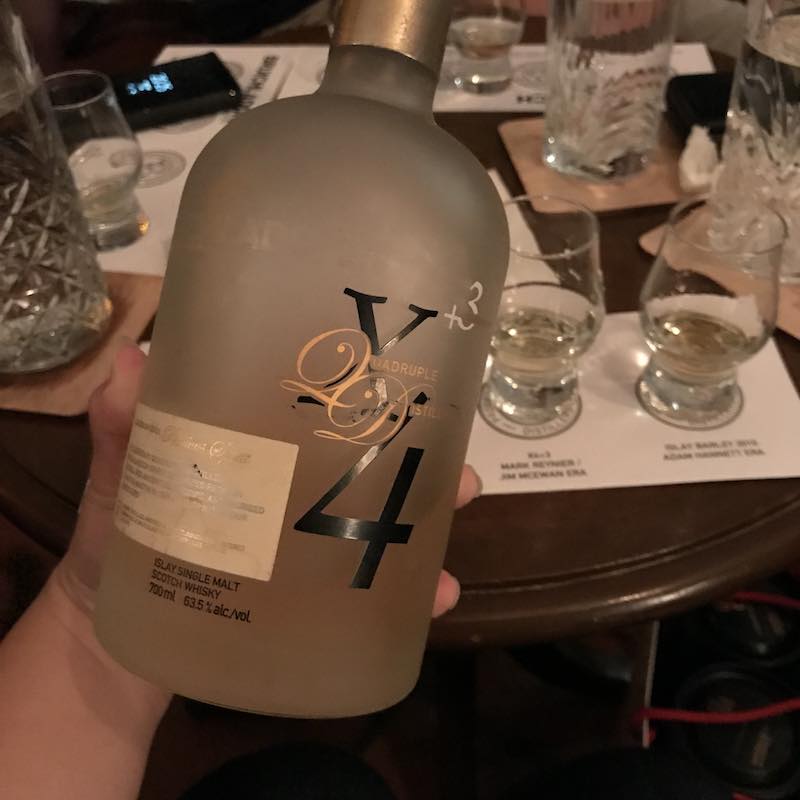 X4+3 is exceptional. That is Geek Flora talking, by the way. The sweetness of the whisky is so distinctively pears, green apples and melons! This is one whisky for the sweet tooths! The palate has hints of coastal salt and lemons coupled with light tangy spice at the tip of the tongue. Even though this is only aged for three years, the creaminess and oiliness of the whisky are remarkable. We supposed it has something to do with it being quadruple-distilled.
SMOS 1992, 23 Years Old (55.4% abv)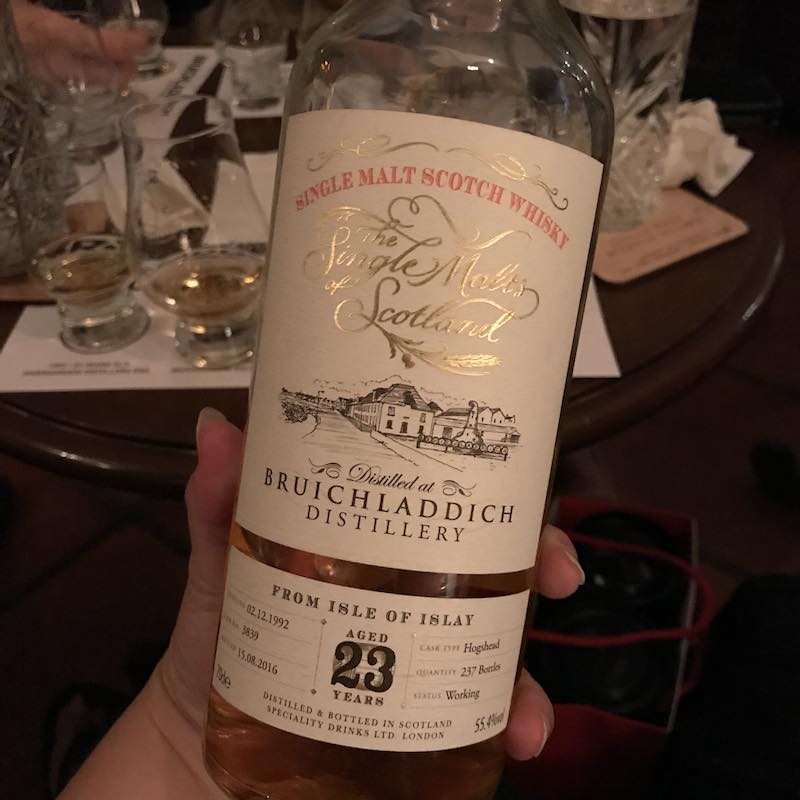 The SMOS 1992 was one of the crowd's favourite that night. As it was from the Invergordon era, the distillate differed slightly from the modern ones. There was this pine note within the whisky, which kind of differentiate it as a whisky made for blends (we think). The nose was fresh with pine, melon and lime. The palate presented a bouquet of flowers, with oak, light melon and hints of lime. Warm spice lingered in the middle and back of the tongue. Unfortunately, the finish was short with pine-oak and floral notes. It was also dry. Again, the finish showcased a whisky that was perfect for blending, but not so great perhaps, as a single malt due to a rather short finish at such a high abv.
Signatory Vintage 1990, 26 Years Old (53.4% abv)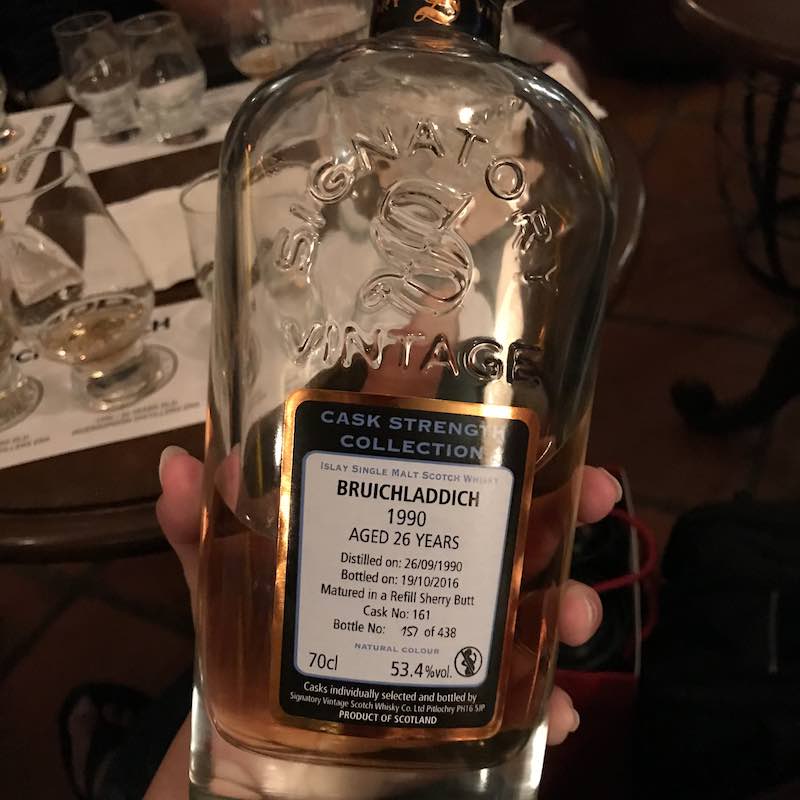 As for the Signatory Vintage 1990, it was a little different because it was a sherry-cask matured whisky. However, it appeared to be slightly lacking as it did not showcase typical sherry notes. The nose was promising, with cherry, hints of cranberries (some say baby vomit), green apples and some savoury salted meats. The palate was warm spice, red fruits and hints of salt. While the finish is long, salty and dry, it did not give a high satisfaction. Were our expectations too high? We are not so sure.
After Party at The Single Cask
We stayed way longer than we planned to (as usual). Initially, it was to savour and finish our drams, especially the X4+3 and the SMOS 1992. As the crowd left and the bar quietened, it became a great place for conversation. We had a chat with Chloe and a fellow Laddie fan, Fiona, and spoke about Laddie t-shirts! Haha! So, we decided to take this photo below.
It was such a beautiful picture, isn't it! Chloe and Brendan had on the Bruichladdich Polo Tee, while Geek Flora and Choc had our Unicorn Bruichladdich and Octomore Tee. Fiona was wearing her 2017 Feis Ile tee! We love this so much that we named it the "Laddie fans united with our Laddie Ambassador" picture!
A Laddie Cocktail
Just as we were about to leave, Brendan said, "How about an Islay Barley Whisky Sour?" We just had to stay for that because Brendan made terrific cocktails! Most of you who know Flora personally know that she is not a cocktail person, but she took two big sips from this glass that she shared with Chloe. It was the perfect answer to how yummy this whisky sour was. Stunningly balanced between the sweetness and the alcohol, this whisky sour is probably something that you will keep wanting to come back for.
After emptying the glass, it was time to head home. So we bid goodbye to Brendan and Chloe and made our way back. It was an excellent evening to be sure. If you have never been to a Bruichladdich event, come to the next one. We promise that you will not be disappointed.
Like what you have just read?
http://www.whiskygeeks.sg/wp-content/uploads/2018/05/The-4-lineups.jpg
800
800
Zerlina Zhuang
http://www.whiskygeeks.sg/wp-content/uploads/2017/07/logo_WhiskyGeeks-300x138.png
Zerlina Zhuang
2018-05-14 19:22:47
2018-05-14 19:22:47
Whisky Event – Bruichladdich Old vs New