Before formally launching WhiskyGeeks classes on the website, WhiskyGeeks did various classes at bars pre-COVID. In 2019, we linked up with our friends in Copper and The ExciseMan Whisky Bar to conduct some classes. In recent months, we have also been doing virtual zoom sessions.
Here are some of the classes we did before. If you are interested in a private session for any of the below, gather 5 friends or more and we can conduct the class online for you. Otherwise, you can wait for a rerun of the classes in future! We are sorry that face to face classes are not available at the moment due to the restrictions in place for the prevention of COVID-19.
Remember to follow us at our various social media groups for more classes!
Many drinkers of sherried whisky today have not tried sherry, and we wanted to change that. In this class, participants learnt more about the different types of sherry, how it's made and how those kinds of sherries influence the whiskies. We had an in-depth discussion about Fino, Amontillado, Oloroso, Cream Sherry and Pedro Ximenez. It was a fun experience seeing participants enlightened by the various genres of sherry!
We explored terroir and peat and explored the differences between Aberdeenshire peat, Orkney peat and Islay peat. In addition, participants tried Islay peat used in Scotch, Welsh and Indian Single Malts! We discussed the measurement of Phenols parts per million (PPM) and its flaws.
Blended Scotch used to be all there is in the past, and subsequently, we saw the rise of Single Malt in the 20th century. But how did Blended Scotch taste like during before the rise in prominence of Single Malt?
Participants learnt about the differences between the Blended Scotch of yesteryear (the 1980s) and those today, and possible reasons why. We delved into mechanics of whisky blending as well and got participants to blend their own little dram of blended scotch!

We explored the accelerated maturation of whisky and about different types of accelerated maturation in the industry. For the accelerated maturation done in Singapore, we had 4 different kinds of cask types at both short and long intervals of ageing; this was a massive 10-dram tasting (30ml x 1, 10ml x 9). When asked for their opinions between shorter and longer intervals of acceleration maturation, the room was always split in opinion of preference.
Mizunara matured whisky was once a necessary compromise but now, a luxury. What is mizunara oak, and how did it come to be?

We explored the nature of Mizunara oak and how mizunara-matured whisky works in blends. To show our participants how Mizunara oak influence whisky, we aged Springbank 12 Years Old in Mizunara oak in 3 different stages and participants experienced how the oak affects the flavour of the whisky!
Introduction to Whisky Flavours
Most introduction to whisky classes talks about the whisky regions of Scotland. However, we feel that a more modern way to introduce the wide world of whisky is to talk about flavours and what flavours contribute to those flavours.
We discussed the various aspects of whisky that can apply to whiskies outside of Scotland. In addition to that, we taste and identified the various whisky profiles to help participants determine which styles of whisky they prefer and so that they could seek them out from whisky shops.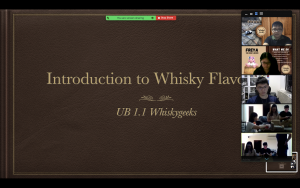 Want to find out our latest upcoming class? Check it out here.
We have two speakers running our classes. Both of them work together to bring you the best experience for online whisky classes.
Teo Hong Fu (Left)
Hong Fu is a passionate whisky geek who went to Scotland to pay homage to the distilleries there. He also travelled to Spain to look at Spanish Sherry bodegas. As our resident technical geek, Hong Fu has first-hand knowledge of a working distillery and could share a lot of information with you. He also experiments with whisky maturation, and have plenty of stories to tell you about his adventures in oak chips maturation. HongFu's qualification in whisky & spirits includes (2021) WSET Level 2 in Spirits (Pass with Distinction).
Zerlina Zhuang (Right)
Zerlina is a writer, a businesswoman and a whisky lover. She started the blog in 2017 and has grown the blog into more than just articles. When Hong Fu joined the company in 2019, the duo decided to share their joint knowledge about whisky through classes and private whisky sessions. Zerlina is a history buff who reads up on distilleries, as well as the history of whisky. There are many nuggets of whisky history from Scotland, Ireland, Wales and Japan that she could share with you. Zerlina's qualification in whisky & spirits includes (2019) Whisky Ambassador, (2020) EWA Introduction to Whisky (SQA-Certified) and (2021) WSET Level 2 in Spirits (Pass with Distinction).