Whisky Review #19 – The Macallan 1824 Master Series – Reflexion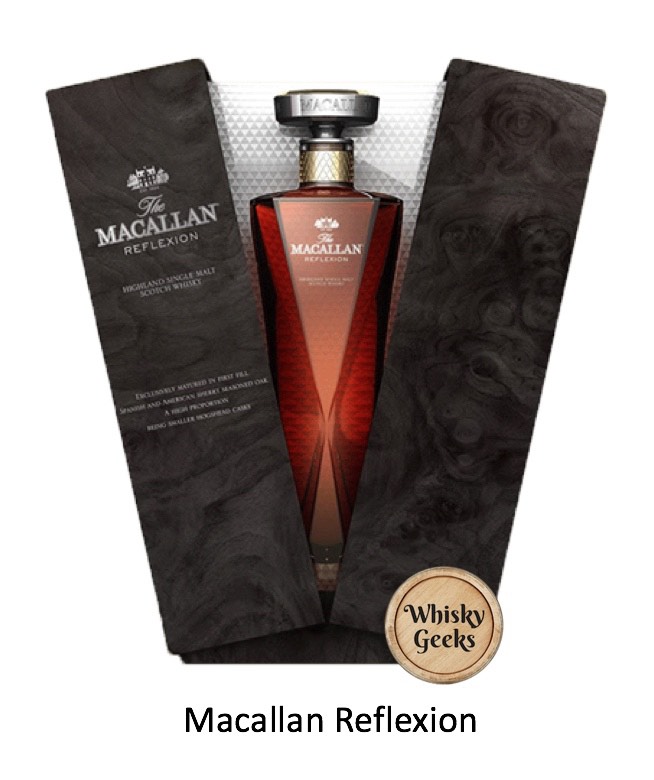 The Macallan Reflexion is the next in terms of rarity and price level in the 1824 Master Series. Originally the second bottle in terms of rarity after the Rare Cask, it has been "levelled-up" to the third most expensive bottle in this series after the Rare Cask Black has been introduced.
The Macallan Reflexion marries the natural colour and the beauty of The Macallan, reflecting the influence of first fill sherry seasoned oak casks. This exceptional expression draws its colour and flavours through maturation in smaller hogshead casks. The smaller capacity allows a greater surface interaction between the spirit and wood, creating an intricate character that is driven by both Spanish and American oak casks.
The colour of this magnificent whisky is further enhanced by the angular facets of the beautifully crafted decanter, making this bottle one of those precious collections that one would like to have displayed at home. Additionally, the complex flavour of The Macallan Reflexion, which is derived from the excellent casks that were selected by Macallan's very own Whisky Maker, Bob Dalgarno, adds to the completeness of this expression.
Here's a video from Edrington Group showcasing the Macallan Reflexion
Tasting Notes:
Colour: Blood Orange
ABV: 43%
Nose: Fresh orange and citrus fruits found in an open market meets the nose with fresh zest before fading to fresh green apples. The sweetness rush in afterwards – chocolate, thick fudge, boiled sweets; caramel toffees overwhelms the senses before you get hints of white chocolate truffles. A stunning hint of banana in fresh oak arrives at the end to create a wonderfully complex nose. (16 points)
Palate: Light citrus zest opens up the palate similar to what it does on the nose before the limelight is stolen by a juicy sweetness of lemon and orange. In the background, raisins, sultana and apples, coupled with a hint of cinnamon and ginger linger. (15 points)
Body: The complexity of the whisky give rise to a well-balanced and full-bodied whisky. The intense colour, flavour and character of the whisky makes this expression a very enjoyable drink. (30 points)
Finish: A medium to long soft finish with boiled sweets and a tint of toasted oak. (14 points)
Total Grade: 75 points
Comments:
Geek Flora: "Feels pretty much like the Rare Cask when I first tasted it, but the intense flavours started to come out as I allowed the liquor to linger in the mouth. That intense sweetness reflected the sherry wonderfully. The complexity of the whisky gave me a sense of pleasure as I swallowed, ending the drink with a wonderful sweetness as I finished. Quite a perfect whisky I think!"
Like what you have just read?
http://www.whiskygeeks.sg/wp-content/uploads/2017/08/Final_Macallan_Reflexion-small.jpg
780
654
Zerlina Zhuang
http://www.whiskygeeks.sg/wp-content/uploads/2017/07/logo_WhiskyGeeks-300x138.png
Zerlina Zhuang
2017-08-10 14:16:52
2017-08-19 22:33:16
Whisky Review #19 – The Macallan 1824 Master Series – Reflexion