Whisky Review #23 – The Single Cask Macduff 19 Years Old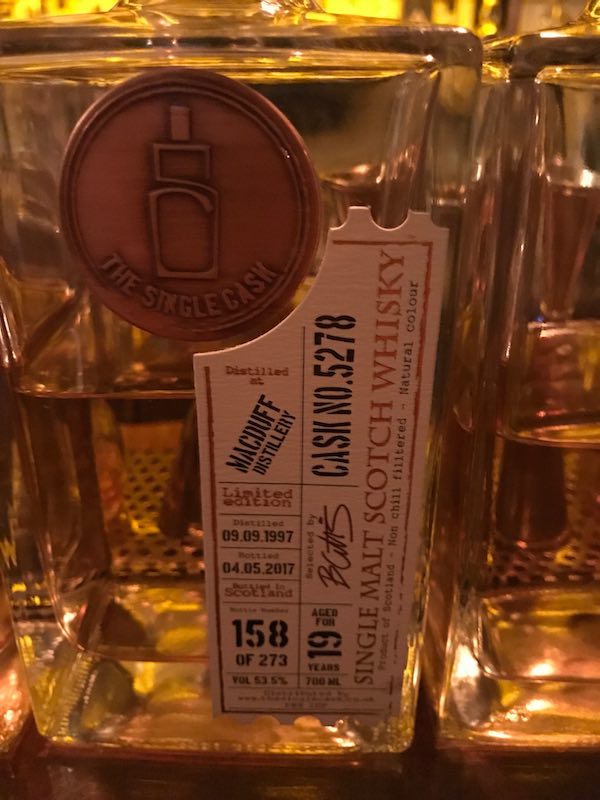 The Single Cask Macduff 19 Years Old is a single malt from Scotland Speyside. As a Scotch, it has a certain reputation to uphold. Featuring the similar sweet notes that are typical in a Speyside Scotch, the Macduff 19 Years Old is bottled at cask strength. Despite the high alcohol contents, the whisky is surprisingly mellow and an extremely pleasant drink.
The Macduff distillery is considered as an unfashionable distillery in Speyside because much of its whiskies go to Dewar for the making of the Dewar whisky. Macduff does not have a lot of single malts to its name, but the two that are known are Glen Deveron and The Deveron. The Glen Deveron can be found in DFS in Singapore. Currently owned by Bacardi, the distillery still provide whisky to blending houses, but has developed a range of its own single malts.
The bottle from TSC is distilled in 1997, and matured in bourbon casks for 19 years before it was bottled in 4 May 2017.
Tasting Notes:
Colour: Dark Gold
ABV: 53.5%
Nose: Floral with some fruity and citrus sweetness are the first to meet the nose. Hints of oak floats in soon after. Slight tints of vanilla at the background. Surprisingly mellow with hardly any hint of spice despite the high ABV. (16 points)
Palate: Sweet and malty at the first sip; flowery oak notes greets you before spiciness hits the side of the palate. Vanilla notes lingers in the back. After aeration of a few minutes, the palate changes with the vanilla notes taking a stronger hold. The spiciness also follows with a stronger bite. After aeration of 10 minutes, the spice mellows and takes a back seat and citrus notes overpowers everything else. (18 points)
Body: An extremely well-balanced whisky with some surprise up its sleeves. The mellowness is not expected but it made the drink pleasant and easy. Aeration of the whisky also brings out more flavours to add complexity to the drink. (34 points)
Finish: Medium to long finish with the sweet and citrus notes lingering for a time. (16 points)
Total Grade: 84 points
Comments:
Geek Flora: "This is a pleasant drink that caught my attention from the first sip. The surprising mellowness and the balance between sweet and spice makes this a wonderful drink for any occassion." 
Like what you have just read?
http://www.whiskygeeks.sg/wp-content/uploads/2017/08/Macduff-19-Years-small.jpg
800
600
Zerlina Zhuang
http://www.whiskygeeks.sg/wp-content/uploads/2017/07/logo_WhiskyGeeks-300x138.png
Zerlina Zhuang
2017-08-13 21:56:28
2017-08-19 22:35:58
Whisky Review #23 – The Single Cask Macduff 19 Years Old