Whisky Review #32 – The Single Cask English Whisky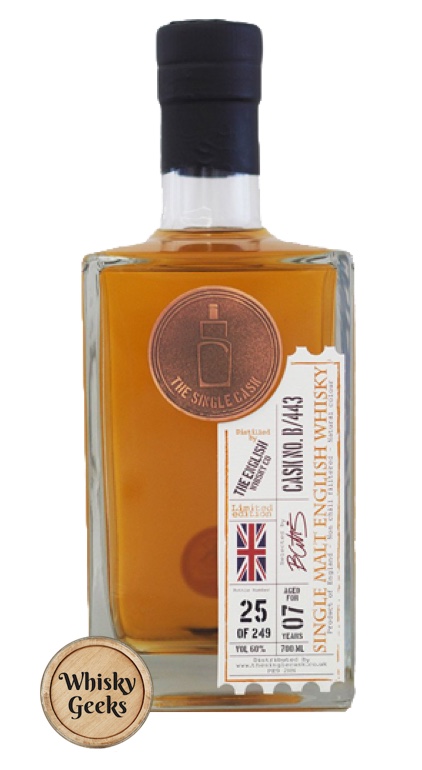 English Whisky is truly one rare whisky which everyone's got to try. The Single Cask (TSC) has specially chosen a whisky that is not from Scotland for this bottling. It is from England, hence the name "English Whisky". This whisky is a fantastic dram to chill with even though it is only aged for 7 years. Do take note that it is a small release with only 249 bottles if you are interested to get one!
Tasting Notes:
Colour: Straw
ABV: 60%
Nose: If you like peanut butter and smoked honey bacon, this is for you! The notes of peanut butter with sweet corn juice drift up the nose before smoked honey bacon invades. Hints of salt and wet wool follow after. (18/20 points)
Palate: It is sharp and spicy with a big punch, as expected from the high alcohol content. Rich and buttery on the palate, smoky oak chips follows the spice before giving way to hints of toasted nuts and creamy vanilla ice cream. Gradually, it gets dry on the palate like a crisp Sauvignon Blanc. (17/20 points)
Body: Well balanced whisky with a punch. Sharp and spicy versus rich and buttery, it has quite a complex flavour profile. (31/40 points)
Finish: A long and dry finish with a pleasant hint of vanilla ice cream (16/20 points)
Total Grade: 82/100 points
Comments:
Geek Flora: "This whisky definitely lives up to TSC's motto of fine-quality single malt. A complex flavour profile coupled with its small batch release, this is a whisky that should fly off the shelves fairly quickly." 
Like what you have just read?
http://www.whiskygeeks.sg/wp-content/uploads/2017/08/English-Whisky-25-YO.jpeg
770
422
Zerlina Zhuang
http://www.whiskygeeks.sg/wp-content/uploads/2017/07/logo_WhiskyGeeks-300x138.png
Zerlina Zhuang
2017-08-28 00:37:09
2018-01-26 16:07:47
Whisky Review #32 – The Single Cask English Whisky