Whisky Review #22 – The Single Cask Diamond Rum 12 Years Old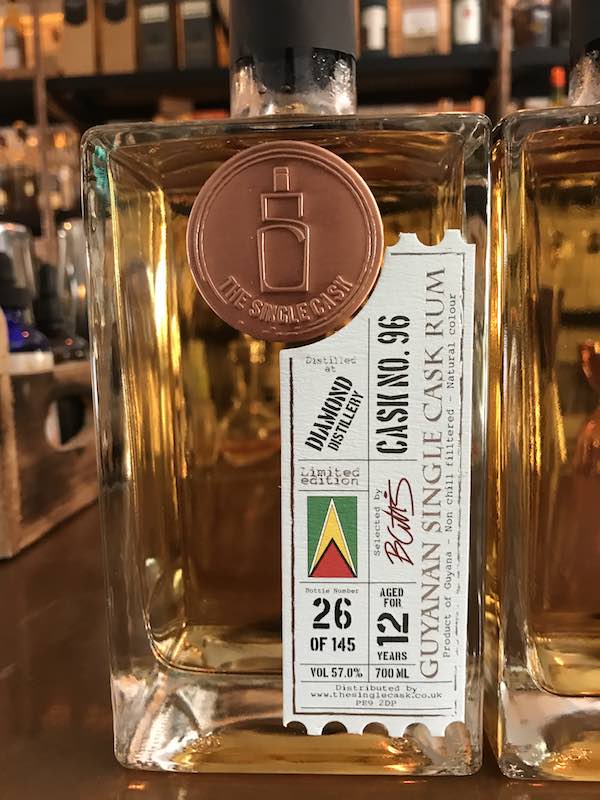 Rum is of course, very different from whisky and it might not sit well with whisky lovers, especially those who are Scotch fans. The Diamond Rum 12 Years Old is bottled at 57% but the original cask strength of this rum is a crazy 71%! Shocking for whisky fans perhaps, but this is a rum that is worth exploring. It needs some time for aeration, allowing the air to mix with the alcohol so that the flavours and characteristics of the rum can fully be developed for enjoyment. Every 10 minutes of aeration creates something new in the rum.
Tasting Notes:
Colour: Dark Red
ABV: 57%
Nose: At the first nose, you can only think of brand new sticky tape or perhaps nail polish remover. The sticky acidity is high and it burns your nose with it. As you allow it to aerate, some whiffs of cane sugar float in, followed by molasses towards the end. (15 points)
Palate: Acetone engulfs the mouth immediately; the tingle of spiciness hits right after the acids begins to fade. Rock sugar sweetness comes after, with hints of lemons and oranges. Rock sugar overwhelms the citrus zest soon after and sweetness is all you get. Aeration after 10 minutes will bring you new flavours. Now, cane sugar takes centre stage, and the rum becomes even sweeter, reducing the acetone into the background. The citrus notes become stronger and sit well together with the cane sugar. (17 points)
Body: A relatively well-balanced rum that is sweet acid. With such high ABV, it is reasonable to have the burn. The cane sugar softens the acidity and makes the rum a relatively easy drink.  (34 points)
Finish: The finish was short at first, with the sweetness evaporating almost immediately after you swallow. After aeration, the finish becomes longer, the citrus and cane sugar lingers for a while. (15 points)
Total Grade: 81 points
Comments:
Geek Choc: "The overpowering spiciness overwhelms me almost immediately. The waves of acidity further burn the tongue and throat to prevent further enjoyment for me at the first try. However, after patiently waiting for the aeration to take place, the rum becomes more pleasant as the sweetness gets stronger and I acknowledge that it can be a pleasant drink for some. For me, I just prefer whisky."
Like what you have just read?
http://www.whiskygeeks.sg/wp-content/uploads/2017/08/Diamond-Rum-12-YO-small.jpg
800
600
Zerlina Zhuang
http://www.whiskygeeks.sg/wp-content/uploads/2017/07/logo_WhiskyGeeks-300x138.png
Zerlina Zhuang
2017-08-13 12:18:05
2017-10-01 22:29:42
Whisky Review #22 – The Single Cask Diamond Rum 12 Years Old