Whisky Review #44 – The Single Cask Balmenach 12 Years Old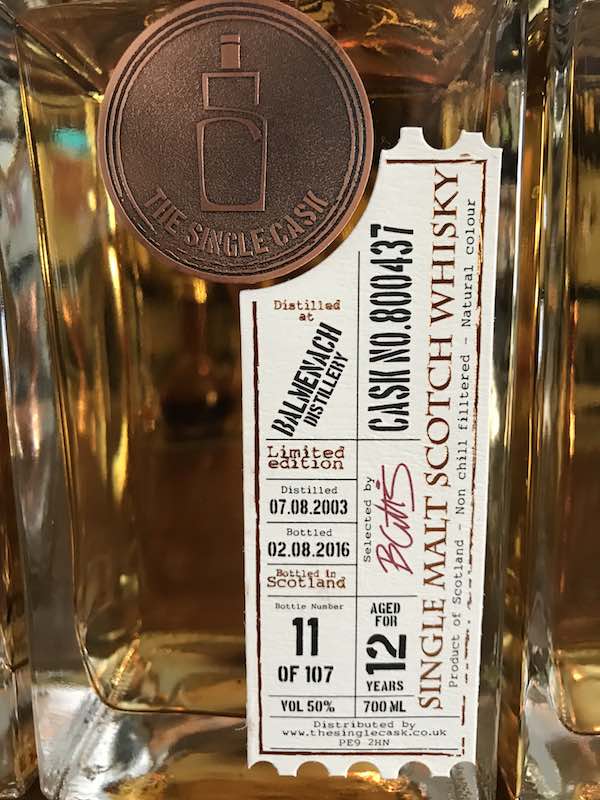 Balmenach Distillery is not a well-known one considering its links to the blending houses. In the 1800s, the distillery was one of the many illicit distilleries in Scotland. James McGregor founded the Balmenach Distillery officially in 1824 after he obtained a license. The McGregor family sold the distillery in 1992 and it was mothballed in 1993 by its new owners. Inver House Distillers bought the distillery in 1998 and the first distillate of Balmenach was produced in March 1998. The distillery provides blending houses with whisky and hardly ever bottle their own single malt. However, rumours have it that we might see something from Balmenach in 2018. The distillery also produces the popular Caorunn Gin on its premises.
Balmenach distillery uses worm tubs for distillation, which makes their whisky sulphuric. Worm tubs make use of 100m long copper coiling submerge in water for distillate to pass through. While copper usually "purify" the sulphur in the distillate, worm tubs make it harder for the copper to perform "their duties" as they have to clean the water too. That results in a new spirit that still contains sulphur.
Let's move on to the review now.
Tasting Notes:
Colour: Deep Gold
ABV: 50%
Nose: Hmm…the first nose reminds me of Juicy Fruits – the popular chewing gum flavour from Wrigley's. Sweet bananas, cherry liquorice and cotton candy blend together to create a pleasant nose. Hints of savoury meats (roast pork) and spices linger in the background. (18/20)
Palate: The entry is full of butterscotch and banana, but the spice that is promised in the nose is also on the forefront. The blend of sweet and spice makes a good balance on the palate, making it a relatively easy drink even at 50% abv. (17/20)
Finish: A long finish that is spicy with some sulphuric notes. The sulphur becomes extremely distinguished if water is taken when the whisky is still lingering in the mouth. (17/20)
Body: A superb well-balanced expression that impresses me with its quality mix of sweet and spice. The palate delivers what the nose promises and the finish does not disappoint. (35/40)
Total Score: 87/100
Comments:
Geek Flora: "This whisky brings me back to my childhood where I chewed on Juicy Fruits gums for hours even after the flavours were gone. Putting my sentiments aside, I think this whisky is a great dram as it makes a good balance on the nose, palate and finish. If you are thinking of buying your next whisky bottle, do consider this one!"
Like what you have just read?
http://www.whiskygeeks.sg/wp-content/uploads/2017/10/Balmenach-12-YO-small.jpg
800
600
Zerlina Zhuang
http://www.whiskygeeks.sg/wp-content/uploads/2017/07/logo_WhiskyGeeks-300x138.png
Zerlina Zhuang
2017-10-07 12:35:16
2018-01-26 16:13:24
Whisky Review #44 – The Single Cask Balmenach 12 Years Old