Whisky Review #02 – The Macallan Amber (NAS)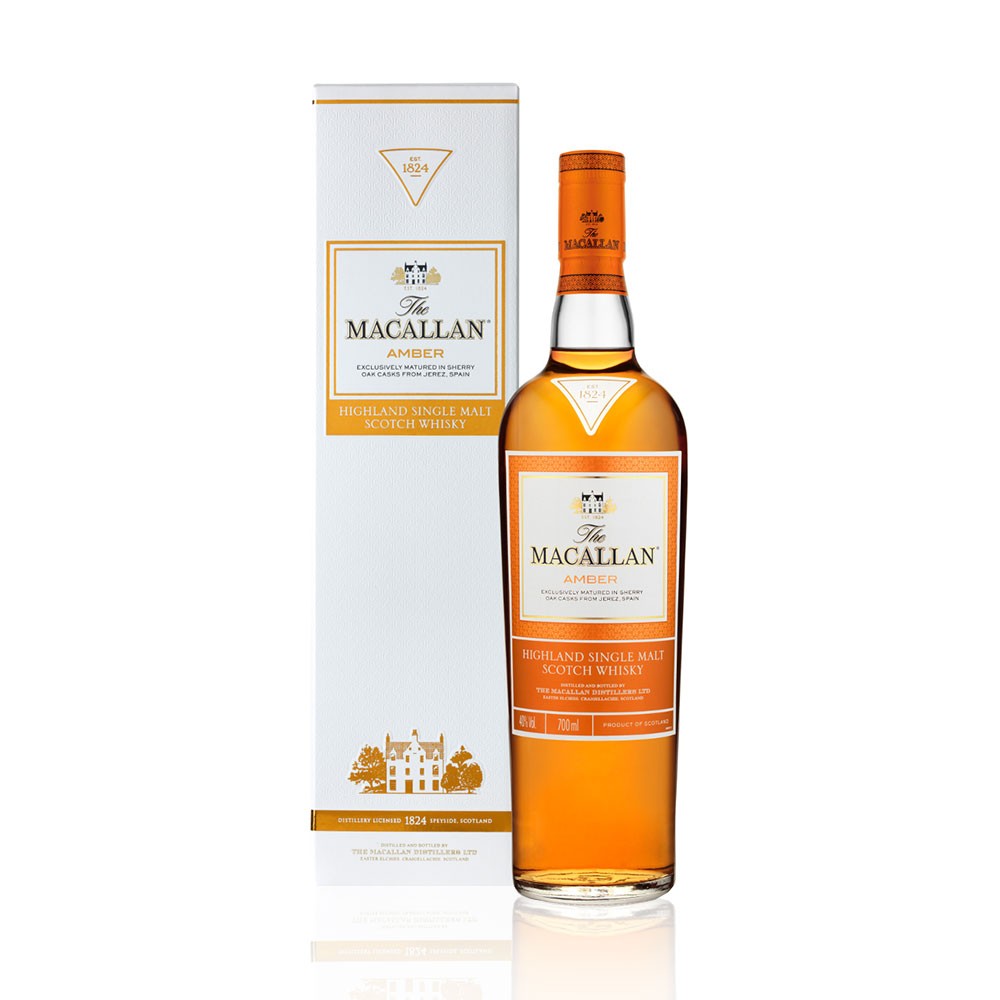 The Macallan Amber is part of the Macallan 1824 Series and one of the later batch of Macallan's ageless whiskies. In an attempt to move the whisky industry away from the age statement whiskies, Macallan boldly made the move to release limited edition bottlings that are ageless. Launched after the Macallan Gold, this whisky is a predictable, amber-coloured dram. Having matured in sherry casks, it is chosen to be more fully flavoured than the Gold.
Awards:
Bronze – Scotch Single Malt – Speyside – 2013
International Wine & Spirit Competition
Tasting Notes:
Colour: The colour is distinctly from sherry casks. The liquid glinted amber as we hold it up to the light.
ABV: 40%
Nose: Floral, citrus and sweet come on strongly as we take the first sniff. This is slowly taken over by a chorus of vanilla notes over freshly harvested grains as we take a second sniff. A subtle hint of raisins, sultana and cinnamon comes through in the third sniff before toffee apples and candy floss take over. The sweet smell can become overpowering if you are not a lover of sweet whisky. (14 points)
Palate: Fresh green apples and lemons wash over us at the first taste. The sweet citrus is mixed with cinnamon and just a hint of ginger as we rolled the liquid in our mouths. As we swallow, subtle oak lingers at the back of the mouth pleasantly. (15 points)
Body: This feels less balanced when compared to Macallan Gold as we feel that that palate does not come through as strongly as the nose, making the whisky a little disappointing. Nonetheless, the sherry casks that this whisky was matured in gives the body a strong sweet flavour that can be a hit with lovers of sherry casks. (28 points)
Finish: The slightly dry finish is light but it can be a medium finish for some. Soft fruits and cereal roll in our mouths for a while – quite a pleasant finish in our opinions. (15 points)
Total Grading: 72 points
Like what you have just read?
http://www.whiskygeeks.sg/wp-content/uploads/2017/07/Macallan_Amber_1824_Series.jpg
1000
1000
Zerlina Zhuang
http://www.whiskygeeks.sg/wp-content/uploads/2017/07/logo_WhiskyGeeks-300x138.png
Zerlina Zhuang
2017-07-20 14:45:29
2017-08-19 22:15:21
Whisky Review #02 – The Macallan Amber (NAS)