6 whiskies suitable for the Chinese New Year Cheer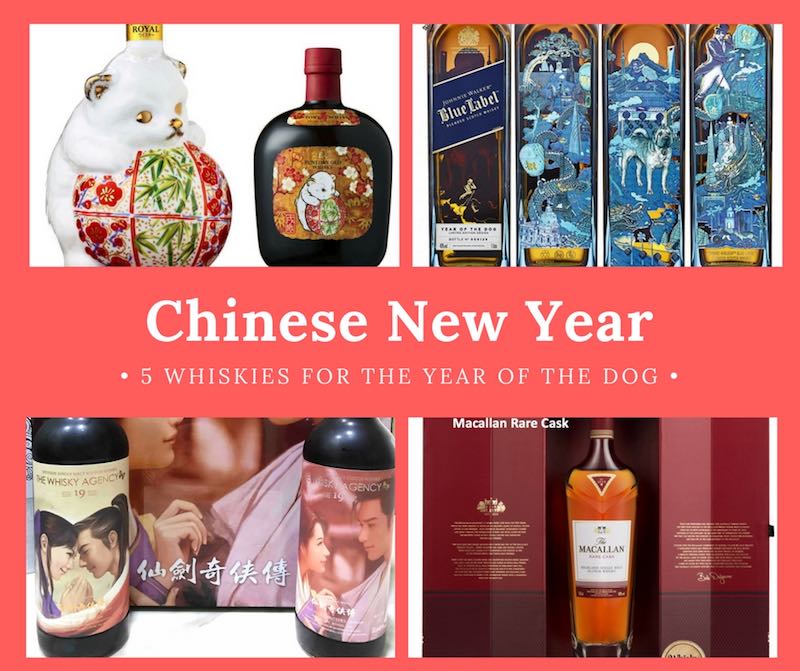 The Chinese celebrate the Chinese New Year (CNY) or Lunar New Year in February this year. As it is with all major festivals, there are some whiskies which are launched or released in limited edition bottles just for the celebration. In 2018, there are various whiskies launched for the CNY, such as The Macallan Double Cask with a CNY theme gift pack.
Our purpose is not to showcase every whisky bottle out there, but to highlight some of these bottles which we think are well-worth the dough that you need to spend to get these bottles. Some of them are even hard to come by, but we can always try!
In our opinions, these are the five whiskies/bottles which we think are perfect for the CNY celebration!
Johnnie Walker Blue Label – Year of the Dog
Johnnie Walker has been in the news recently, for their somewhat controversial decision to take a trademark for Jane Walker. We have discussed that previously, so we will not dwell on it anymore. What is more interesting is their annual zodiac bottle design for the Blue Label. This year, it is the year of the dog, and the bottle reflects it well.
As you can see from the picture, Diageo artistically covered the bottle on three sides with amazing images that symbolised both CNY and the Year of the Dog. There is even the striding man rolling a cask of whisky with a dog by his side. The pictures are exquisite and meaningful all at the same time. It is already in major retail stores and online stores, so if you are in the mood for a Blue Label, this is a bottle that you should buy!
Suntory Royal and Suntory Old
These are two different mid-tier whisky blends from Suntory, but we decided to put them together because their bottles are too beautiful to separate. Suntory releases special bottlings every year to commemorate the CNY since 1982, so it is no surprise that they came up with something exotic in 2018.
The new bottles pay tributes to the dog and showcase the loyal, yet playful nature of man's best pal. Suntory housed The Royal in a ceramic container shaped like a dog, playing with a beautifully-designed ball. For the Suntory Old, the standard bottle shape applies, but the label showcases the same playful dog with the ball.
It is hard to buy either bottle due to their limit release in Japan only, but you can try Amazon or eBay if you love these bottles. If you have a friend in Japan, you can seek his or her help to search for the bottles too!
The Whisky Agency – Glenrothes 1997
These couple of bottles are part of a twin set that launched in Taiwan recently. While it is not part of a CNY packaging, it took inspiration from a favourite Chinese video game. Known in Mandarin as 仙劍奇俠傳 (The Legend of Sword and Fairy), it is a perfect gift for the CNY.
The duo came with two different pictures of the Chinese video game main characters. The story links Chinese martial arts (wuxia), mythical creatures (shenmo), fantasy and love. It has an exciting plot and a somewhat controversial ending, but it is a beautiful game for those who are into role-playing games. For those of us who are only into whisky, the graphics on the bottles are appealing. They came in a beautifully-designed box, and the set includes the two bottles, two Glencairn glasses and two ceramic coasters!
We ordered this set from Taiwan, and it is not easy to buy it here in Singapore or elsewhere in the world. Due to its nature as an independent bottling, these bottles are all limited edition.  If you are interested in obtaining a set, get in touch with us, and we will link you up accordingly!
Macallan Rare Cask Red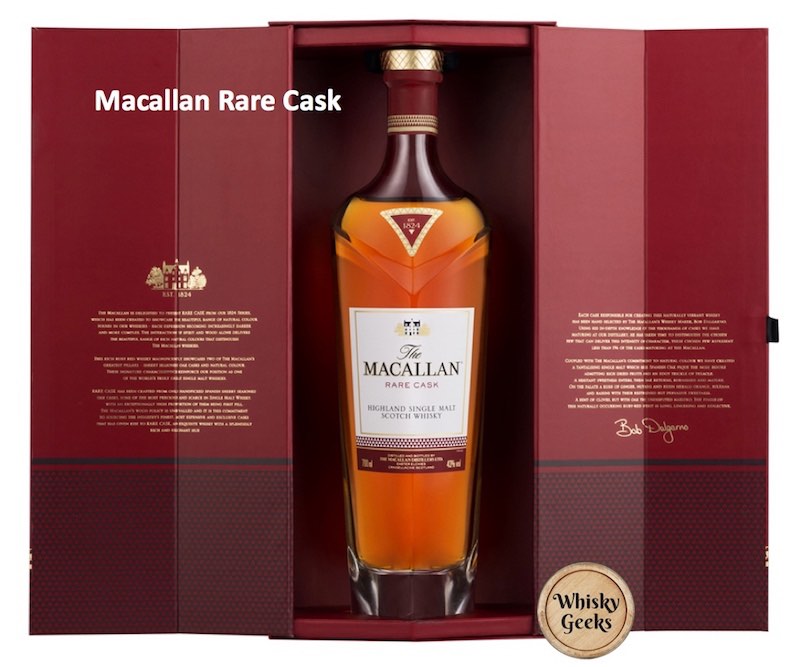 Finally, let us end the post with a familiar bottle.  The Macallan Rare Cask Red launched a few years ago to much fanfare. As the entry level to the prestigious 1824 Master Series, it is one of the most popular bottles for Macallan fans. For those who are new to the whisky scene, the 1824 Master Series showcased some of the rarest and most expensive modern Macallan bottles. You can find more information here.
The price reduces somewhat recently, so it is a good time for those who have finished their previous bottle to buy another one for the upcoming CNY!
Conclusion
More bottles celebrate the CNY, but these are five bottles which we feel are some of the most festive ones! Regarding affordability, we would suggest either the Johnnie Walker Blue Label or the Macallan Rare Cask, as both are not as difficult to obtain when compared to the others. You have to buy the Suntory bottles in Japan, so unless you have a friend in Japan, it is going to expensive if you buy them on Amazon or eBay! Similarly, for the TWA Glenrothes, you need to order the set from Taiwan, so shipping costs make the bottles more expensive then they should be.
Like what you have just read?
http://www.whiskygeeks.sg/wp-content/uploads/2018/01/CNY-Picture-small.jpg
800
800
Zerlina Zhuang
http://www.whiskygeeks.sg/wp-content/uploads/2017/07/logo_WhiskyGeeks-300x138.png
Zerlina Zhuang
2018-01-30 09:50:46
2018-01-30 09:50:46
6 whiskies suitable for the Chinese New Year Cheer