Whisky Review #03 – The Macallan Sienna (NAS)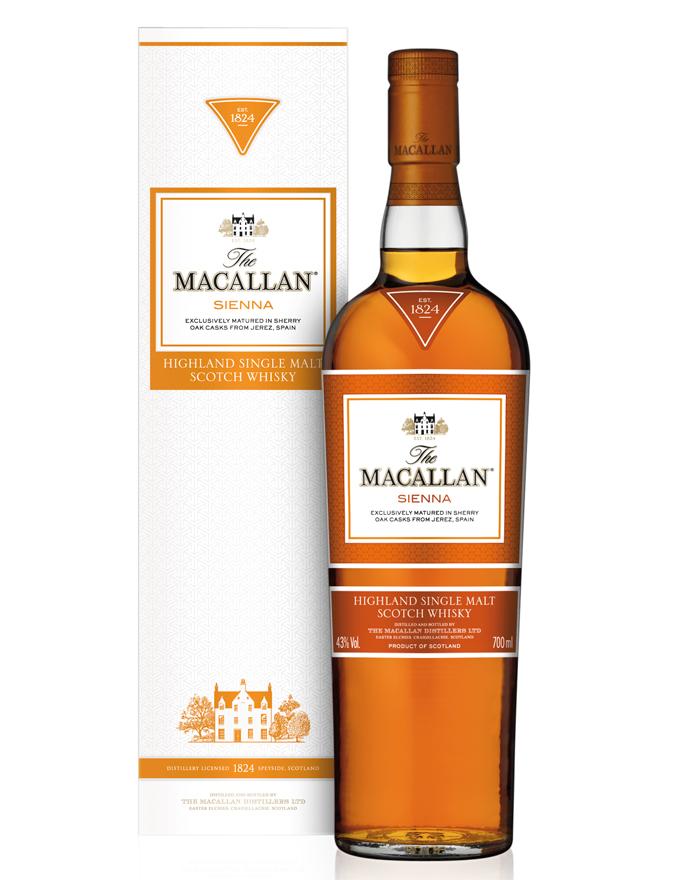 Source
The Macallan Sienna is the third bottle in the 1824 Series and was released together with the Macallan Amber. Being the third darkest out of the 4, it is also matured in sherry casks. This whisky comprises of naturally coloured whiskies that are selected by hue and flavour. Its name, Sienna, refers to a naturally occurring pigment, highlighting Macallan's practise of not adding colours to their whiskies.
Awards:
Gold – Liquid Gold Award – 2014
Jim Murray's Whisky Bible
Tasting Notes:
Colour: As the name suggest, the colour of this whisky is sienna, or shall we say dark amber?
ABV: 43%
Nose: A very pleasant subtle yet persistent vanilla nose greets us before we are attacked by a zesty and sharp orange. Green apples came in almost immediately after to soften the sharpness, adding freshness and balance to the already pleasant nose. White chocolate truffles come after, with elegant oak notes as a close to the complex, flavourful liquid. (16 points)
Palate: A mixture of spice and fruits -dates, figs and raisins march in when we drink it, before bowing out to nutmeg and ginger. The slight sharpness is softened by a hint of oranges and apples before strong vanilla overpowers them to form a slightly sweet taste as we swallow. (15 points)
Body: A well balanced whisky that holds up the promise of the nose magnificently. The persistent vanilla lingers from the nose to the palate, while the green apples keeps the sharpness of the zesty orange at bay. A good whisky – in our opinions! (32 points)
Finish: A beautiful finish that is gentle, smooth and warm all at the same time. The warm feeling that it gives comforts even the most stressful of us. (15 points)
Total Grade: 78 points
Like what you have just read?
http://www.whiskygeeks.sg/wp-content/uploads/2017/07/Macallan_1824_Series_Sienna.jpg
880
700
Zerlina Zhuang
http://www.whiskygeeks.sg/wp-content/uploads/2017/07/logo_WhiskyGeeks-300x138.png
Zerlina Zhuang
2017-07-20 14:48:41
2017-08-19 22:16:03
Whisky Review #03 – The Macallan Sienna (NAS)