Whisky Review #94 – Rosebank 21 (Cask Strength)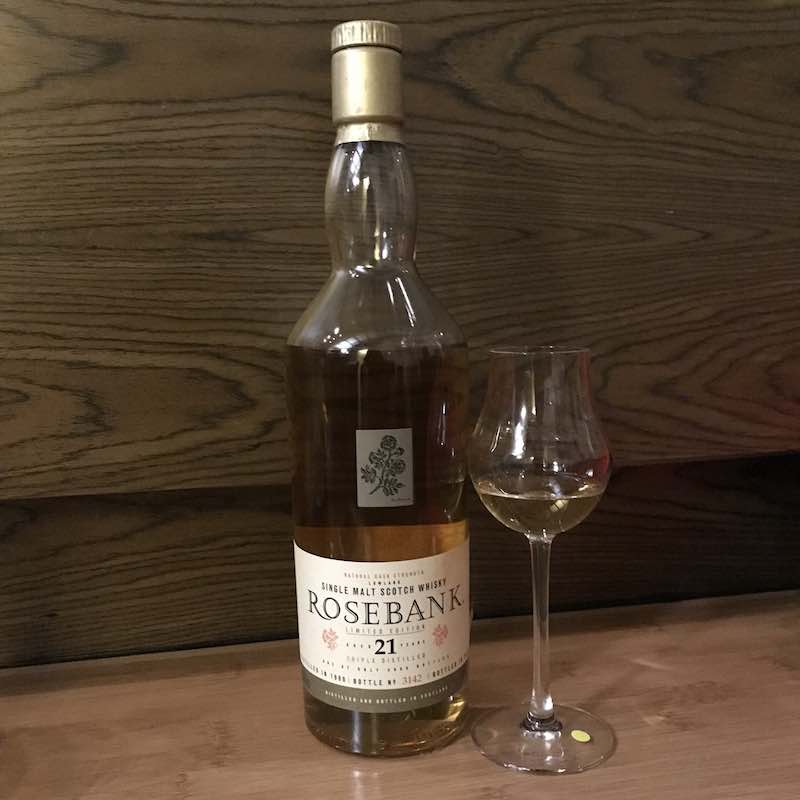 Rosebank…"The finest example of a Lowland malt" (Michael Jackson) is a whisky which creates many emotional outbursts amongst whisky lovers. Rosebank shares typical Lowland characters of grassiness, fruits and flowers with other famous Lowland distilleries such as St Magadelene and Littlemill.
Recently, we got lucky and tasted two Rosebank expressions bottled in the 1990s. Both of them are 21 years old, bottled at cask strength. The bottle that we tried in The Drunken Master Bar was from the 1992 bottling while the other one that we had in The Swan Song was from the 1990 bottling.
This review showcases the Rosebank 21 Years Old distilled in 1990 and released in 2011. Part of the Rose series, this expression is a heavenly dram which represents all the Lowland glory of Scotland.
Tasting Notes:
Colour: Gold
ABV: 53.8%
Nose: Glorious Lowlands notes are immediately apparent. Grassy, herbal and slightly cereal. Then after a few minutes, the sweetness of fruits surface. Green apples, sweet pears and a hint of melons. Mintiness also appears with the grassy notes going into the background. Peppery spice combines with the grassy notes to give an extra complexity. (19/20)
Palate: The palate is herbal, grassy and fruity all at once. Green apples, sweet pears, peppery spice and mint come together after that. The oak influence becomes more prominent after a while and creates a slightly drying palate. The fruitiness of the dram combined with the gentle spice gives a comfortable feel to the overall experience. (18/20)
Finish: It has a medium to long finish that is oaky, minty and sweet. The drying effects from the grassiness of the dram lengthen the finish. (17/20)
Body: It is a balanced dram with typical Lowlands notes. The identity is Rosebank from the nose to the finish. Excellent dram! (36/40)
Total Score: 90/100
Comments:
Geek Flora: "I was not a Rosebank fan previously, but after drinking this expression, I was converted. It is light and floral but yet, complex. I especially love the minty notes that we get, as it is quite special to me."
Geek Choc: "I am a Rosebank fan and can only love Rosebank more with every expression that I tried. Rosebank produces good quality whisky, and I am looking forward to the new Rosebank distillery."
Like what you have just read?
http://www.whiskygeeks.sg/wp-content/uploads/2018/07/Rosebank-21-2011-Portrait.jpg
800
600
Zerlina Zhuang
http://www.whiskygeeks.sg/wp-content/uploads/2017/07/logo_WhiskyGeeks-300x138.png
Zerlina Zhuang
2018-07-21 13:27:45
2018-07-21 13:27:45
Whisky Review #94 – Rosebank 21 (Cask Strength)