What you need to know about The Swan Song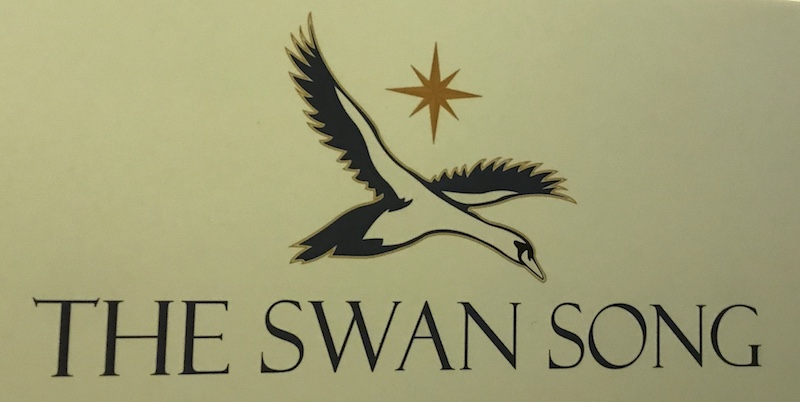 We are sure that some of you have heard of The Swan Song (SS) and possibly, already visited the bar more than once. SS is a new whisky bar located at Prinsep Street, just a short walk from Dhoby Ghaut MRT. The owners of the bar are Arun and Kelvin, also known as AK for short. They are veterans in the whisky scene and are not strangers to many of us.
AK invited us to SS recently, and we appeared that very night! Haha! It was a coincidence that the invitation came on the same day that we planned for a visit with our friends! We enjoyed ourselves so much that we went down to the bar again the following week.
Have you visited SS yet? What do you know about the Swan Song?
The bar is born out of a dream
AK met a long time ago over whisky, and as time passes, they become close friends who love to drink and talk whisky. As passionate, like-minded whisky lovers, it is no wonder that talks turn into the shared dream of opening a whisky bar. Things moved faster than they thought, and so The Swan Song is born.
The idea is to share and learn together
SS houses a great variety of whiskies, from the modern to the vintages. The concept from AK is not to hoard, but to share. They believe in sharing good drams with other whisky enthusiasts to enrich one another. Vintages and rare whiskies are expensive and almost unattainable by most, so by opening rare bottles and sharing them with patrons by the dram, SS make these whiskies attainable and available for those who want to try.
Education and Accessibility is in the heart of SS
SS has a noble vision and a worthy mission. Their vision is to educate and spread the word for vintage and rare whiskies while their mission is to make such whiskies available. Both vision and mission are commendable indeed! With a heart to share as many whiskies with other whisky drinkers as possible, SS is a bar which charges fairly and reasonably. AK do not believe in overcharging their patrons for a whisky just because it is rare. They want to charge a price that makes it attainable by the dram and yet be sustainable as a business.
Price is always a consideration
Price is essential to any business, especially one which strive to be sustainable. In SS, you will not find overpriced whiskies, but reasonably priced drams. The essence of what The Swan Song stands for is value. They want their patrons to feel that there is value in what they are drinking and what they are paying for. With their heart in education and accessibility, they think that it is pointless if they priced the whiskies beyond the value of what people would pay for. Therefore, they strive to keep the expenses low. Rental is reasonable, and the decoration is simple and practical. What is important is the heart to serve, and the passion for sharing their knowledge with the customers that come through the doors of SS.
Vintage and rare whiskies are their differentiating factors
When we spoke of differentiation between SS and the other bars in Singapore, it is evident that SS is not interested to replace the other bars but to co-exist in harmony instead. Many of the bar owners and bar managers in Singapore are their friends, so replacement is never on their mind.
What SS offers instead is their vintage and rare whiskies which are hard to come by, even by the other bars. There is also the vast knowledge that AK has, as well as their generosity that is known by the regulars. Besides the vintage whiskies, SS also strives to bring in special bottlings that are hard to find in Singapore. For example, the Bruichladdich Oirthir Gaidheal Islay Festival 2009 bottling is a limited release for the Islay festival only. It is so limited that most Bruichladdich fans outside of Islay will never taste it…until SS bring it in! Singapore is a lucky island!
Check out some of the bottles that we tried at The Swan Song!
As you can see, there are many old and rare bottles which we get to try. It is exciting to try whiskies from the 1970s and 1980s, especially when some of these bottles are distilled during our birth years!
Plans for the Future
We spoke of masterclasses and whether AK will eventually hold tasting sessions or masterclasses at the bar. The answer is a resounding "Yes", but more needs to be discussed before they finalised anything. What we can tell you is this: you can expect an exciting, value for money masterclass that is also sharing rare whiskies! The price tag might not be the cheapest in town, but you know that you are getting a good deal out of it.
Our impression of The Swan Song
The Swan Song impressed us with their open conversations and their willingness to impart knowledge to their patrons. Their generosity as a host is also undeniable. The cosy bar reminds us of a home, and the hosts invited us to share what they have with an open heart. We feel the honesty and integrity of the people behind the bar, and we know that they are there to share and learn alongside us. They deliver what they want to offer – a free education about whisky and the accessibility of vintage and rare whiskies. The team works together, lending strength to one another and making sacrifices on the home front. We are so proud of AK because they make Singapore just a little brighter with their bar!
Like what you have just read?
http://www.whiskygeeks.sg/wp-content/uploads/2018/01/Bar-Close-Up-Cut-small.jpg
523
800
Zerlina Zhuang
http://www.whiskygeeks.sg/wp-content/uploads/2017/07/logo_WhiskyGeeks-300x138.png
Zerlina Zhuang
2018-02-02 18:01:31
2018-02-08 09:54:54
What you need to know about The Swan Song