Whisky Review #95 – Rosebank 1990 – Blackadder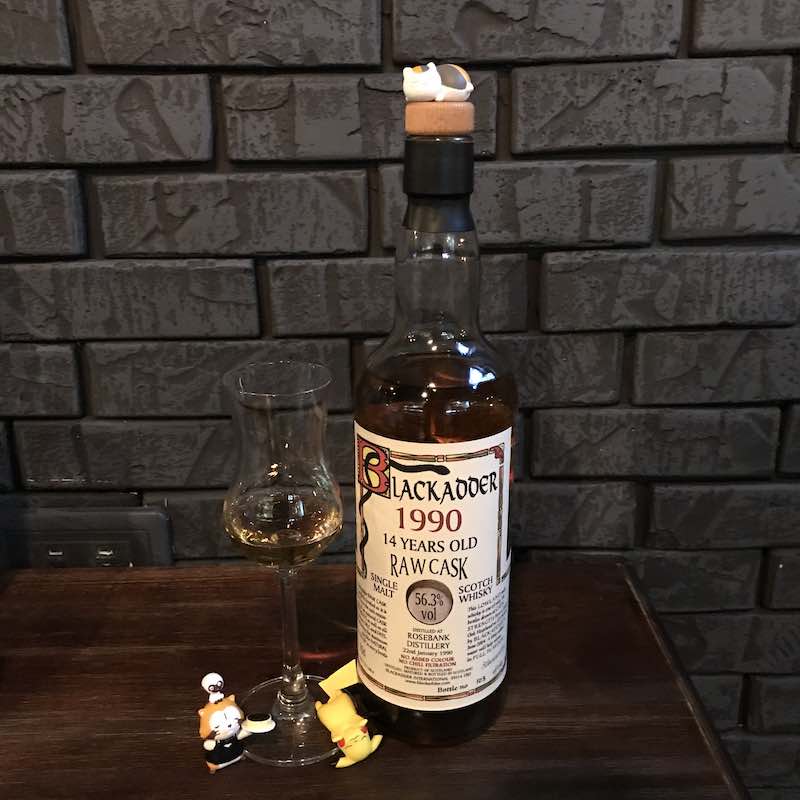 I am not fond of Blackadder as an independent bottler. I had tried more than a couple of Blackadder's bottles, and none of them has impressed me too much. However, it changes with this one bottle of Rosebank 1990. I was completely bowled over and forced to admit that it is good. Nonetheless, I am still not convinced that Blackadder is consistent. I shall wait and see.
This review is another Rosebank expression distilled in 1990. It is a cask strength bottling from Blackadder's Raw Cask series and only matured for 14 years.
Tasting Notes:
Colour: Dirty Gold
ABV: 56.3%
Nose: Sweet fresh berries such as cranberries and strawberries waft in before the sweetness of peaches comes for a visit. Vanilla, honey and hints of coconuts come after. Gentle spice hides in the background, a reminder of its high abv. (18/20)
Palate: Fresh cranberries and strawberries in the forefront before peppery spice assault the palate. A light sweetness of peaches appears for a brief moment before vanilla engulf the entire mouth. (17/20)
Finish: Long finish with vanilla cream lingering all the way to the end. Some fresh berries in the middle before it develops into a pleasant oakiness. (17/20)
Body: It is an interesting dram because the profile is far from its Lowlands characters. There are notes of ex-bourbon and ex-sherry which makes the dram both balanced and complex. The notes of sherry/bourbon influence also keep replacing one another, making this dram exciting and fascinating to enjoy. (37/40)
Total Score: 89/100
Comments:
Geek Flora: "I avoid Blackadder's bottling usually because I never enjoyed any of them. However, this bottles came highly recommended by the owner of The Malt, Taipei. After trying, I got to admit that it is good, and hence, I will strive to keep my options open when I happened upon another Blackadder's bottling."
Geek Choc: "I love Rosebank, so I must try all the expressions that I came across. When the owner of The Malt recommended this, I jumped at the chance of trying it. I only regret that I cannot bring the whole bottle home."
Like what you have just read?
http://www.whiskygeeks.sg/wp-content/uploads/2018/07/Rosebank-14-Blackadder.jpg
800
800
Zerlina Zhuang
http://www.whiskygeeks.sg/wp-content/uploads/2017/07/logo_WhiskyGeeks-300x138.png
Zerlina Zhuang
2018-07-21 13:28:05
2018-07-21 13:28:05
Whisky Review #95 – Rosebank 1990 – Blackadder