Event: The Single Cask X Whisky Butler Masterclass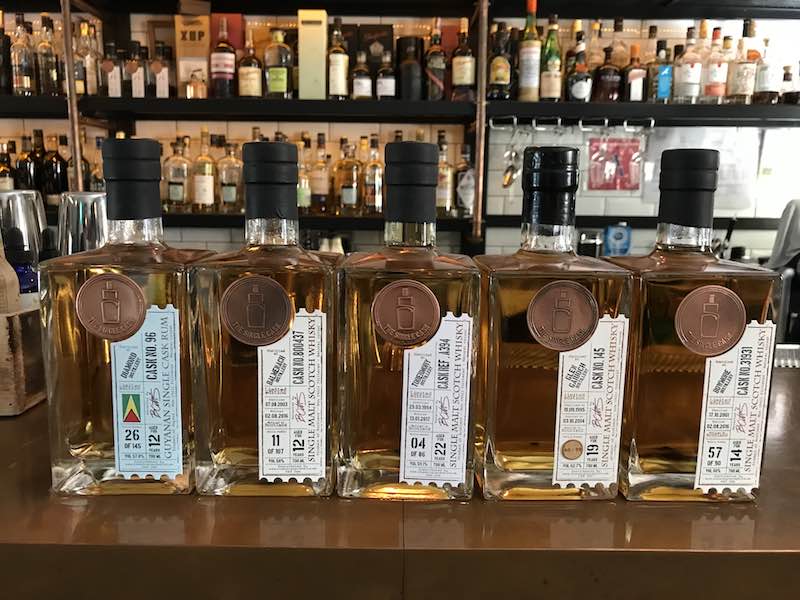 WhiskyGeeks was invited to the event jointly organised by The Single Cask (TSC) and Whisky Butler on 30 September 2017. We have previously spoken about this masterclass and since we were invited, we are here to tell you more about what you have missed!
Introducing Whisky Butler
This event is possibly the last celebratory event for TSC's 2nd anniversary and one which is endorsed by Whisky Butler. In case you are not familiar with Whisky Butler, it is a whisky subscription platform that allows members to try 4 different whiskies every month. You can see it as a kind of whisky flight that you can get at a bar, but at much lower cost. In addition, Whisky Butler will deliver the box to your doorstep to provide the ultimate convenience.
The Single Cask X Whisky Butler Masterclass
This event showcased 5 different spirits (we say spirits because one of them isn't a whisky). They are
1. Guyanan Diamond Rum 12 Years Old
2. Balmenach 12 Years Old
3. Tobermory 22 Years Old
4. Glen Garioch 19 Years Old
5. Bowmore 14 Years Old
Each expression is bottled by TSC and all of them are from a single cask. You will find the tasting notes of all 5 spirits in the links provided above.
Why Rum and Whiskies?
Both sessions started very informally introducing TSC and Whisky Butler before Brendan, the bar manager and resident whisky expert of TSC, dived into the reason for including a rum in the selection. It is a fact that Singapore is growing rapidly in the alcohol industry. Look at all the bars that are popping up everywhere. People are learning to appreciate gin, brandy, cognac, rum and whisky. No matter whether they drink it neat, with ice, with soda, with water or with a mixer, these different spirits are gaining popularity in Singapore. The vibrant but relatively young community in Singapore makes it very important to have masterclasses like this to help beginners to better appreciate what they are drinking.
We appreciated the way that Brendan ran both sessions – informal and interactive. He encouraged participants to share what they thought about the spirits and encouraged each attendee to describe what they find in each of the spirits served. In the first session, Brendan also spoke of the way to drink whisky after one participant asked.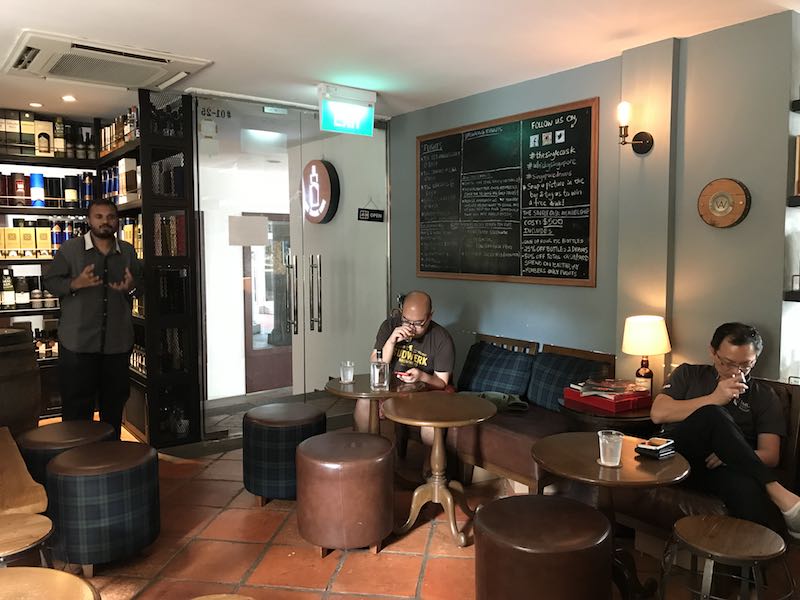 The Best Way to Drink Whisky according to Brendan
The best way to drink whisky according to Brendan is this: "Take a sip of whisky, swirl it in your mouth to coat the sides before holding it in your mouth for a little while. Swallow it and hold your breath for 5 seconds before breathing out from your mouth". We tried it, and guess what, we could literally feel the whisky leaving the mouth and smelling the finish! That's one amazing way of drinking whisky! Nonetheless, there is no correct way to drink whisky, so, if you don't agree with that, drink it the way you do, because whisky has to be enjoyable above all. In fact, what we do to get the finish is to move our lips repeatedly instead. That works too, by the way!
The interactive sessions ran smoothly with active participation from all the "students" who attended. We could see the impact of the interaction – engagement was high and people were just so involved with tasting the spirits that they appeared to forget everything else. We enjoyed ourselves as well, with jokes along the way.
Willing Buyers, Unwilling Seller
Both sessions ended with participants gaining a greater understanding of what they were drinking. Some of them were so excited about the whiskies that they wanted to buy a bottle home! This was especially so for the last whisky – The Bowmore 14 Years Old – Cask 31931. Brendan had to disappoint everyone because he only has 3 bottles left in the bar and he is not selling them because he wants to keep it at the bar for communal drinking. If you like what you read from our tasting notes, head over to The Single Cask and try out the amazing Bowmore 14 Years Old – Cask 31931. Do remember to mention WhiskyGeeks to Brendan!
If you are keen to join future masterclasses from The Single Cask, do like our Facebook page and stay tuned for the next one! There should be another one coming up soon!
In the meanwhile, stay hydrated with whisky! Slàinte!
Like what you have just read?
http://www.whiskygeeks.sg/wp-content/uploads/2017/10/The-5-Bottles-small.jpg
600
800
Zerlina Zhuang
http://www.whiskygeeks.sg/wp-content/uploads/2017/07/logo_WhiskyGeeks-300x138.png
Zerlina Zhuang
2017-10-07 12:39:06
2017-10-07 12:39:06
Event: The Single Cask X Whisky Butler Masterclass