Media Event: Quaich Bar launched Deanston 14 Years and Bunnahabhain 12 Years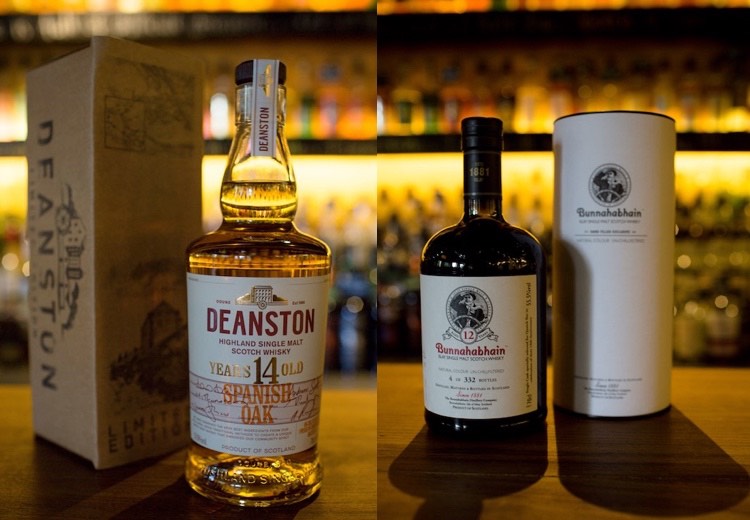 Quiach Bar and Distell invited WhiskyGeeks for a media launch of Quaich Bar's Deanston 14 Years old and Bunnahabhain 12 Years old Single Cask on 4 October.
Mr Steve Campbell, the retired Managing Director of Distell's Asia Pacific invited us to taste 4 different whiskies. They were Deanston 12 years old, Deanston 14 years old (Quaich Bar's special), Bunnahabhain 12 years old and Bunnahabhain 12 years old Single Cask (Quaich Bar's special).
Deanston 14 Years Old (Quaich Bar special)
Deanston 14 years old matured in refill whisky casks for 9 years before it was finished in Spanish brandy butts for 5 years. As a Highland whisky, it is an easy dram to drink with pleasant honeyed notes even at a high abv of 57.9%. Deanston 14 years old is usually only available at the distillery. The first batch sold out quickly five years old. The current expression at Quaich Bar is the second batch. 1664 bottles are produced in this batch. 200 bottles are available at Quaich Bar with a bespoke label just for its 10th anniversary while the rest are available only at Deanston distillery. With a history such as this, it is no wonder that this bottle is definitely going to be precious to every whisky lover in Singapore.
Bunnahabhain 12 Years Old Single Cask (Quaich Bar special)
Bunnahabhain is an interesting distillery. Located in the northern part of Islay, it is the only distillery in the region to produce mostly unpeated whisky. The 12 years old Single Cask is bottled at cask strength of 55.5%. The expression matured in an ex-oloroso sherry cask for 12 years before getting bottled for Quaich Bar. The single cask yields only 332 bottles of this precious malt. The uniqueness of this liquid gold coupled with its status as the only Bunnahabhain bottled for Singapore makes it extra special.
Quaich Bar X Distell
Quaich Bar is Singapore's first whisky bar and has won awards internationally. In the past 10 years, Distell and Quaich Bar has forged a strong friendship. Distell's full malt profile is available at the bar. Deanston, Bunnahabhain, Tobermory, Ledaig, as well as South African whisky Three Ships and Bains Cape Mountain Whisky, are all part of the profile.
http://www.whiskygeeks.sg/wp-content/uploads/2017/10/Deanston_Bunna_small.jpg
520
750
Zerlina Zhuang
http://www.whiskygeeks.sg/wp-content/uploads/2017/07/logo_WhiskyGeeks-300x138.png
Zerlina Zhuang
2017-10-07 12:40:07
2017-10-07 15:02:34
Media Event: Quaich Bar launched Deanston 14 Years and Bunnahabhain 12 Years