Whisky Review #46 – The Single Cask Bowmore 14 Years Old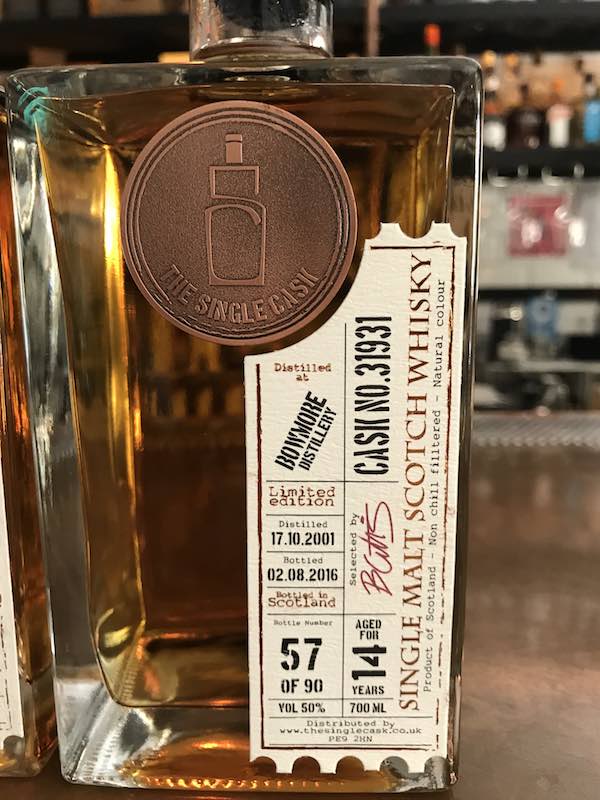 Bowmore, oh Bowmore…it has such an interesting history that we could wax lyrical about its 1960s to 1980s bottles. Although things changed in the 1990s for no apparent reason, we are guessing that it was due to some teething issues when Suntory took over the distillery. The merry news is that Bowmore bounced back to its heydeys in the 2000s and is once again, producing great whisky.
This bottle of Bowmore 14 years old by The Single Cask (TSC) is distilled in 2001 and bottled in 2016. An interesting note about this bottle is the exclusivity. Only 90 bottles are realised from HALF of cask 31931 because the cask actually belonged to someone else (another independent bottler) and they refused to sell all of it to TSC. Well, TSC took whatever they can, and this is the result of their exceptional selection.
Let's jump to the review!
Tasting Notes:
Colour: Amber
ABV: 50%
Nose: The first nose is that of heavenly smoked bacon. Oh, that smell literally sends you tingles of happiness! White peppers and hints of sweet citrus follow after. A few minutes wait reveals some sea salt that blends so well with the smoked bacon. (18/20)
Palate: The entry is made of smoky citrus – lemony, orangey taste. Slight hints of sea salt followed by white pepper. The smokiness brings along some form of savoury meat (think: smoked bacon) and the blend of salt, pepper and meat makes this a complex and flavourful drink. (18/20)
Finish: The finish is long and full of pleasant peat and smoke. The peat is not overwhelming but instead, stays on the palate pleasantly just like a warm fire in winter. The smokiness lingers very long before it disappears altogether. (18/20)
Body: This is an exceptional whisky with a good, complex body. The balance between the nose, palate and finish is exquisite and definitely not something that you will come across regularly. Compared to the official bottling (OB) of Bowmore, this is something that appears to outdo some of them. (37/40)
Total Score: 91/100
Comments:
Geek Flora: "This whisky blew me away. Not a fan of peat and smoke, I was at first doubtful about the Bowmore. I was sold after the first nose of smoked bacon, and when the complexity of the whisky revealed itself, I was convinced that this is one of the best Bowmore I have ever drunk. Interestingly, many people shared my interest and the whisky has flown off the shelves at TSC. Only 3 bottles are left, and they are not for sale. If you are keen to get your hands on it, the Master of Malt still has one left, as of 02 October 2017. Do remember that it is from cask 31931." 
Like what you have just read?
http://www.whiskygeeks.sg/wp-content/uploads/2017/10/Bowmore-14-YO-Cask-31931-small.jpg
800
600
Zerlina Zhuang
http://www.whiskygeeks.sg/wp-content/uploads/2017/07/logo_WhiskyGeeks-300x138.png
Zerlina Zhuang
2017-10-07 12:35:46
2018-01-26 16:13:51
Whisky Review #46 – The Single Cask Bowmore 14 Years Old