Whisky Review #78 – Linlithgow 1982 (SV)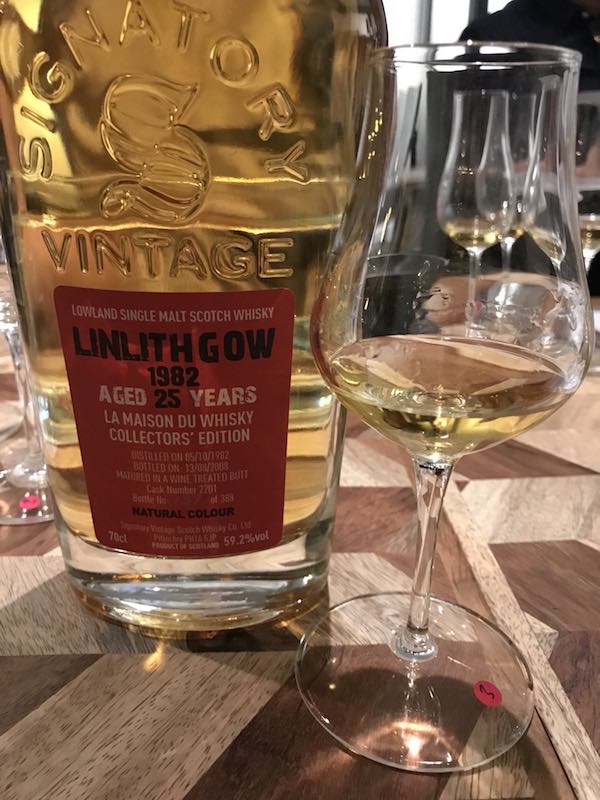 Do you know the other name of Linlithgow? If your answer is Saint Magdalene, you are right! Recognized as one of the closed distilleries with fantastic golden liquid, Linlithgow invoked much excitement amongst whisky fans whenever a bottle of its whiskies surfaced in auction sites. The same enthusiasm arose in us when we saw its name on the menu in The Swan Song, and we wasted no time in ordering a dram of the liquid!
Signatory Vintage is the bottler of this particular expression of Linlithgow. Matured for 25 years in a wine-treated butt (cask #2201), Signatory Vintage bottled this expression in 2008 for La Maison du Whisky Collectors' Edition.
Let us check out this dram now.
Tasting Notes:
Colour: Gold
ABV: 59.2%
Nose: At first, there is a strong peppery spice in the forefront that mixes with the sweet and fruity nose. After airing for some time, the spice disappears, and apricots (wow!) replaces the spice! The intense tropical fruitiness gets stronger, and the nose becomes so fragrant that we can't help but to bring the glass to our mouths! (18/20)
Palate: Clean mouthfeel with sweet apricots and pears enveloping the mouth as we sip, taking us to a fruity, tropical island where all we want to do is sit and relax. It is incredibly fruity with hints of peppery spice that combines beautifully without being underwhelming. It is the abv talking, and we love it! (18/20)
Finish: The pleasant warmth from the peppery spice as we swallow is comforting, reminding us of the higher abv and why we are enjoying this dram so much. The medium to long finish is full of sweet tropical fruits, bringing us right back to that fruity, tropical island that we were in when we first tasted the liquid. (18/20)
Body: This is a fantastic dram to be sure! Superbly balanced with a right combination of pepper and fruity flavours, it is an exciting dram to try. Words cannot justify the experience, and you just got to try it to understand why we love it. (37/40)
Total Score: 91/100
Comments:
Geek Flora: "Well, if I did not know this is a Linlithgow, I might think that it is a Littlemill. The dram showcased its Lowlands' characteristics well and is an excellent expression to start."
Geek Choc: "Hmm…I think this is fantastic. It is my first time trying an St Mag, and I am not disappointed! I will try more moving forward."
Like what you have just read?
http://www.whiskygeeks.sg/wp-content/uploads/2018/02/Lilithgow-1982-SV-small.jpg
800
600
Zerlina Zhuang
http://www.whiskygeeks.sg/wp-content/uploads/2017/07/logo_WhiskyGeeks-300x138.png
Zerlina Zhuang
2018-03-10 15:54:57
2018-03-10 15:54:57
Whisky Review #78 – Linlithgow 1982 (SV)