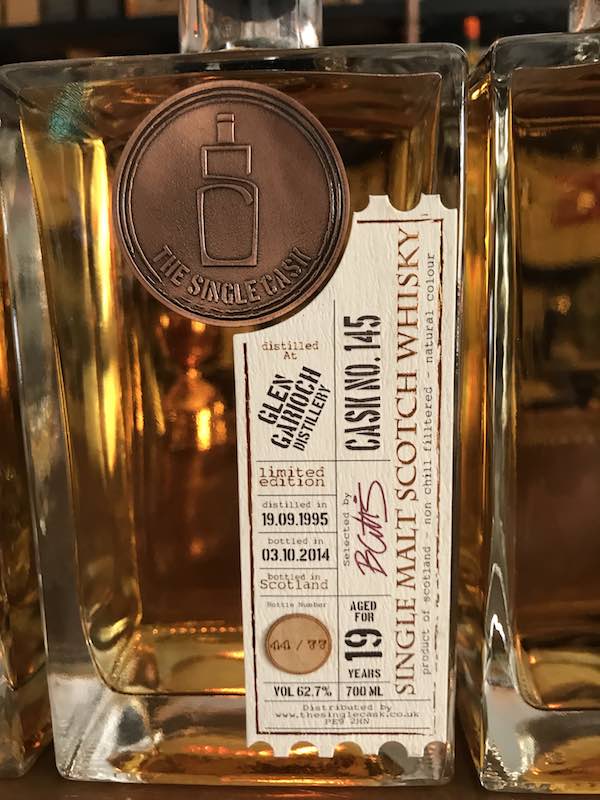 This bottle of Glen Garioch is the most potent whisky ever bottled at The Single Cask (TSC)! Distilled in 1995, it was bottled 19 years later in 2014 at an ABV of 62.7%! Shocking! It is called the "Iron Fist in a velvet glove" because of the intense kick of the alcohol.
John and Alexander Manson founded Glen Garioch in 1797. It survived all these years, through the two world wars, economic regression and went through all the hardships even when others failed. It is the oldest distillery in Scotland. Beam Suntory is the current owner of Glen Garioch.
Let's go into the review proper.
Tasting Notes:
Colour: Bright Gold
ABV: 62.7%
Nose: The first nose is nothing but alcohol as the abv of 62.7% gets in the way. After a few minutes, the nose reveals some tropical fruitiness that smells like apricots. Crème brûlée hovers in the background for a short while before the spice comes kicking back in from the background. More time is needed to discover some oakiness and bits of lemons. (17/20)
Palate: The spice from the high ABV hits the palate in full battle gear, knocking the senses out. Citrus notes of lemon come in after the spice finishes the attack. Notes of crème brûlée fade in and out with raw honey coming in towards the end. After a few minutes of aeration, the spice recedes into the background. The citrus becomes more pronounced and the raw honey is full on the palate. Hints of apricots linger in the background. (18/20)
Finish: The finish is medium to long with honey spice and vanilla ice cream at the end. (16/20)
Body: This expression is well-balanced even with the high abv. Although it is on the spicy side, it is understandable considering the high alcohol content. The citrus and honey are perfectly well mixed on both the palate and finish. (33/40)
Total Score: 84/100
Comments:
Geek Choc: "The intense alcohol on the nose initially puts me off, but the palate and finish save the day. When taken together, this is a well-balanced whisky even in all its intensity. You will need some patience with this and I suggest that you do not put any water into it. Water opens up the spice and overshadows the rest of the flavours in the whisky."
Like what you have just read?
http://www.whiskygeeks.sg/wp-content/uploads/2017/10/Glen-Garioch-19-YO-small.jpg
800
600
Zerlina Zhuang
http://www.whiskygeeks.sg/wp-content/uploads/2017/07/logo_WhiskyGeeks-300x138.png
Zerlina Zhuang
2017-10-07 12:35:32
2018-01-26 16:13:38
Whisky Review #45 – The Single Cask Glen Garioch 19 Years Old