Editor's Note: This is the second guest post completed by Eddie, who is our newest correspondent on the other side of the world.  WhiskyGeeks is going global, indeed!
Written by: Eddie
Whisky Live Paris scheduled a day, especially for the trade personnel to network over whiskies. It is an excellent opportunity for trade people to mingle with the brand advocates and understand the brands more. This year, it happened one day after the actual Whisky Live weekend.
Monday 7th October (Trade Day)
Whisky Live Paris 2019 reserved the longest day for professionals in the industry. There was open access to the VIP section and all areas of the exhibition. Masterclasses were also jam-packed throughout the day. Having visited most of the whisky stands on the main exhibition floor on Sunday, we headed for the VIP section straightaway. We were floored by the selection of whiskies from various independent bottlers, including but not limited to LMDW artist series, Spirit Shop Selection, Hidden Spirits and Sansibar.
VIP Section
The selection available was mind-boggling. We started our day with a Bunnahabhain 40 Years Old from LMDW Artist Range and from there, we moved on to the rest of the Artist Range. We also had the good fortune to taste the various LMDW 20 Rue D'Anjou bottles. A special mention must go to the Clynelish 1995 as it was excellent with full-on waxiness and well-balanced sherry influence from the refill cask.
Asian Whisky was King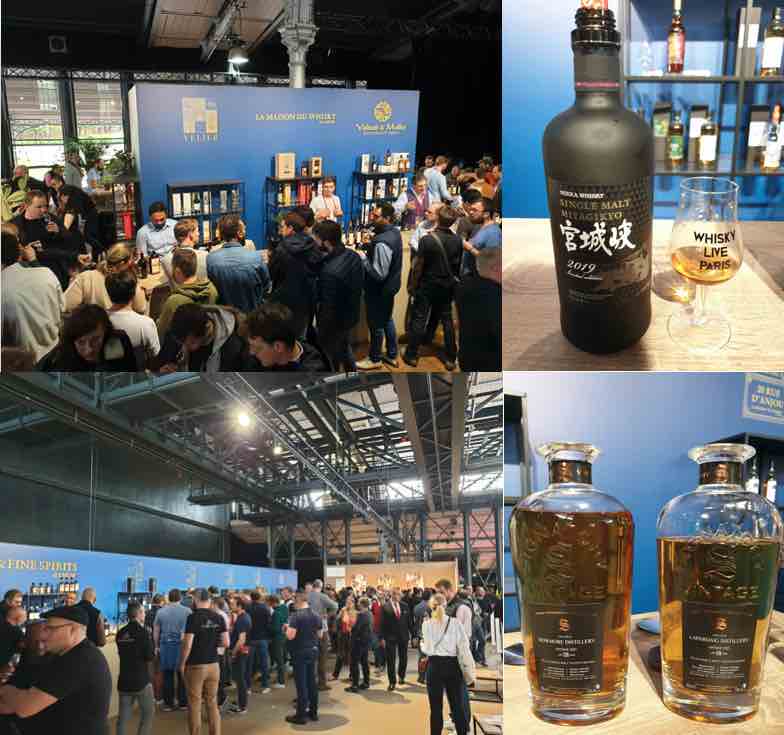 We soon found ourselves at the Asian whiskies section. The booth was swarming with eager whisky enthusiasts who were like kids in a candy store, except that they were all grown men. Most of them, including us, were waiting to try the various Chichibu and Kavalan expressions. However, the Yoichi and Miyagikyo 2019 Single Casks were the stars of the show. Besides their rarity, the price tag of 2750 euros made them the "must-try".
We managed to taste the two rare bottles as we were right there when the bartender brought out the bottles. That moment became chaotic almost immediately, as everyone jostled their glasses through to get a sample. Bottled for the 50th anniversary of Miyagikyo Distillery, many whisky lovers around the world criticised the two bottles for their massive price tags. As Non-Age Statement (NAS) whiskies, people do have a view that these whiskies must be cheaper. Nonetheless, both whiskies made it to our top picks (see below). The Miyagikyo was woody with a right balance of dark fruit flavours and a hint of muskiness while the Yoichi had a buttery sweetness with lingering soft peat.
Other Impressive Drams
Besides the various Asian whisky, we discovered other gems in the VIP section. The 18-year-old Laphroaig bottled by Signatory Vintage for LMDW was surprising as the medicinal character of Laphroaig was not the first thing that surfaced. Instead, the Laphroaig was salty, gentle and subtle, with the leather notes kicking in only towards the end. It remained me of a much older Laphroaig in general, which was interesting. Meanwhile, the Caroni and Hampden bottles at the Velier booth were also extremely popular.
Taiwanese – Spirits Shop Selection

Spirit Shop Selection is an independent bottler from Taiwan. They work closely with LMDW and move many of their bottles through Paris. There is a huge following in France for their bottles. At the booth, we learnt that they typically chose casks suited to the Taiwanese palate. It explained why most of their casks leaned towards the sweeter side – Taiwanese tend to have a sweet tooth!
There was an incredibly sweet and pleasant Caroni 21 1997 available for sampling which did not have that bitterness in the finish. The Ben Nevis 22 years was excellent as well with the funky distillery character at the forefront. There was a Karuizawa under the table as well, but few have gotten the opportunity even to see the bottle, let alone taste it. We, of course, did not get to try it.
Italian – Hidden Spirits
After trying out Taiwanese independent bottles, we move on to Hidden Spirits, an Italian independent bottler.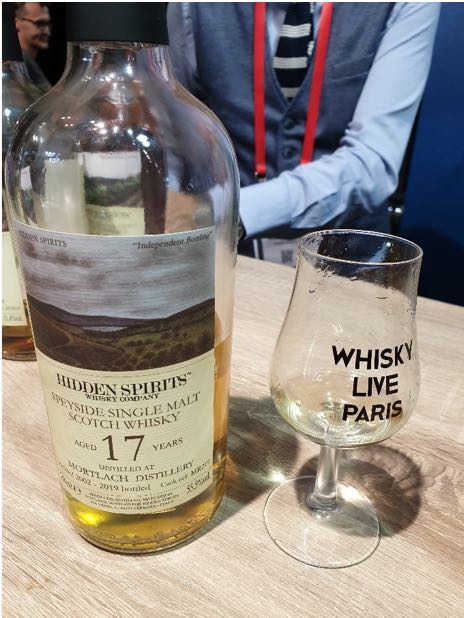 To our knowledge, Hidden Spirits was the only independent bottler who brought out a Mortlach for tasting, and it was a cracker. This 17-year old whisky sits a full term in a first-fill bourbon cask. It was then finished for three months in a sherry cask which contained a peated Ben Nevis. Chock-full of leather, sulphur, funk and mild peat, in our opinion, this was such an underrated bottle given the hype around other bottles.
It was a pity that we couldn't try every whisky offered at the VIP section. Nonetheless, we went through at least 90% of them. Every booth had unique offerings, and the VIP ticket is worth the extra 60-65 euros! We will highly recommend you to get it if you plan on going next year.
Whisky Picks in the VIP Section (in no particular order)
Ben Nevis 22 1996 56.2% for Spirit Shop Selection
Caroni 21 1997 63.8% for Spirit Shop Selection
Chichibu 2012 Cask 2058 Refill Hanyu Cask for LMDW
Clynelish 24 Years 1995 Cask 2158 for LMDW
Hampden 7 Years 62.8% for Whisky Live Paris 2019
Hampden 9 Years 69.2% for LMDW
Laphroaig 18 2001 Signatory Vintage 59.3% for LMDW
Ledaig 10 2007 Artist Series 60.8%
Miyagikyo 2019 Limited Edition 48%
Mortlach 17 55.5% Cask MR219 for Hidden Spirits (First Fill Bourbon and 3 Months in Ex Sherry Peated Ben Nevis Cask)
Westport 12 Valinch And Mallet 51.8%
Yoichi 2019 Limited Edition 48%
Mars Masterclass
We were lucky to get seats at the Mars masterclass led by the Distillery Director Hajime Kunai. The class was a showcase of three single casks (ages 3-4 years old) matured in different regions in Japan, each with different climates. The locations were Shinshu, Tsunuki and Yakushima.
The differences demonstrated the effect that the maturation environment had on almost identical whiskies. The Yakushima maturation is a peated expression at 20ppm and stood out as you could tell the difference of an island-style maturation practically immediately. It closely resembled the style of Highland Park with the saltiness in the finish. The class perhaps showcase the evidence of terroir most significantly. It is worth a side by side if you ever get a chance to do so.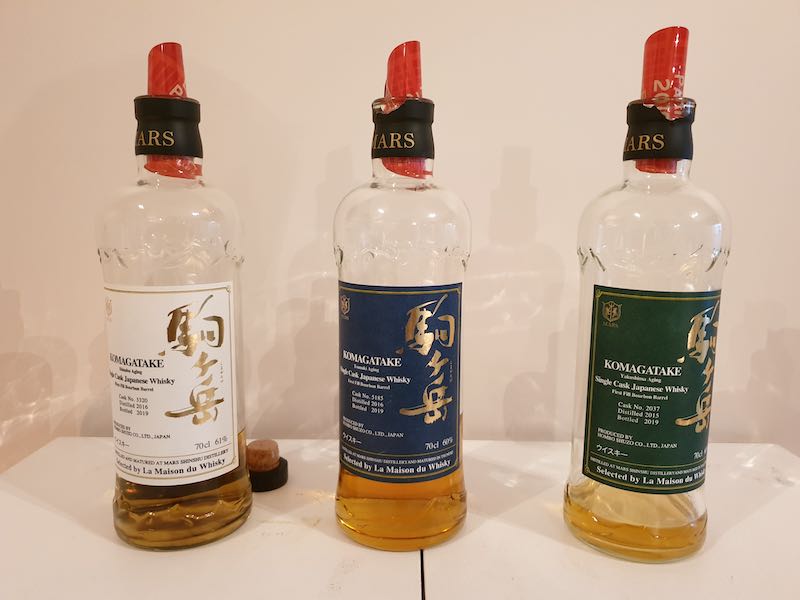 The line up was –
Shinshu – Single Cask #3320 3 Years Old, 61% abv, bottled for LMDW
Tsunuki – Single Cask #5185 3 Years Old, 60% abv, bottled for LMDW
Yakushima – Single Cask #2037 3 Years Old, 60% abv, bottled for LMDW
Compass Box Tasting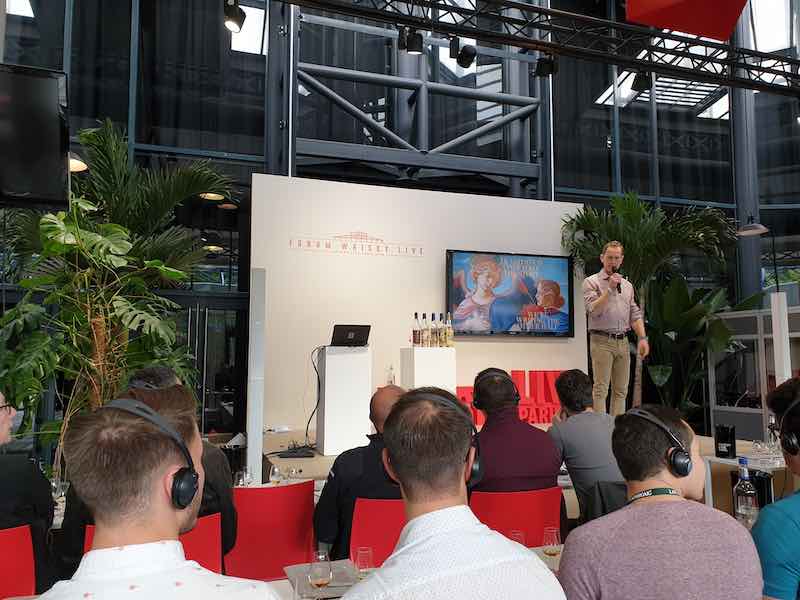 John Glaser, the founder of Compass Box, raised a few eyebrows when he founded the company. His determination in detailing all the whiskies and ages that went into each of his blends is at the heart of an increasing drive for transparency in the whisky industry today. Interestingly, this drive is also supported by Bruichladdich Distillery on Islay. John talked about each whisky in detail, explaining the recipe for each blend and stating the exact ages with the type of casks used.
The line-up consisted –
Hedonism – Grain
Balblair – Myths and Legends 1
Glen Elgin – Myths and Legends 2
Undisclosed Orkney, Glen Elgin, Caol Ila – Myths and Legends 3

Affinity – Whisky and Calvados blend
The tasting started with the first-ever Compass Box creation – Hedonism – which not only provided nostalgic value but was a fantastic blend to boot. The lineup culminated in the Myths and Legends 2 and 3 which were driven by a robust Glen Elgin distillate, giving lovely rhubarb and Turkish delight notes. The Affinity is supposedly the first-ever calvados and whisky blend, making for an enjoyable last dram.
Before we go…
We had a fantastic experience at Whisky Live Paris 2019 and would return. The draw was the opportunity to meet fellow whisky lovers from all over the world and share our opinions over fantastic whiskies. The views of the whiskies were formulated based on what the writer and his companions felt were the most exciting and impactful. Writing detailed tasting notes was not practical, given the short amount of time. We also tasted 30-40 whiskies in 1 day (possibly more), hence we will not blame anyone for questioning our sanity and palate conditions and consequently, our top picks for the show. Whisky is subjective, after all.
Finally, WhiskyGeeks would like to thank La Maison du Whisky Paris for our invitation to Whisky Live Paris' trade day. It included an entire day's access to all areas, including the VIP section. Thank you for the great opportunity!
*Read Part 1 of Whisky Live Paris here.
Like what you have just read?
https://www.whiskygeeks.sg/wp-content/uploads/2019/10/Group-photo.jpg
600
800
Zerlina Zhuang
http://www.whiskygeeks.sg/wp-content/uploads/2017/07/logo_WhiskyGeeks-300x138.png
Zerlina Zhuang
2019-11-02 19:48:31
2021-08-10 11:14:44
Guest Post – Whisky Live Paris Part 2