Life took an unexpected turn at the beginning of 2020, and our lives changed 360 degrees when Covid-19 surfaced and killed more than half a million people worldwide. Many of us have stopped work, or at least started working from home as countries move to curb the spread of the virus. Many lives were changed, especially those in the food and beverage industry. However, out of all that negative vibes, hope rises as people band together to create a new way to drink and socialise. A virtual bar, or a virtual tasting, is fast becoming the newest trend to hit the world as the alcohol industry strives to continue serving its customers through the next viable means.
1887 Virtual Bar
William Grant & Sons, our friendly family-owned distiller, is no different. With the global situation getting worse, the company decided to do their part to help local bars to survive by opening a virtual bar to serve drinks, live from your home bar. The virtual bar is codenamed 1887 Virtual Bar to commemorate the year that WGS opened. The platform features weekly guest shifts hosting some of your favourite bartenders in Singapore together with brand ambassadors, Charmaine Thio and Brett Bayly of Hendrick's Gin and Glenfiddich respectively.
Kick-off Guest Shift
The first session of the 1887 Virtual Bar started with Sam Wong, the head bartender at Shin Gi Tai, via Zoom on 9 April 2020. We logged in using the link given, and we found our hosts waiting for us. Charmaine Thio, brand ambassador of Hendrick's Gin and Brett Bayly, brand ambassador of Glenfiddich, were already online together with the head bartender of Shin Gi Tai, Sam Wong. To kick start the session, Charmaine introduced 1887 Virtual Bar and what they hoped to achieve. She encouraged participants to ask questions via the chat function found in the Zoom sessions and to interact as much as possible through the limited functions available.
The virtual bar also sells cocktail vouchers, which participants can buy to support the bar. These vouchers can be redeemed at a later date at Shin Gi Tai when the Covid-19 situation in Singapore eases.
Cocktails on Show
The Dragon's Daughter
Sam Wong is a familiar face for many of us. For the first session, Sam created four different cocktails for the audience, based pretty much on what Shin Gi Tai is well-known for. Charmaine had the chance to request for the first cocktail (because ladies first!) and she asked for something light and refreshing. Sam took up the challenge easily, creating what he called, "The Dragon's Daughter".
You can check out the ingredient in the picture below.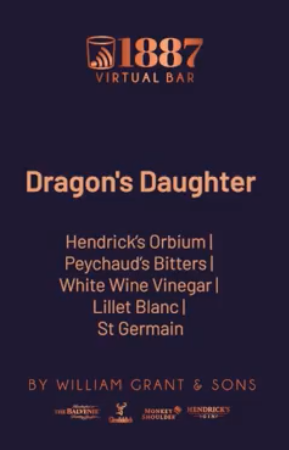 From the screen, it looked like an orange/pink drink and being a virtual session, not a lot of garnishes went into it. Nonetheless, it looked delicious, and I would highly recommend that you try this the next time you are at Shin Gi Tai!
    2. Coffee so Stronk
After encountering the Dragon's Daughter, Brett felt the need to have something solid to keep his nerves strong! So, he requested for a whisky-based cocktail. Sam, in response, created a cocktail that is not only whisky-based but also involved caffeine. Coffee so Stronk uses Nanyang infused coffee as part of its ingredients and it looked like a stiff drink! It is perfect after a hard day's work.
Here are the ingredients.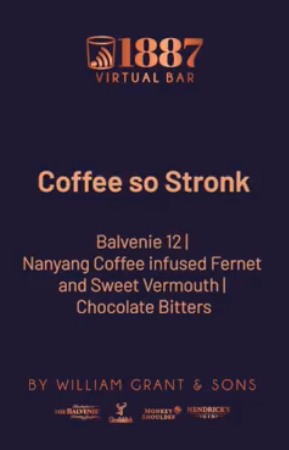 You may not have the Nanyang Coffee infused Fernet at home, and it is probably too troublesome for you to make it at home. So, head over to Shin Gi Tai after the Circuit Breaker eases off to have a taste of this cocktail!
   3. Highball
Everyone loves a highball on a hot day! That was what Sam recommended after the first two cocktails. He said that the weather is terrible nowadays and a highball can help to bring down the temperature! After all, nobody wants to have a high temperature now too! Hahaha!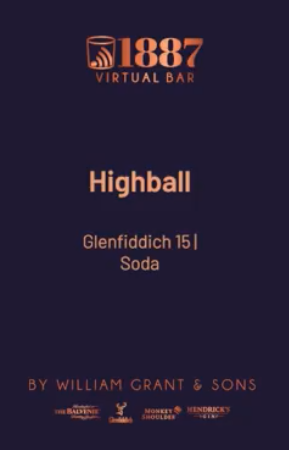 Yup, a highball is easy to make. As long as you have some whisky and soda, you can easily make your own highball! A note on Glenfiddich 15 years old though. This is one of the easiest whisky to drink and its sweet character makes it a great conversation starter. In case you are wondering, a highball is a Japanese concept of drinking whisky on a hot day. It is a simple mixing of whisky and soda (in the portion you want – most people do 30-70). You prepare a tall glass, put in ice, and you pour first the whisky into the glass, and then top the glass up with soda. Stir the mix with a spoon and you are done! If you want more flavours, add in a slice of lemon after squeezing some zest into it.
You may think that you wouldn't want to order a highball in a bar, but trust me, it is really the best drink to have on a hot day!
   4. SGT Negroni
Next up, Sam introduced Shin Gi Tai for those who have never been there. If you have never been there, you should try to go after the Circuit Breaker ends and bars reopen. Shin Gi Tai is a cosy, intimate bar in Telok Ayer with no menu! Yes, no menu! What the bar tries to achieve is to tailor a personalised service and cocktail for each patron. Tell the bartender what you fancy in terms of flavours, and watch them shake it up for you!
Shin Gi Tai, however, has its favourites. SGT Negroni is one of them. Made using only three ingredients, the Negroni is a classic favourite at the bar.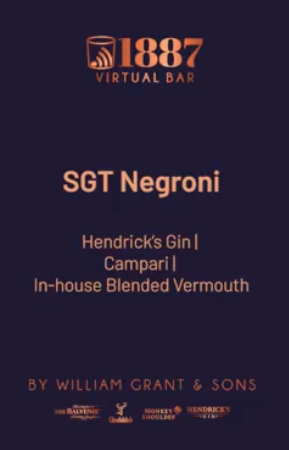 Sam showed us how simple it is to make the Negroni but I can assure you that I am not going to know how to make it so I am better off heading to Shin Gi Tai when the virus goes away!
The Conclusion
The session concluded with a call for participants to ask questions. Sam took a few questions from the audience and he showed how experienced he is when someone asked for a low-calorie cocktail. I will not spoil the mystery here, so be sure to go to Shin Gi Tai to ask him! Finally, the hosts reminded everyone that we can support our bars through our kind purchases of vouchers to help them survive this tough period. Due to the time limit, the Zoom session ended with a final call to tune in again next week!
Some Thoughts about 1887 Virtual Bar
Well, it was a good session and I do encourage all of you to join in the next one (details below). However, I think the session could be more interactive. It would make the sessions more fun and resembles a real bar. Nonetheless, these are challenging times and we have to make do with what we have! Please support the 1887 Virtual bar and stir up your own cocktail at home!
Details of the Virtual Bar Sessions:
You can find out more about the guest shifts and participating bars at the below link:
Like what you have just read?
https://www.whiskygeeks.sg/wp-content/uploads/2020/04/WGS-1887-Virtual-Bar.jpg
450
800
Zerlina Zhuang
http://www.whiskygeeks.sg/wp-content/uploads/2017/07/logo_WhiskyGeeks-300x138.png
Zerlina Zhuang
2020-04-23 15:37:16
2020-04-24 14:17:39
Introducing the 1887 Virtual Bar