WhiskyGeeks has the absolute pleasure of meeting Michel Lu, a well-known veteran of the Food & Beverage industry in Asia. As an active entrepreneur, Michel successfully ran many restaurants, bars and even night clubs over the course of his career of more than 20 years. In recent times, Michel decided to branch out into the whisky scene, and that was how we met – whisky!
Introducing Michel Lu
Michel has been in F&B for over 20 years around Asia – Singapore, Hong Kong, Macau, Xiamen, Shanghai, Indonesia, Malaysia. He successfully ran restaurants, bars, clubs and even for a period of time, was Group CEO for a group that handles food manufacturing. With his vast knowledge in F&B, he was getting a little tired of doing yet another bar or restaurant. For a short period, Michel was doing consultancy for the F&B industry, but he discovered that it was not what he wanted.
As a businessman, Michel wanted to do something new within the F&B industry. He considered two options – robotics and the spirits business. When he explored both options, the traction for the spirits business came faster and stronger than robotics. Michel did not hesitate for long; he jumped right into it! Besides wanting to do something new, Michel wanted to create a legacy for himself. The best way to do it, in his opinion, is to create a product, a brand, that is solely his.
Besides the above, Michel views the challenge of creating products that represent him as a creative process. He sees every step in his career as a step towards creativity. Starting a restaurant, bar or club has always been a creative process for him, and he wants to make the same process for a brand that can eventually become global.
Orientalist Spirits
Michel owns the Orientalist spirits. In the picture above, you can see the three products that the company launched recently. The one in the centre, is the Dragon Whisky, an 8 Years Old Blended whisky that is made up of Asian malts. The one on the left is the Gunpowder gin, while the other one on the right is the Origins Vodka.
Orientalist Spirits started because Michel wanted something different to challenge his creative senses. Beyond that, he wanted Orientalist Spirits to become a global brand in his lifetime. As the name suggests, Orientalist represents Michel himself. He wants to bring the appeal of Asia and the Orient to the rest of the world. It is a brand designed to showcase Asia to the world. Each of his products has ingredients that come from Asia.
Dragon Whisky 8 Years Old Blended Malt
The Dragon whisky is very special. As an 8-Year-Old blend, its ingredients hail from Taiwan, India and Japan, the three major Asian whisky-making countries. While Michel does not actively do the distillation himself, he blends the whisky to his requirements all by himself. The whisky is blended first before it is put into first bourbon oak casks and then sherry casks. Double maturing the whisky helps to bring out the flavours and texture that Michel is looking to create.
The aim of the whisky is to give good quality and value to the drinkers around the world. Although some parts of the world are smitten with single malts, there are many other regions who do not drink many single malts. Blended malt or blended whisky, however, may not have good quality all the time, and it is the reason why Michel wanted to create a whisky that helps to fill in the gap.
Moreover, his idea is not to compete with the many brands of single malts out there with a rich history and even richer experience. Michel wants to showcase Asia in the best way he knows, and that is to bring out the best of Asia through his products. Therefore, he acknowledges the fact that his Dragon whisky is not something that buyers would want to keep for 50 years in the cupboard, but something that they can easily drink with their friends and family. He even has a cute hashtag – notyourfatherwhisky.
Whisky Review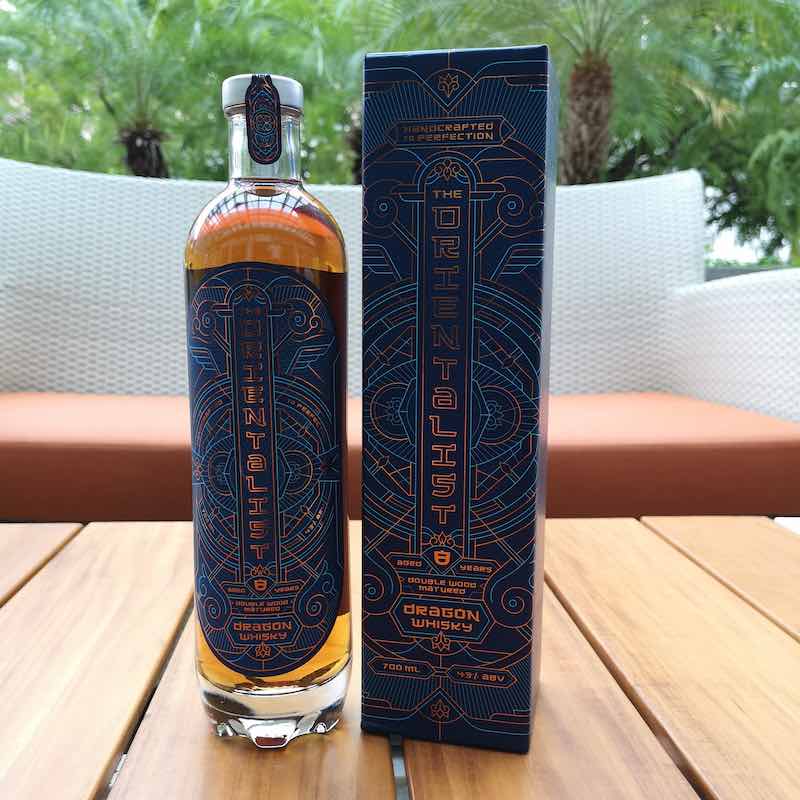 WhiskyGeeks is privileged to try the Dragon Whisky when we met with Michel. We enjoyed it both neat and on the rocks, giving us the full experience of the flavours of the whisky. Here are our short notes on it.
Nose: Floral, fruity and sweet candy, with a hint of vanilla in the background
Palate: Mellow, fruity and sweet. Slight spice as we roll the whisky around the tongue, but definitely pleasant
Finish: Short to medium finish, with a lingering sweetness.
We recommend enjoying the whisky as it is, without adding ice or water. However, do try to it as a highball if you fancy something nice on a hot day. Dragon whisky is not something that you would want to keep in your cupboard for the next 50 years, so crack it open and enjoy it with some friends! It certainly fits the hashtag "#notyourfatherwhisky"!
Vodka and Gin
The Origins Vodka uses only the highest quality base ingredients for its creation. Orientalist Spirits uses the purest organic longan honey from South East Asia, Tibetan highland barley from mythical, magical Shangri-La, perched 3,300m above sea level and more than 9 types of premium potatoes of specific varieties designed to give the best mouthfeel. The vodka has a faint taste of longan honey if you drink it neat at room temperature. Once you add ice, the longan flavour is harder to find, but the result is an extra smooth vodka for the evening.
The Gunpowder Gin uses botanicals found in Asia, including Siberian Ginseng, Osmanthus, Goji Berry, Korean Omija Berry, Gunpowder tea, and lapsang souchong tea from Fujian. The name "Gunpowder Gin" naturally comes from the fact that the gin was infused with gunpowder tea. The array of strong contenders behind the Gunpowder Gin gives it body and complexity, making it as good to drink neat as well as in a G&T.
Both vodka and gin are watered down by the pristine spring water from the Sakurajima peninsula in Kagoshima, Japan. The water is naturally filtered and purified over hundreds of years by 1,117m of porous volcanic rock. Just imagine the taste!
Try it for Yourself
If you have imagined the taste already, don't keep dreaming about it! You can buy all three products from Orientalist Spirits on their website. It's a new year and a new decade. Time to try something new!
Like what you have just read?
https://www.whiskygeeks.sg/wp-content/uploads/2019/12/The-Trio.jpg
800
800
Zerlina Zhuang
http://www.whiskygeeks.sg/wp-content/uploads/2017/07/logo_WhiskyGeeks-300x138.png
Zerlina Zhuang
2019-12-30 16:48:53
2019-12-30 17:02:51
Exciting New Blended Asian Whisky by Michel Lu