Most of us are familiar with Hard Rock Cafe, the hippy American rock cafe found almost everywhere in the world. However, most of us probably will not associate them with whiskies. Therefore, it was with surprise when we received an email from Hard Rock Cafe Singapore, requesting for WhiskyGeeks to assist them in a shout-out for a whisky tasting event happening on 15 May 2019. Of course, we helped, and the restaurant invited us to attend the tasting. The honour was all on us because we were the only media invited to the tasting.
Why Do a Whisky Tasting?
We understood that the whisky tasting was held to celebrate the upcoming World Whisky Day (18 May). Hard Rock Cafe Singapore (HRCS) invited Randall Tan, the brand advocate from Edrington Group, to host the tasting and he kindly agreed. The line up was also one of the first of its kind that Randall did – A cross-brand tasting of Macallan, Glenrothes, Highland Park and their blended malt, Naked Grouse. We got to say that it was indeed the first ever cross-brand tasting that we did with Edrington Group and Randall.
It was a treat, to say the least, to be able to taste four different brands in one single tasting event.
Randall Tan, the Brand Advocate
Those of you who attended Macallan masterclasses would know Randall. We first got to know Randall many years back, when Macallan started the Toast the Macallan Masterclass series. It appeared that whisky is not only the water of life but also the fountain of youth. Randall doesn't seem to have aged after ALL THESE YEARS! He still looks as youthful as always. Perhaps it was the lighting in the room?! Hahaha!
Anyway, it was good to see Randall again and listen to what he had to say. We thought the presentation was excellent because he shared much knowledge with the audience. From whisky making to distillation to maturation in casks, Randall offered up many nuggets of information to help the participants to learn more about whisky in general. Naturally, Randall also spoke about the different whiskies that we tasted, in more details.
Whiskies of the Night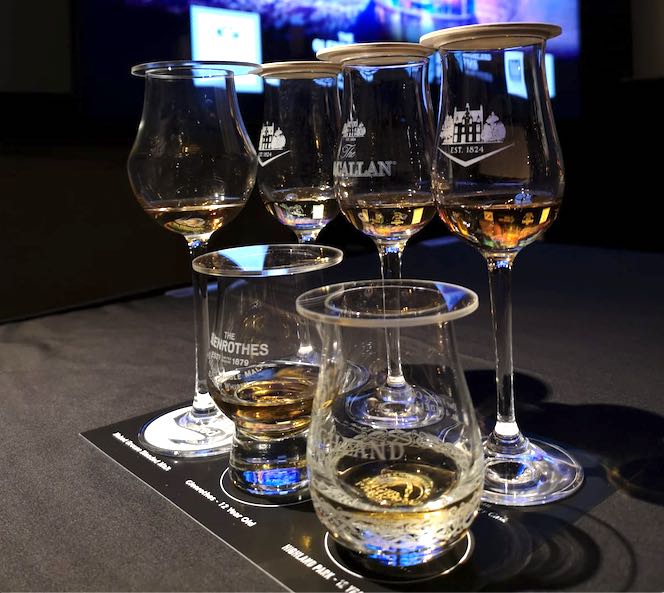 There were six whiskies on the table, and we tasted them all before. They were not something new, but there was a certain appeal to go back to the basics at times to appreciate the whiskies that we used to drink when we started our whisky journey.
Naked Grouse, Blended Malt, 40% abv
The first whisky to start the night was the Naked Grouse. It is a blended malt now, with some of the best single malt whiskies that Edrington has ever produced being part of the blend. The whisky used to be a blended Scotch, and it was one of my favourite blends.
The new blended malt has Macallan, Highland Park, Glenrothes and Glenturret in it, and it is a parade of Edrington's finest malt whiskies all in one. The individual whiskies are blended and then married in an oloroso sherry cask for six months as a finish before bottling. As a result, the sherry influence in the whisky is quite evident.
On the nose, we got Highland Park immediately. The honeyed notes, coupled with a waft of smoke before fading into the background. In a little moment, the influence of Macallan's sherry notes came through. Glenrothes wafted in and out with its orange notes, and Glenturret was probably asleep as a base whisky. There were caramel, chocolate, cinnamon and hints of cherry.
The palate was mellow and pleasantly sweet. Caramel, milk chocolate, cherry soda were prominent, which probably were the Macallan and Glenrothes talking. There were also hints of oak and incense smoke which screamed Highland Park. I suppose the oaky bits could be the Glenturret. The finish was medium with some honey and oakiness to it.
Glenrothes 12 Years Old, Single Malt, 40% abv
Glenrothes is a brand that is often overshadowed by Macallan and Highland Park. Previously sold to the Chivas Brothers, the brand recently rejoined Edrington Group. The Group immediately did a rebranding for Glenrothes, and now the brand spots age-statements on their labels. In the past, they only showed the vintage, which confused some consumers.
Randall mentioned that there is no colouring added to the Glenrothes because the distillery works hard on their wood policy. We suppose it is an extension of Edrington Group as all the distilleries under their care take pride in their method of wood selection.
On the nose, sweet sherry, caramel and vanilla came through very quickly. As the whisky aired in the glass, we began to get hints of hay, citrus and oak. Slowly, the orange notes developed, and the combination of orange, sherry and vanilla made the nose extremely pleasant.
The palate was gentle and light, with caramel, sherry, cinnamon, citrus orange and hints of oak. The sherry-seasoned European oak cask used for maturation was evident in this whisky, especially when the whisky had time to air in the glass. The finish was short, oaky and sweet.
Macallan 12 Years Old Triple Cask, Single Malt, 40% abv
Now, we came to the Macallan 12 Years Old trio. First up was the Triple Cask. The three casks used in this whisky are ex-Bourbon American White Oak, sherry-seasoned American Oak and sherry-seasoned European Oak. The Macallan new make is matured for 12 years in each of these casks before getting married in a neutral (or spent) casks for a few months before bottling.
The citrusy nose was accompanied by vanilla and coconut from the American oak. There were hints of pepper and oak. On the palate, it was very light and maybe a little flat. The flavours were rather weak, with some vanilla, citrus and pepper. The finish was almost non-existent, and the whisky disappeared way too quickly.
Macallan 12 Years Old Double Cask, Single Malt, 40% abv
The Macallan Double Cask was next. The casks used were sherry-seasoned European Oak and ex-Bourbon American White Oak. The Macallan new make is matured for 12 years in each of casks before getting married in neutral casks for a few months before bottling.
With the absence of the sherry American Oak, the influence of the sherry European Oak took over. The nose was full of toffee, burnt sugar, vanilla cream, raisin and bread crusts. There were also notes of cinnamon underneath. On the palate, toffee, cinnamon, and vanilla cream were prominent, with hints of raisins and pastry at the back. The influence of oak was also stronger.
Macallan 12 Years Old Sherry Cask, Single Malt, 40% abv
Macallan is famous because of this whisky. We can almost call it the flagship whisky of Macallan. The 12 years old sherry cask, however, is different from what we used to enjoy. The old Macallan 12 Sherry Cask used barrels that held aged sherry. As the world evolved, people move away from aged sherry, and the old type of sherry casks was also gone. What Macallan uses now are sherry barrels that are seasoned with oloroso sherry for 18 to 24 months. Compared to the old Macallan 12 sherry cask, the current batches of 12 years old are very different indeed.
On the nose, we got clean sherry, caramel, cinnamon, raisins, candied oranges, milk chocolate and clove. The old familiar muskiness surfaced after a while, but it was nothing like the old Macallan 12. The palate was full of caramel, cinnamon, cherry, raisins, chocolate, cloves and spices. The finish was long, sweet and dry.
We must say that the new Macallan 12 Years Old is still a pleasant drink. Even though whisky drinkers who love sherry bombs may no longer like it, the Macallan 12 Sherry cask still pack a punch for the beginners. We found it rather pleasant; perhaps we no longer like sherry bombs?
Highland Park 12 Years Old, Single Malt, 40% abv
Finally, we came to the last whisky – the Highland Park 12 Years Old. This whisky divided the opinion of Zico and me, mainly because he doesn't mind the Highland Park while I dislike the light smoke. I always find the Highland Park too lightly smoked for me, as I much prefer stronger peated whisky such as Lagavulin 16 or the Octomores. Nonetheless, I was pleasantly surprised by the whisky this time.
On the nose, the heather honey was so strong! We must thank our newly-joined writer, Hong Fu, for giving us a taste of heather honey when he came back from Scotland last year. Perhaps it was the heather honey that made me feel better about Highland Park. Besides the heather honey, the nose was full of sweet vanilla, cinnamon, hints of toffee, and very light smoke.
The palate was again, heather honey, combined with vanilla cream, hay, cinnamon, nuts, green fruits and light smoke. It was nice. I actually enjoyed the Highland Park 12 for the first time! It was quite surprising for me, to be honest. The finish was medium, sweet and oaky.
Food from HRCS
Once the tasting was done, HRCS treated all of us like Kings and Queens. They served some of their signature dishes in small bite-size portions for us to enjoy. The only exception was their Hard Rock Slider, which appeared to be just a junior-sized burger.
The food did not disappoint; for it was part of the Hard Rock signature. The food paired relatively well with some of the whiskies too!
Sharing is Caring – Promotion at HRCS
The session came to an end around 9 pm, which I need to commend Hard Rock Cafe for keeping to the time. We hung around for a while, chatting with Randall, and the HRCS team. We also enjoyed another dram of Highland Park 12 Years Old. Haha…it was still amazing to me that I actually enjoyed it.
We learned from the HRCS team that they have promotions for most of the whiskies in the next few months.
Now to June – Macallan 12 Years Old Double Cask – $19/45ml or $225 for 1 bottle or $400 for 2 bottles
July to August – Glenrothes 12 Years Old – $17/45ml or $175 for 1 bottle or $320 for 2 bottles
September to October – Highland Park 12 Years Old – $17/45ml or $175 for 1 bottle or $320 for 2 bottles
These prices are affordable! Even if you are a seasoned whisky drinker, you may want to pop by to enjoy some basic drams when you are near HRCS. If you are starting out on your journey, why not pop by to try them? You may be surprised at how gentle a 40% whisky can be!
Like what you have just read?
https://www.whiskygeeks.sg/wp-content/uploads/2019/05/Randall-Intro.jpg
600
800
Zerlina Zhuang
http://www.whiskygeeks.sg/wp-content/uploads/2017/07/logo_WhiskyGeeks-300x138.png
Zerlina Zhuang
2019-05-16 15:54:05
2019-05-16 16:05:56
Whisky Night at Hard Rock Cafe Singapore