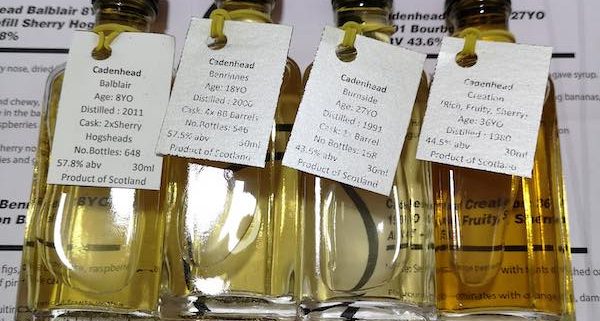 Another Cadenhead Tasting with Mitch Graham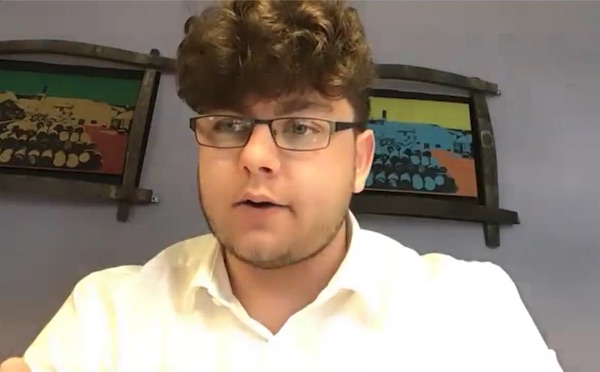 When we get lucky, we get lucky! The Whisky Store invited WhiskyGeeks to another fabulous Cadenhead premium tasting. This time around, our host was Mitch Graham, the sales executive at Cadenhead. While we were slightly disappointed that the original presenter, Cameron McGeachy couldn't host the event due to unforeseen circumstances, Mitch was a good sport to take up the role.
We shared extensively about the history of Cadenhead in a previous post, so let us move on to the important details – the whiskies!
The Whisky Line Up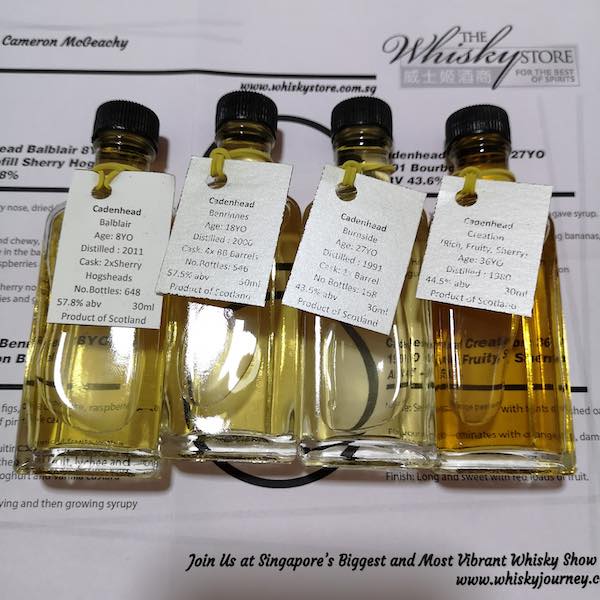 Cadenhead has not failed to disappoint us so far, and this tasting was just as excellent. The line up was premium, with whiskies ranging from 8 years old to 36 years old. Bottled at cask strength, each of these whiskies offered up different flavours and profiles. We had the following:
Burnside (teaspoon Balvenie) 1991 27 Years Old, 43.5% abv
Benrinnes 2000 18 Years Old, 57.5% abv
Balbair 2011 8 Years Old, 57.8% abv
Creation (Rich, Fruity, Sherry) 1980 36 Years Old, 44.5% abv
Burnside 1991 27 Years Old
I have been raving about Burnside recently, especially if they are bourbon-matured expressions. James Cordiner, the ex Balvenie brand ambassador introduced me to them with his fabulous DCS range. We even bought some Balvenie 12 Years Old in single bourbon casks just to compare their profiles! You can guess that I was excited with this Burnside!
Well, Cadenhead and Burnside did not disappoint at all! The floral, fruity sweetness of the whisky hit my nose like a bouquet of fruits. The palate mellowed out from fruity to a slightly dry, floral note. It was so soft. At 27 years old, the whisky is aged to perfection. The lower abv also helps to take away the sting of alcohol, making it a perfect choice for everyone.
Benrinnes 2000 18 Years Old
Fans of Benrinnes love the fruity notes of the distillate and its strong, robust character that withstands both bourbon and sherry cask maturation. I may not be the biggest fan of Benrinnes, but I do own a couple of excellent 18 years old Benrinnes. I probably ought to add this particular one to my shelf. The nose was fantastic, full of ripe green fruits and some beautiful tobacco notes. I think some people may think it's tea leaves, but yeah, you get the idea. The palate was oily and full, with a softness that suggests an older whisky.
Balbair 2011 8 Years Old
The youngest whisky of the lot and the strongest in terms of alcoholic strength is the Balbair 2011 8 Years Old. If you think that the flavours pale in comparison, then you are wrong. Balbair has a strong distillate, and it works very well in a bourbon cask. This particular Balbair stands out with its slightly engine oil nose, and its strong, oily palate. While it is not as mellow as the rest, it definitely more than make up for it in terms of flavours. Think of lemons, citrus and fruity notes, and you are getting the Balbair 2011.
Creation (Rich, Fruity, Sherry) 1980 36 Years Old
Cadenhead creates blends to showcase certain profiles to help its consumers determine specific flavours. The Creation series has various expressions, and I thought that this old sherried whisky was pretty awesome. There were some sulphuric notes at the beginning, but as the whisky opened up, the aromas of rich, dark fruits, tobacco and dark musty books surfaced. A typical sherry profile, with just the right amount of softness to it.
Cadenhead's New Adventures with Original Collection
Fans of Cadenhead whiskies will be familiar with their various ranges. Besides the small batch range which we tasted, Cadenhead also has their cask strength Authentic Collection. The Authentic Collection is made up of single cask bottling which are, unfortunately, not available in Singapore. However, we have exciting news for you.
Cadenhead Original Collection
We understood from Mitch, that a new range is emerging from Cadenhead. While he did not reveal too much during the event, we did found out about it through the Cadenhead Newsletter! The newest addition to Cadenhead's extensive range is their Original Collection. The collection is a revival of the old, and delightfully bringing the Cadenhead folklore back to life.
"The Original Collection features a great range of Cadenhead's whiskies, with each of the casks selected from our extensive warehouse stocks tested by our dedicated Cadenhead's team."

Cadenhead Newsletter
It appears that the Original Collection will not be single casks bottling. Each expression will be a marriage of several casks, so that there will always be enough stocks for interested parties to snap them up. Cadenhead also decides to bottle these beauties at 46% abv instead of cask strength to showcase how each whisky shines at that alcoholic strength. The deliberate choice of watering the expressions down is also a way to allow the Original Collection to have its own identity. We think it is a good option for newer drinkers to experience Cadenhead as well. It does open up a big, new adventure for most of us!
The Whisky Store
We understand that The Whisky Store will be importing these delicious malts, but their stocks are likely to arrive only sometime in early 2021. If you are keen to try them, do be patient and wait for the announcement!

In the meanwhile, do check out their online store for the various expressions that we tasted. They are all fabulous, and if you like any of these, you should grab them faster rather than slower. Oh, and if you prefer holding the bottles in your hands before purchasing, head down to Copper at Lanson Place. There is a small retail section there, and you can also get to taste more Cadenhead expression!
http://www.whiskygeeks.sg/wp-content/uploads/2020/09/IMG_20200908_194139.jpg
600
600
Zerlina Zhuang
http://www.whiskygeeks.sg/wp-content/uploads/2017/07/logo_WhiskyGeeks-300x138.png
Zerlina Zhuang
2020-09-17 16:01:54
2020-09-17 16:02:46
Another Cadenhead Tasting with Mitch Graham