Whisky Review #98 – Belgian Dark Strong Style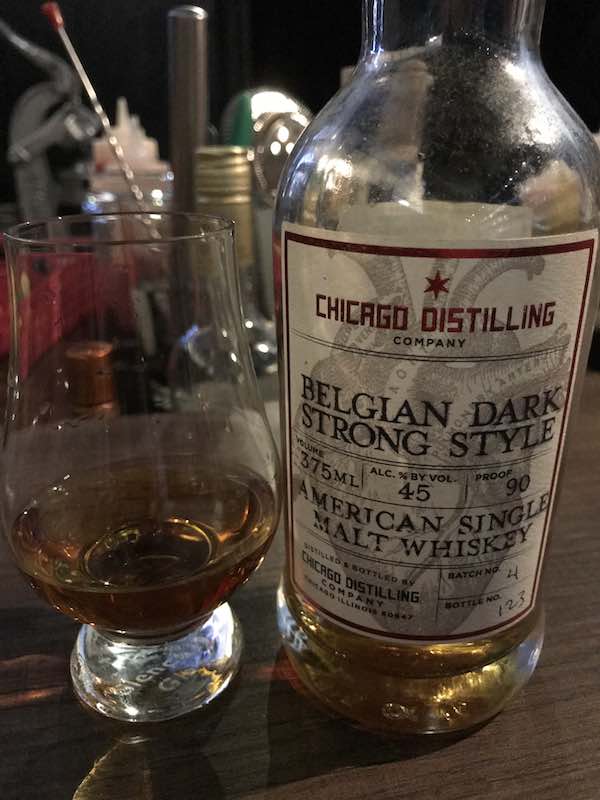 I am not an American whiskey fan generally due to my aversion to things that tasted too sweet. The unfortunate fact remains that American whiskey, as a group, is often too sweet for me and my tolerance to it is probably just a half pour at a bar. Nonetheless, there are some whiskeys which are delicious to me; State 38's bourbon and rye, for example, as well as famous Maker's Mark!
I always wanted to try other whiskeys because I have friends who love bourbon and encourage me to try them beyond the usual. So Geek Choc and I had some crazy ideas last week and decided to pay a visit to an American bar in search of crafted bourbons. We walked into The Secret Mermaid, and after getting seated at the bar, we were offered a cocktail menu. It took some time and lots of efforts to attract the staff at the bar before we got the proper whiskey menu. As there were no recommendations forthcoming even though I mentioned it was our first time, we ordered something that sounds interesting.
One of the whiskeys we ordered is this – Belgian Dark Strong Style. Crafted by the Chicago Distilling Company, it is a single malt whiskey! To be honest, I went with some expectations. I was hoping to be convinced. Was I convinced?
Let's find out!
Tasting notes:
Colour: Dark Amber
ABV: 45%
Nose: Strong notes of dried preserved plums come head on right from the start, with sandalwood following right behind. There are some orange notes and burnt sugar in the back. It defines itself as an American whiskey right away, and there is no doubt that I am possibly not going to like the palate very much. Objectively though, the nose is exciting and it does make me want to taste it. (17/20)
Palate: Sandalwood, burnt sugar, and cloves combined to give an awkward taste to the palate at first, but then oakiness comes forth with a touch of dried preserved plums as the liquid went down the throat. I would say that, objectively, the palate is strange but not unpleasant for those who like bourbons. I like how the dried preserved plums surface at the back of the throat and soothe out the bite from the cloves. (15/20)
Finish: The finish is relatively short in terms of flavours in the palate. Some saltiness at the back of the throat and a tiny burst of sweetness before everything ends prematurely. However, the warmth of the liquid lingers in the throat for quite a while, giving us a pleasant warmth. (16/20)
Body: To be fair, it is a balanced dram. I think that as a bourbon, it has outdone some of the others which I had tried. Maybe it will taste better (to me) on the rocks. The sweetness is not overpowering but I still find the notes too strange for my liking. However, the saltiness of the dram adds a touch of surprise in an otherwise simple dram. For that, I must give it credit! (33/40)
Total Score: 81/100
Disclaimer: I think I may be biased here, but it is my honest opinion. I do welcome those who had tried this to give their thoughts about it on our Facebook post!
Comments:
Geek Flora: "I failed to like this, even though I tried very hard. The style is too different and while I find myself falling in love with Welsh whisky, English whisky and even Nordic whisky, I cannot bring myself to like American whiskey too much. Thankfully, there are still some which I can enjoy, like State 38's DC Loveday Bourbon and Maker's Mark!
Geek Choc: "I think I like this. While I agree with Flora's review of the whiskey, I think this is an interesting dram and one which brings a different feel to my usual whisky choices. While it will not be my first choice of whisky, I do not mind having it now and then." 
Like what you have just read?
http://www.whiskygeeks.sg/wp-content/uploads/2018/08/Belgian-Dark-Strong-Style.jpg
800
600
Zerlina Zhuang
http://www.whiskygeeks.sg/wp-content/uploads/2017/07/logo_WhiskyGeeks-300x138.png
Zerlina Zhuang
2018-08-13 00:09:03
2018-08-13 00:09:03
Whisky Review #98 – Belgian Dark Strong Style