Whisky Review #76 – Littlemill 24 Years Old (Fighting Fish)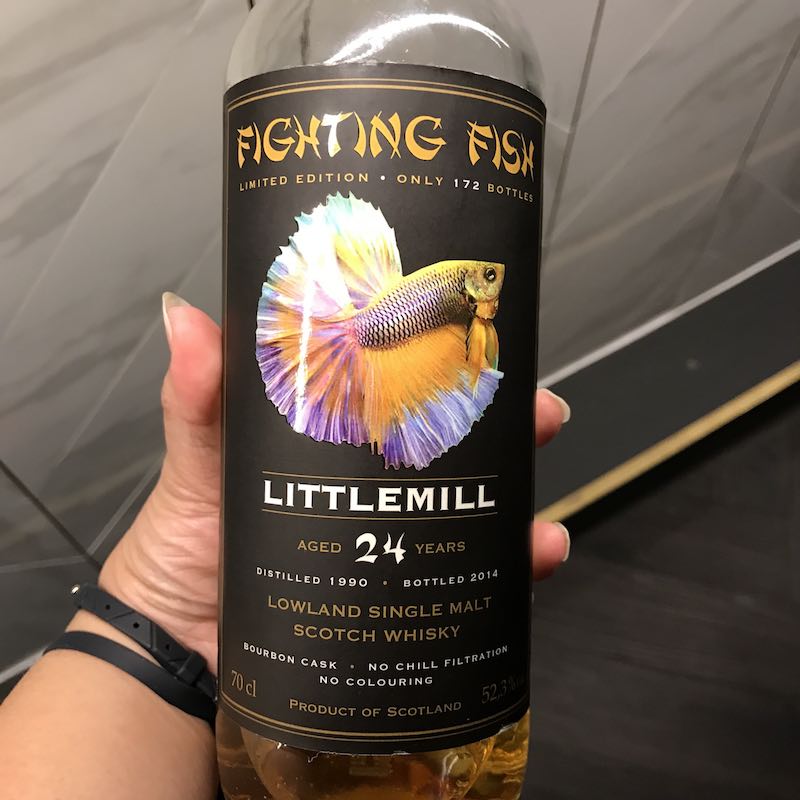 Littlemill is a lesser-known distillery found in between the Lowlands and the Highlands. Regarded as a Lowland distillery, Littlemill produced a single malt that is light and floral. It closed down in 1996 and burned to a crisp in 2004. The site is now a block of apartments.
We will speak more of Littlemill as a distillery soon, but for now, let's look at the subject for this whisky review.
The Fighting Fish series is from Germany, independently bottled by Jack Wiebers. The expression is distilled in 1990 and bottled in 2014, making it a 24-year-old whisky. Matured in a bourbon cask, it is not chill-filtered and has no colouring added. The final outturn was 172 bottles.
Tasting Notes:
Colour: Bright Amber
ABV: 52.3%
Nose: Sweet molasses, honeyed sweetness, red berries and hints of tropical fruits fills the nose before light vanilla comes into the picture. Spice lingers in the background and forms a pleasant expectation of this expression. It is different from other Littlemill expressions that I had tried before. It has an attractive nose! (17/20)
Palate: The oily mouthfeel gives robustness to the palate before sweet vanilla engulfs the palate. Molasses and tropical fruits rush in after the vanilla dissipates. Warm spice hangs in the background to remind me of the high abv in this dram. Again, it is different from other Littlemill expressions but certainly one of the interesting ones. (17/20)
Finish: The medium to long finish of this dram is pleasurable with light spice lingering at the back of the throat. Sweet molasses and creamy vanilla last all the way to the end, marking this dram as a superb balanced one! (18/20)
Body: There is a fantastic balance for this Littlemill. The nose, palate and finish are consistent, and while it does not exhibit the typical grassiness of Littlemill whisky too much, the sweetness of this dram puts it in the "interesting" category indeed. (36/40)
Total Score: 88/100
Comments:
Geek Flora: "I love Littlemill ever since I had my first dram and I was never disappointed. While I do not like the sweetness of this Littlemill, I got to say that the superb balance did not disappoint. The nose, palate and finish were perfect, so there is nothing to complain about. The expression did not score more than 88 points mainly because I find it a little unlike a typical Littlemill, which I had grown to like. So perhaps, you can say that my scoring is just a little biased!"
Geek Choc: "I find Littlemill to be too light and floral for my liking, but this expression hits the spot very well. The sweetness of the whisky makes it more special than a typical Littlemill expression. I score it much higher than Geek Flora, hence, that 88 points!"
Like what you have just read?
http://www.whiskygeeks.sg/wp-content/uploads/2018/02/Littlemill-24-YOs-small.jpg
800
800
Zerlina Zhuang
http://www.whiskygeeks.sg/wp-content/uploads/2017/07/logo_WhiskyGeeks-300x138.png
Zerlina Zhuang
2018-02-26 10:53:24
2018-02-26 10:53:24
Whisky Review #76 – Littlemill 24 Years Old (Fighting Fish)