Whisky Review #65 – Bruichladdich 20 Years Old Duncan Taylor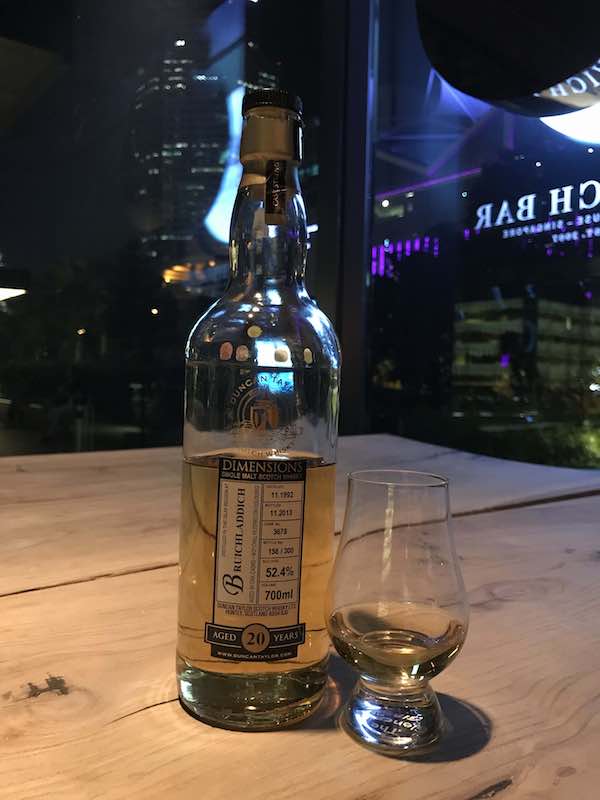 Bruichladdich fans will agree that it usually taste of sweet vanilla notes and is spicy on the palate. However, have you thought about a Bruichladdich that has almost no spice, and instead, takes on a light, grassy note? No? Well, neither have we! Until now…that is.
The subject of this review is a Bruichladdich 20-year-old by the independent bottler, Duncan Taylor. Distilled in 1992, the liquid matured in oak casks for 20 years before getting bottled in 2013. The total yield is 300 bottles.
Let's look into this excellent dram now.
Tasting Notes:
Colour: Pale Gold
ABV: 52.4%
Nose: Grassy to the max! It smells like an early morning stroll in a meadow, where flowers are just starting to bloom. The sweetness is minimum, but instead, floral notes are prominent. Peppery spice floats in the background, but it is not strong. Un-typical Bruichladdich! After airing for near 30 minutes, the sweetness of white peaches can be detected in the background, making it more typical Bruichladdich. (17/20)
Palate: The taste is light grass and floral all at the same time. Slightly acidic with light peppery spice. Unlike the Classic Laddie, this whisky has almost no spice. After a while, honeyed notes surface and push the spice further into the background. After airing for near 30 minutes, the palate changes completely. The grassy notes are gone and are replaced by sweet white peaches, making the taste more like a typical Bruichladdich. (18/20)
Finish: The finish is short with some sweetness. It does not change with time. (15/20)
Body: It is a simple whisky, but well-balanced. Mind-blown at first but slowly, it develops typical characteristics of Bruichladdich. This is a shot of whisky that can be savoured over an extended period just to see it blossom into its full Bruichladdich character. (32/40)
Total Score: 82/100
Comments:
Geek Choc: "I did not expect a surprise when I ordered this dram, but boy, did it surprise me with its difference from the typical Bruichladdich. I like the grassy notes and the fact that the spice is minimum. It is nice to taste something different now and then! It is probably a good idea to drink this again in a month's time to see if the oxidation in the bottle makes this "more Bruichladdich" than what I had." 
Geek Flora: "When Choc told me that this is grassy, I thought he was drunk! Nonetheless, I was impressed when I nosed and tasted this dram. That is fantastic! Well, it is a pity that Spice did not get to try this one because he was overseas. We will drag him along if we try this again!"
Like what you have just read?
http://www.whiskygeeks.sg/wp-content/uploads/2017/10/Bruichladdich-20YO_DT-Square-small.jpg
800
800
Zerlina Zhuang
http://www.whiskygeeks.sg/wp-content/uploads/2017/07/logo_WhiskyGeeks-300x138.png
Zerlina Zhuang
2017-11-06 14:40:54
2018-01-26 16:19:11
Whisky Review #65 – Bruichladdich 20 Years Old Duncan Taylor