Whisky Review #102 – Austria Single Malt Keckeis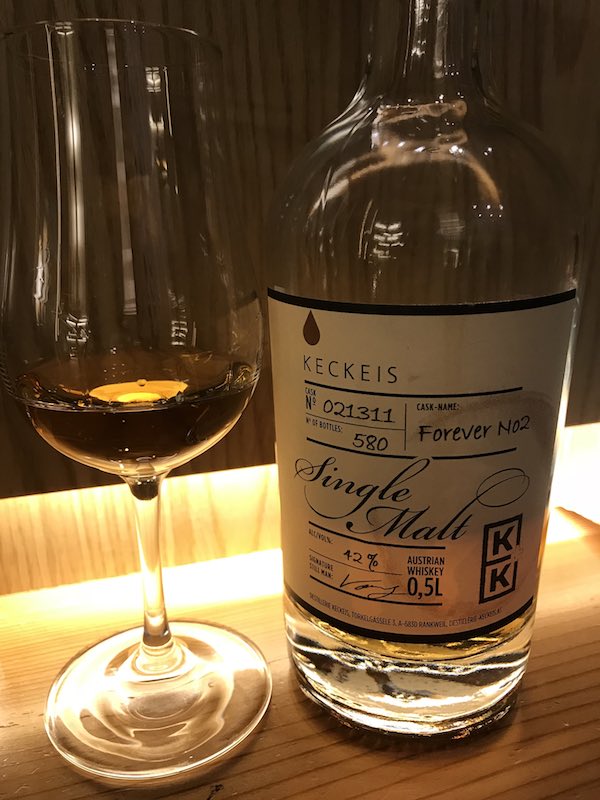 If you have yet to hear about Austria single malt whisky, this is a post that you can spend some time on. Flora and Choc visited our friend, Daisuke-san, at his bar La Terre recently and discovered this gem of a whisky. The uniqueness of the malt excited Flora almost immediately and the good price point at the bar added the appeal. So, we ordered a dram of this to see where it will take us.
Unfortunately, my friend Google has not been very helpful in helping me understand this distillery well, as there is hardly any information available online! Whatever I can find are mostly in German, and I can't read the language. 🙁
Keckeis single malt comes from a distillery named Harald Keckeis. Located in Rankweil, Austria, it produces whisky, gin and beer. They should have about three expressions, with the core range named Keckeis Single Malt, and two distillery bottlings with cask names Forever No. 1, and Forever No. 2. Well, that's all about it that I can understand. Hahaha!
Anyway, let's get on with the review. The bottle I had is a single cask distillery bottling. The cask name is Forever No. 2. It is kinda weird to call a bottle "forever no. 2", but I suppose it could be an issue with translation?
Tasting Notes:
Colour: Rich Gold
ABV: 42%
Nose: Intense cherry and flowers mixed with a slight Nippon paint note hiding behind. Interestingly, the paint note does not make the nose bad, but on the contrary, it is pleasant and inviting. Slight spice lingers in the background, but it wafts in and out, never overpowering the sweetness that goes on and on. There is a fruitiness to it as well, almost like baked apples. Overall, it has a fantastic nose. (18/20)
Palate: Thick and rich palate, almost syrupy. Baked apples, boiled sweets and cherries coat the palate nicely. There is a pleasant warmth too; nothing sharp. As I swallow the whisky, I taste sweet cherry jelly and an amazing burst of cherry fruitiness! Wow! (18/20)
Finish: Long and sweet finish with a superb cherry sweetness and slight astringent note. The sweetness lingers all the way to the end. (17/20)
Body: This is an interesting whisky, especially when it is not a traditional Scotch. I am very excited to try and it does not disappoint. Wow! Considering that it is only 42% abv, the delivery is nothing short of fantastic. Nonetheless, it is a simple whisky without too much complexity. I believe the distillery will do well moving forward and I look forward to trying more of what this distillery can offer in the future. (35/40)
Total Score: 88/100
Comments:
Geek Flora: I am happy with this whisky. Simple and easy to drink with an excellent delivery of uniqueness. I would look forward to other expressions in the future. 
Geek Choc: Flora decided to try this whisky before I could say that I wanted a dram, so we shared the dram instead. It was purely for a trial, but we were glad that we did try. Excellent dram to conclude our night at La Terre!
Like what you have just read?
http://www.whiskygeeks.sg/wp-content/uploads/2018/09/Keckeis-Single-Malt.jpg
800
600
Zerlina Zhuang
http://www.whiskygeeks.sg/wp-content/uploads/2017/07/logo_WhiskyGeeks-300x138.png
Zerlina Zhuang
2018-09-15 14:04:52
2018-09-15 14:04:52
Whisky Review #102 – Austria Single Malt Keckeis