Whisky Review #101 – Port Charlotte 2004 Highland Laird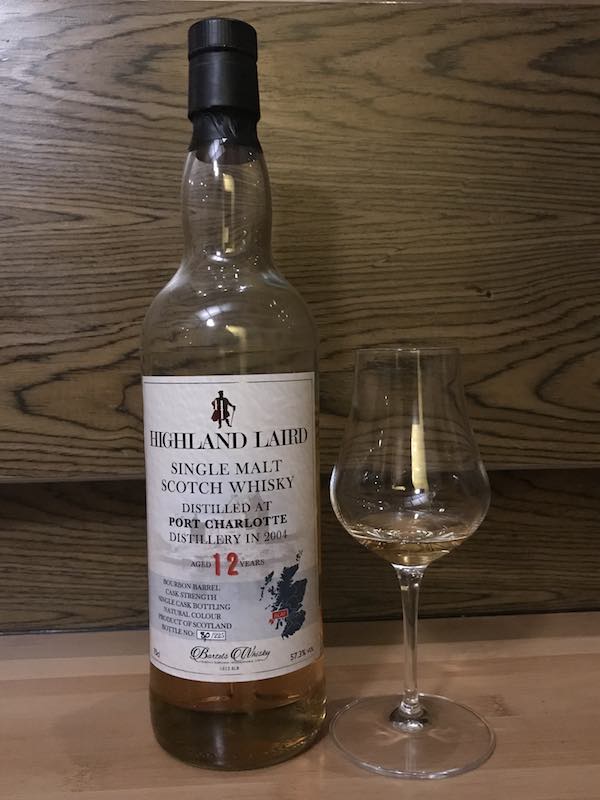 When it comes to Bruichladdich distillery, most people tend to overlook Port Charlotte as a brand and instead focus on the non-peated version – Bruichladdich and the ridiculously peated version – Octomore. Port Charlotte is the middle sibling, and as all middle siblings know, they are often overlooked. However, the distillery produces fantastic Port Charlotte and those who have not taken the time to discover Port Charlotte; you should seriously do so.
We drank many expressions from Port Charlotte, especially the official bottling. The peak of our Port Charlotte adventure, however, came in the form of the abovementioned bottle – the Port Charlotte 2004. A 12 years old expression bottled under the Highland Laird label by Bartels Whisky, it is a beast of a Port Charlotte! Bottled from a single bourbon barrel (#900) at cask strength, only 225 bottles are available worldwide.
We tasted it blind, and these are the reasons why it impress us so.
Tasting Notes:
Colour: Light Gold
ABV: 57.3%
Nose: Cereal notes are prominent at the first nose, sweet and fulfilling. It reminds me of a beautiful Bruichladdich I once had. I thought it was a Bruichladdich, but then the peat smoke appears after a couple of minutes. Gentle at first, and then slowly gaining prominence. Floral notes, vanilla cream and lemon peels surface after the peat smoke, and the cereal notes continue to linger. All of these beautiful aromas mingle delightfully to give a fantastic nose! (18/20)
Palate: Sweet cereal notes, gentle peat smoke and floral notes come together at first with a tinge of sharpness from the high abv. Then vanilla cream and lemon peels come in to add complexity to the already beautiful notes. As I swallow, the peat smoke expands to engulf the palate for a while before mellowing down back to sweetness. At this point, I am no longer in doubt that this is none other than a peated Bruichladdich – Port Charlotte! (18/20)
Finish: The finish is long and yet subtle. The sweetness lingers from the palate, and there is this oakiness to the finish. However, it is not astringent or dry, making the dram extremely satisfying. It took me more than a couple of minutes to identify its identity as a Port Charlotte due to its complexity, but it is fantastic! (18/20)
Body: It is a superb balanced dram that is easily one of the best Port Charlotte I ever had so far. Well-rounded and balanced on all its notes, it also is a fitting expression to represent the distillery. (37/40)
Total Score: 91/100
Comments:
Geek Flora: "This is one of the best Port Charlotte I ever had. The other one which impressed me much was a MoS Port Charlotte, but this easily tops that with the amazing complexity. I suppose Port Charlotte still works best in a good ex-bourbon barrel, and perhaps, the guys at Bastel Whisky get this right on every note! Well done! Now, please excuse me while I go hunt for a bottle or two of this to bring back home." 
Geek Choc: "I never like Port Charlotte – I think it has this baby puke note in it. Flora put me through many torturous drams of Port Charlotte, and I never like any of them – until this one! We tasted it blind, so that may have helped to reduce my bias, but this is the best dram of PC I ever had! It changes my opinion of Port Charlotte, and I think I will be happier to try new PC that Flora puts in front of me in future."
Like what you have just read?
http://www.whiskygeeks.sg/wp-content/uploads/2018/08/PC2004-Highland-Laird.jpg
800
600
Zerlina Zhuang
http://www.whiskygeeks.sg/wp-content/uploads/2017/07/logo_WhiskyGeeks-300x138.png
Zerlina Zhuang
2018-08-26 23:20:09
2018-08-26 23:20:09
Whisky Review #101 – Port Charlotte 2004 Highland Laird