Westland Distillery – Thoughtfully Made in America

I am never a big fan of American whiskey because I find bourbon too sweet and Tennessee whiskey just a little weird for my general tasting profile. However, I had the chance to taste two out of three Westland Distillery's core range in two separate occasions and their malt-forward flavours and profile made me sit up and take notice.
A closer look at their bottles revealed the reason – Westland Distillery made single malt whiskey. That is to say, they use malt barley as their base for fermentation, not corn or rye or any other grains. It was an exciting discovery for me so I dug deeper into the distillery to find out more.
Lo and behold, there are more surprises! I found out that the Westland Distillery belongs to Remy Cointreau, the French company who also owns Bruichladdich Distillery. Apparently, Remy bought the American distillery in late 2016 after the sales of its whiskey soared in the same year.
So, what is the secret behind Westland? Let me share what I found so far.
The Founding of Westland Distillery
The founders, Matt Hofmann and Emerson Lamb started Westland Distillery in 2010. Bonded over their love for whiskey and their passion to create something different for America, the pair decided to produce American whiskey in a special way. Deciding to follow the Scots in the choice of their grains, Matt Hofmann and Emerson Lamb choose to use malt barley instead of the usual corn or rye.
The distillery moves to the current location in Seattle, Washington in 2012 by refurbishing an old crane factory in 18 months. The first Westland release was a 375ml bottle named "The Deacon Seat".
The Ingredients in Westland Single Malt Whiskey
As we know, there are only three ingredients in single malt whisky when the Scots made them – barley, yeast and water. Westland Distillery follows this recipe closely, but with one exception. They use more than one type of barley for their mash. The distillery uses five different malted barley for their regular American Oak and Sherry Wood, and six different malted barley for their peated expression.
The five malts are:
– Pale Malt from Washington
– Munich Malt from Washington
– Extra Special Malt from Wisconsin
– Brown Malt from the UK
– Pale Chocolate Malt from the UK
The government and state park in America control much of the peat bogs and wetland in the country and distilleries find it extremely difficult to gain access to peat bogs. Westland is trying to persuade the government to allow them access to a peat bog that is a flavourful, herbaceous mix. For now, Westland is using peated malt from Bairds Maltings in Inverness, Scotland.
The Production Process
The distillery mills the barley on site using a roller mill before placing the milled barley into their stainless steel mash tun. Once the mash is completed, the wort moves along to the washbacks for fermentation. The yeast used is a Belgium brewers yeast that typically produces fruity beers! Fermentation takes four to six days, depending on the whiskey that they are making. Distillation takes place in two copper pot stills – a wash still and a spirit still.
The interesting part of their distillation comes from their copper pot still. It is a combination still where the shape of the still is rounded and yet, there is a column on top of the copper pot. The main idea of the column still is to remove impurities and make a clean spirit for maturation. For Westland Distillery, they remove the plates of the column still in their spirit still, which means there is no rectification or what we called column distillation done over in the spirit still.
Cask Maturation
Westland Distillery does not mature their whiskey on site, but at Hoquiam, Washington. That is roughly a two hours drive south of the distillery location. The location sits right smack on the Pacific Ocean, where the sea breezes create a coastal and humid environment. An environment such as this gives an angel share of about 2% all year around.
Westland only uses standard-sized casks and does not believe in small cask ageing. They have over 40 different cask types in their warehouse as of last year, and they range from sherry to port to ex-bourbon. Besides the regular wood, they also use Garryana oak, an endangered species of oak trees in the United States of America. Scientifically known as Quercus Garryanna, this tree used to grow rampantly from northern California to the British Columbia, but now, the growth area is only 5% of what it used to be. Westland is fighting to use this oak. Due to its endangered status, Westland Distillery is making a lot of efforts to ensure the continuity of the species. You can read more about their quest here.
The Core Range of Westland Distillery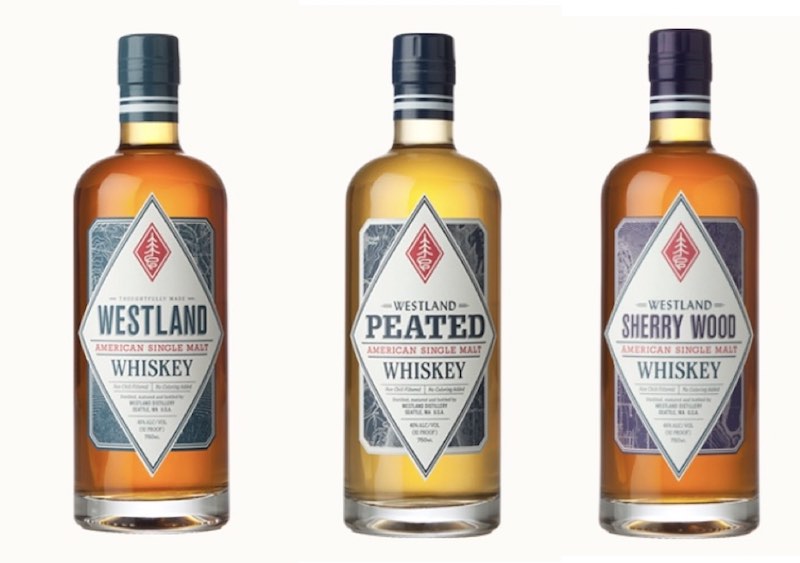 Westland Distillery produces three expressions for their core range. The flagship style of the distillery is of course, the American Oak. It is a reflection of the distillery, where it is from and the values of those who made it. It is an approachable dram that is not only uniquely American, but only special in its choice of ingredients.
The peated malt expression is a varietion of their flagship style with an addition of peated malt imported from Scotland. The addition of the peated malt adds smokey flavours to the whiskey and that makes it flavourful.
The sherry wood expression is an experiment that has gone well for the distillery. Using only the finest PX and Oloroso sherry casks sourced from Tonelería del Sur in Montilla, Spain, Westland creates a beautiful sherry wood expression with their malt-focused spirit.
Should you try whiskey from Westland Distillery?
Well, I tried two of the core range and end up digging deeper into the distillery to find out more. If you are someone who do not fancy bourbons because they are so sweet, perhaps Westland whiskeys will be something to try. It is less cloying on the palate and in general, gives a very well-rounded tasting profile.
If you are a bourbon lover, try this and let me know what you think! I will love to know what a bourbon drinker thinks about the whiskies from Westland!
Like what you have just read?
http://www.whiskygeeks.sg/wp-content/uploads/2018/08/Westland-Distillery_small-.jpg
493
800
Zerlina Zhuang
http://www.whiskygeeks.sg/wp-content/uploads/2017/07/logo_WhiskyGeeks-300x138.png
Zerlina Zhuang
2018-08-13 00:09:38
2018-08-13 00:09:38
Westland Distillery – Thoughtfully Made in America