Whisky Review #93 – Dramfool Port Charlotte 15 Years Old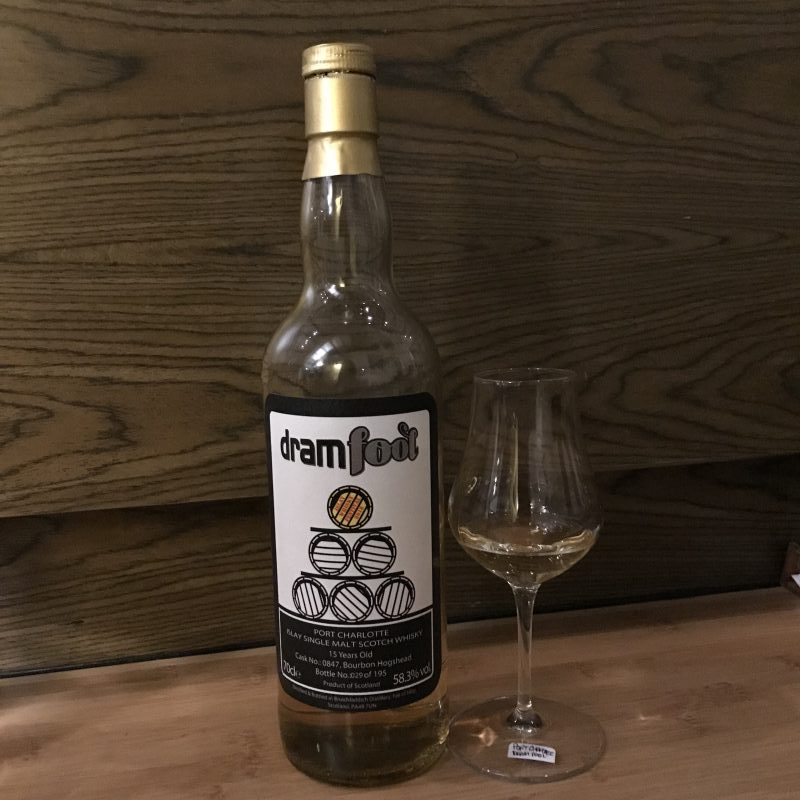 There isn't much information that I could find online about Dramfool. What I do know is that Dramfool is the brand name of an independent bottler and that the owner's name is Bruce Farquhar. According to Bruce's LinkedIn Profile, he is an experienced engineer who is now the director of Dramfool.
This review focuses on one of Dramfool's recent releases for the Islay Whisky Festival Exclusive Bottling that happened to be Dramfool's 13th release. It is a Port Charlotte, distilled in December 2001 and bottled in December 2016. Dramfool bottled the whisky at cask strength of 58.3%. There are only 195 bottles available.
How does it taste like? Let's find out.
Tasting Notes:
Colour: White wine
ABV: 58.3%
Nose: The first notes I got was coastal salt and peppery spice. There is light vanilla cream in the background. Sweet barley notes surface after a few minutes. Gentle peat (soot?) wafts into the nose after 10 minutes, and lemony notes appear underneath the peat. (17/20)
Palate: Sweet barley comes quickly but peppery spice attacks right after the sweetness. After the spice mellows, coastal salt, vanilla cream and lemon notes appear all in succession. The gentle peat comes at the back of the throat. (16/20)
Finish: Medium finish with sweet barley and hints of vanilla. (16/20)
Body: It is a balanced dram with a typical Port Charlotte profile. It is decent, but not something that I would wow over. It is probably not something that I would want to spend money to buy a bottle. Nonetheless, Dramfool sounds like an interesting IB, and I would want to explore more of its releases. (33/40)
Total Score: 82/100
Comments:
Geek Flora: "Well, it was a nice dram, but not something that gets me excited. A typical Port Charlotte profile is pleasurable but not fantastic. I guess I was looking for more as I had a great experience with the MoS Port Charlotte previously. You can find our review here"
Geek Choc: "Port Charlotte was not high on my list usually, and this is no surprise. I think it is a simple dram, balanced but not complex enough."
Like what you have just read?
http://www.whiskygeeks.sg/wp-content/uploads/2018/07/Dramfool-PC-15-Yrs.jpg
800
600
Zerlina Zhuang
http://www.whiskygeeks.sg/wp-content/uploads/2017/07/logo_WhiskyGeeks-300x138.png
Zerlina Zhuang
2018-07-08 22:45:28
2018-07-08 22:45:28
Whisky Review #93 – Dramfool Port Charlotte 15 Years Old