Interview: Chris Martin, Wine and Spirits Education Trust
Wine and Spirits Education Trust (WSET) is a global educational institution providing quality education for the wine and spirits industry. Founded in 1969 as a charitable trust, WSET gains recognition and confidence from the global community through its commitment to quality education over the years.
History of WSET
Before 1969, the Wine and Spirit Association of Great Britain spearheaded the education initiatives in U.K. When WSET came into being in 1969 after getting the necessary funding from The Vintner's Company, it took over the education initiatives. The founders came from the various cornerstones of the U.K wine and spirits trade. Representatives from each of the founding organisations still serve on their Board of Trustees today. The founding companies are:
The Vintner's Company
The Wine and Spirits Association of Great Britain (WSA) – now the WSTA
Institute of Masters of Wine (IMW)
Worshipful Company of Distillers
WSET offered three qualifications for trade professionals when it first started in 1969. Educators delivered all the courses at their London-based office.
By 1977, WSET set its foot out into the global market. With demands coming in strong, the company launched its courses in the Republic of Ireland and Ontario, Canada. From then onwards, the founding fathers of WSET did not look back, opening more doors with each passing year. In 1991, France got the first WSET course in Europe, and a German-language course followed suit in Austria in 1993. The next step saw the Trust going into the USA in 1994 and Japan in 1997.
Accreditation by the U.K Government
In 2001, WSET gained official accreditation from the UK Government. The Trust renamed their qualifications in-line with the UK National Qualification Framework guidelines as well. From 2001 onwards, more qualifications become available as the Trust expands its professional certifications. They also launched a Global Campus in 2004. By 2007, the international students taking WSET qualification exceeded UK student for the first time. Moving with speed, the trust grows bigger, and by the time it celebrates its 45th anniversary, it has an annual student population of 50,000. Today, WSET offers nine qualifications in 73 countries, with a network of 600+ course providers and an international student population of over 75% of the total student body each year.
Chris Martin, International Development Advisor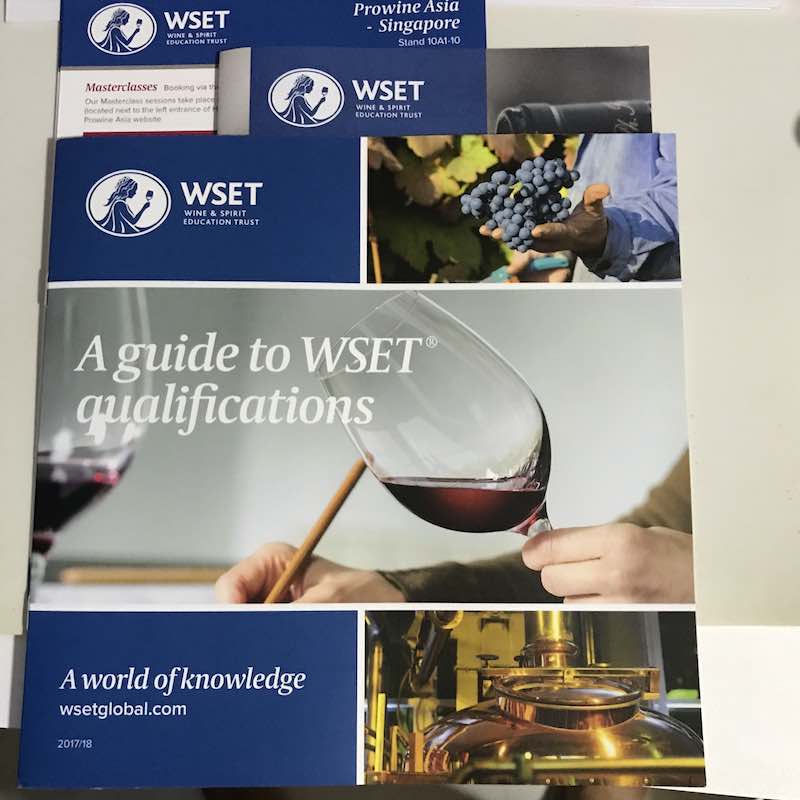 We met Chris for the first time during ProWine Asia 2018 at the WSET booth on Tuesday. Both Geek Choc and I were happy to share our passion with Chris and "talk shop" with him for a while. After knowing that we are bloggers, Chris kindly agreed to a short interview with us to speak about his role in WSET and what the Trust offers.
Chris involves himself in the international business development within the company. His primary role is to identify new, potential schools in South-east Asia, Japan and Korea. He also supports and promotes WSET within these regions. Chris reveals that Singapore has in the top 20 ranking for the most number of schools available! Good to know, isn't it?
Different levels of Qualifications
We understand from Chris that there are different levels of qualifications within the WSET framework. The levels range from Level 1 to Level 4. Level 1 and 2 are entry levels where individuals with little or no knowledge should attend to gain precious information about the topic of interest. It is also a good starting point for new entrants into the wine and spirits industry. Moving upwards, Level 3 and 4 are for decision-makers, owners and merchandisers. The qualifications in Level 3 and 4 are in-depth knowledge for these group of professionals and the length of the course increase dramatically as well. In fact, Level 4 is a graduate diploma course and lasts for two years!
After the graduate diploma, students can progress to a Master degree if there is an available one in their topic of interest. Currently, there is only a Master of Wine qualification, but who knows what will evolve in the future.
Chris also shared that there is an alumni where all students get to join and network with the global professionals in the wine and spirits industry.
Moving Forward with Quality Education
Chris revealed that there are more courses in the pipeline moving forward. Spirits lovers will be delighted to know that there are plans to launch Level 3 and 4 courses in the coming two years. I know I am excited! As for those of you who are only interested in whisky, check out the Whisky Ambassador course offered by their partner schools in Singapore!
http://www.whiskygeeks.sg/wp-content/uploads/2018/04/Notes.jpg
448
800
Zerlina Zhuang
http://www.whiskygeeks.sg/wp-content/uploads/2017/07/logo_WhiskyGeeks-300x138.png
Zerlina Zhuang
2018-04-29 15:15:07
2018-04-29 15:17:07
Interview: Chris Martin, Wine and Spirits Education Trust