Whisky Review #85 – Rosebank 20 Years Old (Zenith Italia)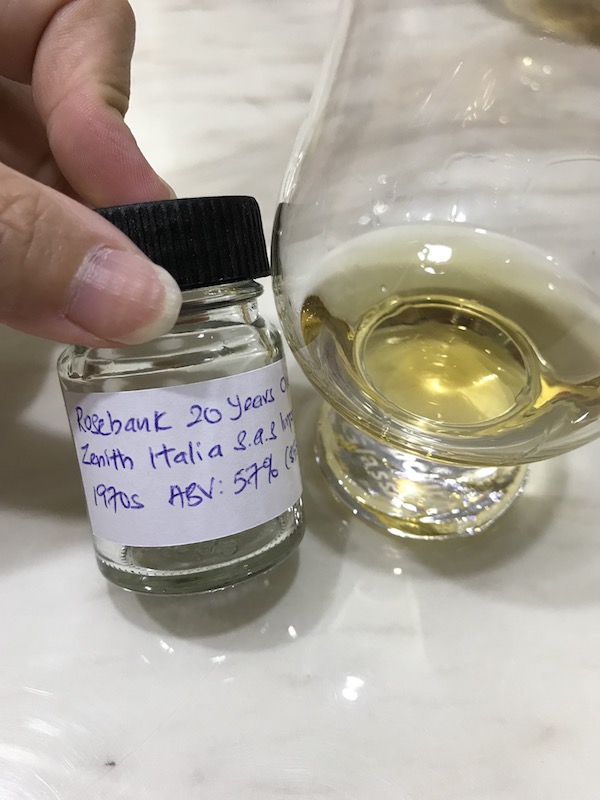 Rosebank generated a lot of buzzes recently with the news of its revival as well as the upcoming release of its new bottling. Since we have yet to hear news of the new release, we are satisfying our craving for its beautiful liquid from the old stocks! What we have here is a sample of a Rosebank 20 Years Old distilled in the 1970s by the Zenith Italia S.A.S Import. We bought this sample at TMA Vol. 1 and have only recently tried this.
Let's look at the review now.
Tasting Notes:
Colour: Gold
ABV: 57%
Nose: Sharp cinnamon and nutmeg spices lead the way before green apples and pears surface. After two minutes of airing, it turns grassy (like a sweet meadow) and melon sweetness appears! Wow! (18/20)
Palate: Cinnamon spice leads the way again but nutmeg is nowhere to be found. It has an oily mouthfeel and light green fruits appear on the palate. The melon sweetness that we got in the nose appears for a brief while and disappears too quickly. There is also a slight alcohol burn down the throat that lasted almost a minute. After airing for a while, the oak influence comes in and the side of the tongue gets some bitterness. The sweetness returns after that to create a sweet taste in the middle of the tongue, but the fruitiness does not reappear. It is a little disappointing as the palate does not deliver what the nose promises. (15/20)
Finish: The finish is relatively long with the sweetness lingering briefly. Oak influence rushes in to overwhelm the sweetness soon after, making the long finish astringent and slightly bitter. (16/20)
Body: It is a relatively balanced dram but not impressive to wow. A one-dimensional dram with a disappointing palate and a beautiful nose. (31/40)
Total Score: 80/100
Comments:
Geek Flora: "Well, I am greatly disappointed with the palate and finish. The nose promises such wonderful things but the palate and finish fall flat on it. It would be an impressive dram if the palate and finish follow through."
Geek Choc: "Sigh, I had high hopes for this dram because the nose was pure bliss but I was disappointed with the palate. I wondered if we had aired it too long after purchasing the dram. We wouldn't know it unless we tried this again from a full bottle, I suppose." 
Like what you have just read?
http://www.whiskygeeks.sg/wp-content/uploads/2018/04/Rosebank-20YO-Zenith-Italia.jpg
800
600
Zerlina Zhuang
http://www.whiskygeeks.sg/wp-content/uploads/2017/07/logo_WhiskyGeeks-300x138.png
Zerlina Zhuang
2018-04-15 15:18:53
2018-04-15 15:18:53
Whisky Review #85 – Rosebank 20 Years Old (Zenith Italia)