Whisky Review #84 – Bowmore 14 Years – Cadenhead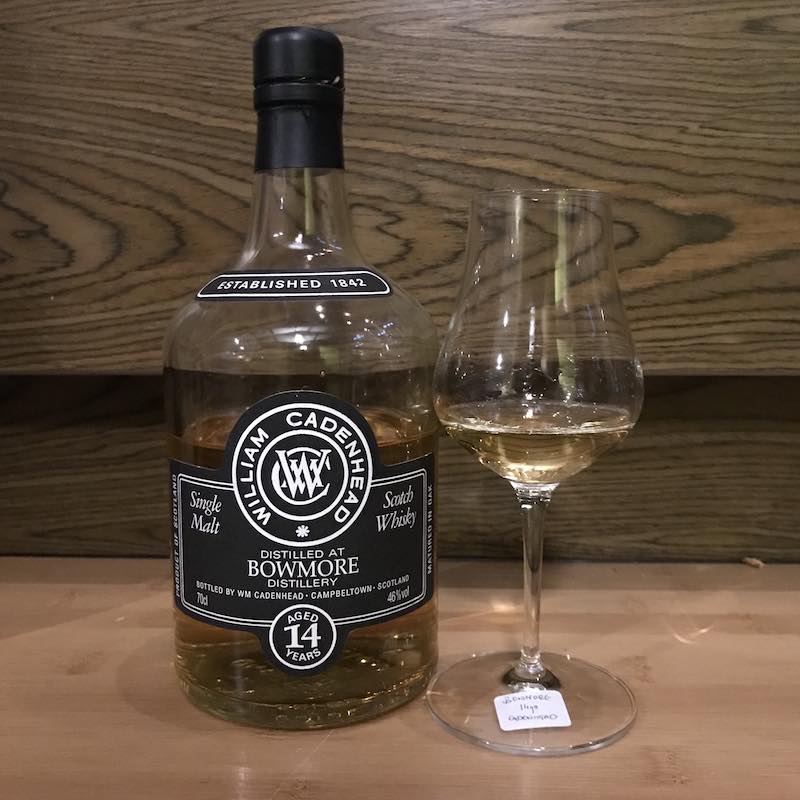 Cadenhead is well known to everyone, and there is no need for us to do a further introduction. Cadenhead bottles some of the most excellent whiskies in their series of Cadenhead Small Batch and this bottle under review is one of them.
The bottle is a Bowmore 14 years old in a dumpy bottle. It looks gentle and invites the drinker to taste it. So we took the bait and ordered a sampling of this expression.
Tasting Notes:
Colour: White Wine
ABV: 46%
Nose: Gentle spice floats into the nose before zesty citrus fruits follow. Green fruits develop after a while and add complexity to the nose. We detect zero peat at first, but light peat begins to surface after about 15 minutes of airing. (16/20)
Palate: Sweet, zesty, citrusy fruits explode in the mouth with some gentle spice in the background. Slightly lemony with no smoke or peat initially. A soft peat surfaces after 15 minutes of airing and lingers at the back of the throat. It feels like having a cigar at the back of the throat, in a pleasant way. (17/20)
Finish: Medium long at first with fruity sweetness. The impressive punch of the finish comes after 15 minutes of airing when the finish lengthens stunningly, and it becomes fragrant peat smoke all the way! (17/20)
Body: A relatively balanced dram but it can be better. I wonder if the flavours will be stronger if the abv is higher? The liquid improves with 15 minutes of airing and expands beautifully after that. Perhaps it will benefit from more oxidation in the bottle. (33/40)
Total Score: 83/100
Comments:
Geek Flora: My impression of Bowmore is that of gentle peat. This expression is entirely consistent with my idea of a Bowmore, but I feel it could be better if the abv is higher. It is likely that the whisky is too watered-down for the flavours to develop fully. Lots of patience is needed for this dram. 
Geek Choc: I cannot taste the peat. It is not something a peathead will be happy with, but I guess it improves with airing. Love the explosion of smoke and peat after 15 minutes of airing. 
Like what you have just read?
http://www.whiskygeeks.sg/wp-content/uploads/2018/03/Bowmore-14-years-Cadenhead.jpg
800
800
Zerlina Zhuang
http://www.whiskygeeks.sg/wp-content/uploads/2017/07/logo_WhiskyGeeks-300x138.png
Zerlina Zhuang
2018-04-03 10:47:17
2018-04-03 10:47:17
Whisky Review #84 – Bowmore 14 Years – Cadenhead