Whisky Review #57 – Springbank Vintage 1997 Single Cask #789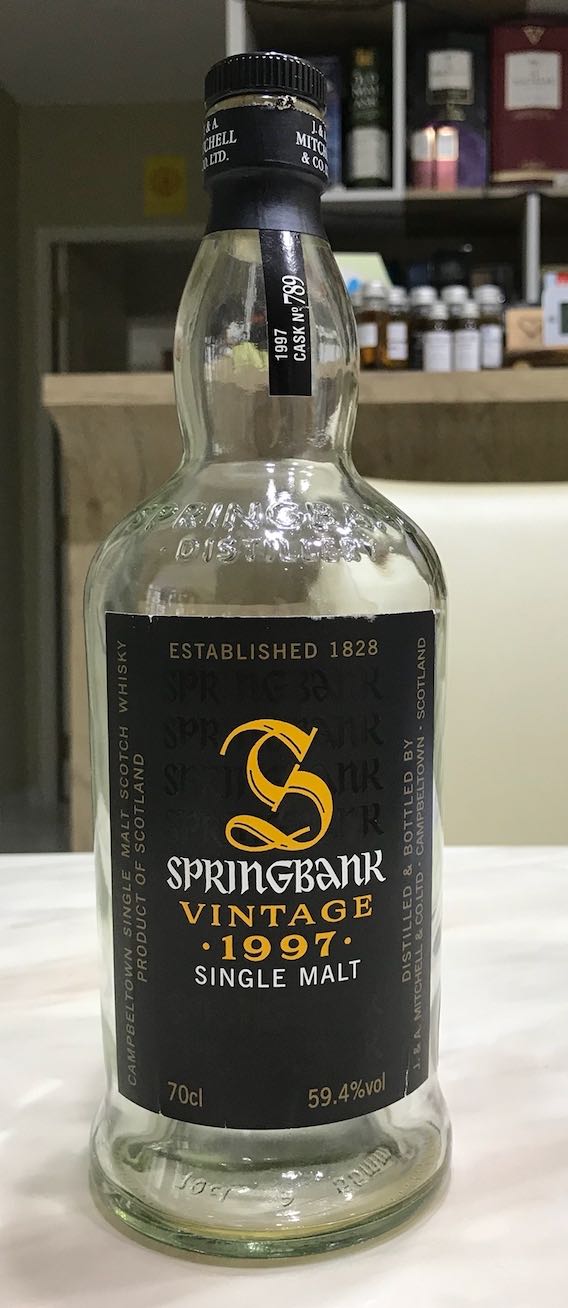 Most whisky lovers like to try single cask bottling because of the rarity it invoked and the uniqueness of the liquid. We are not any different. We tried this bottle of Springbank Vintage 1997 single cask (#789) some time ago and wanted to share our review because we love it.
This bottle is different from the Springbank Vintage 1997 batch 1 and 2. Bottled at 59.2% abv, the alcohol level in this whisky is higher than both batch 1 (at 55.2% abv) and batch 2 (at 54.9% abv).
Let's dive into the review!
Tasting Notes:
Colour: Soft Amber
ABV: 59.2%
Nose: Slight peat with the first nose but sweet caramel surfaces quickly to complement the gentle peat. Citrusy lemon appears after 5 minutes and lingers in the background. (17/20)
Palate: Oily mouthfeel with sweet caramel coating the palate pleasantly. Spice lingers warmly in the background to give an extra kick. The peat in the nose does not exist in the palate. (16/20)
Finish: Long finish with pleasant sweet caramel and warm spice. The spice disappears quickly, leaving only a pleasant sweet ending and a surprising waft of smoke n the breath.(18/20)
Body: It is not the most well-balanced single cask but still lovely nonetheless. The complexity is also not well-established, but the caramel notes was a beautiful cover for the spice and slight peat. (30/40)
Total Score: 81/100
Comments:
Geek Flora: "I was very excited to try this single cask honestly but felt a little let down after drinking it. I love it nonetheless because the palate is different from the usual Springbank portfolio. I will try it again (we have a reserved sample even though the bottle is gone!) and update the notes if it changes."
Like what you have just read?
http://www.whiskygeeks.sg/wp-content/uploads/2017/10/Springbank-Vintage-1997_Label-small.jpg
966
724
Zerlina Zhuang
http://www.whiskygeeks.sg/wp-content/uploads/2017/07/logo_WhiskyGeeks-300x138.png
Zerlina Zhuang
2017-11-05 08:29:29
2018-01-26 16:17:13
Whisky Review #57 – Springbank Vintage 1997 Single Cask #789