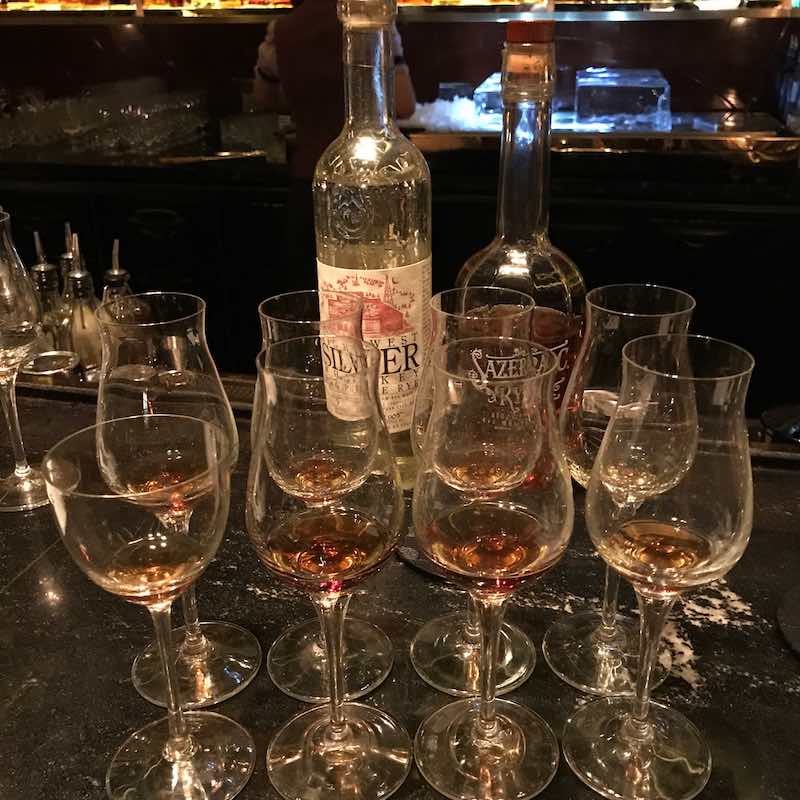 Our members got first-hand information on what's brewing at Manhattan Bar last Wednesday. WhiskyGeeks is partnering both Whisky Butler and Manhattan Bar to bring about new whisky flavours and new barrel-aged cocktails. After last week's introduction, we are back this week with a short update.
Sazerac Rye Whisky
To recap what happened last week, Manhattan Bar has placed the Sazerac Rye whisky into a barrel as an experiment of creating new whisky flavours. We tasted the original and a version of it after 6 days last week. Now, we are tasting it after 13 days.
The whisky after 13 days
In comparison to the original and the previous 6 days version, the 13 days version is much easier to drink. The sweetness of burnt maple syrup and caramel reduce significantly on the nose, and the acetone is almost gone. The whisky is now milder to drink, and the strong flavours on the palate are beginning to disperse, bringing caramel cola and hints of strawberries. It becomes refreshing instead of overwhelmingly sweet. The finish becomes even shorter than before. Sweet cola frizz, slightly minty but also tannic, astringent and slightly numbing on the tongue, similar to the feeling of eating GP-prescribed lozenges.
Conclusion
The barrel has imparted different flavours and characteristics to the whisky while taking away some of the whisky's strong flavours. Overall, the experiment is going well as we see improvements in the whisky's overall profile. In 13 days, the whisky is already milder in taste and an easier drink as compared to the original.
http://www.whiskygeeks.sg/wp-content/uploads/2017/10/Teaser_Manhatten_small.jpg
800
800
Zerlina Zhuang
http://www.whiskygeeks.sg/wp-content/uploads/2017/07/logo_WhiskyGeeks-300x138.png
Zerlina Zhuang
2017-10-18 10:10:43
2017-10-18 10:10:43
Something is brewing at Manhattan Bar! What's that?