More about Whisky Live Singapore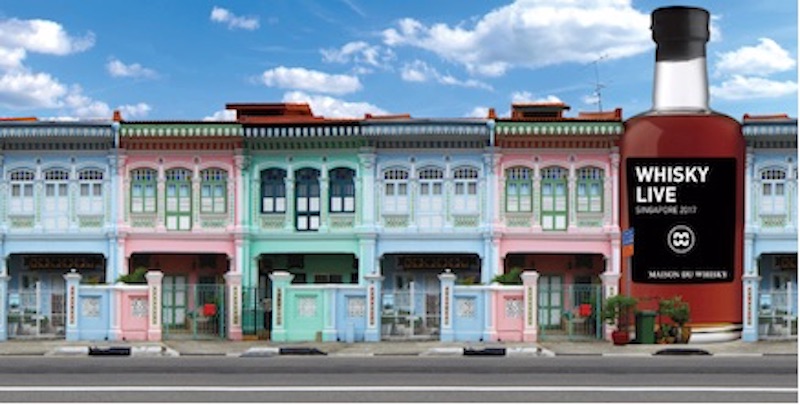 Whisky Live Singapore is happening in about a month's time! Have you bought your tickets yet?
Organised by La Maison du Whisky (LMDW), it is a yearly sold-out event where whisky aficionados get to taste and appreciate premier whiskies at a relatively low cost. This year, Whisky Live is trying out something different with an immersive and expansive experience for all.
What we love about Whisky Live is not just the passion for good whisky, but also the dedication that goes behind the event every year. "We are constantly looking into ways to alleviate the experience (of Whisky Live)", said Mr Mathieu Musnier, General Manager at LMDW. "Whisky and spirits appreciation is an art."
In line with his vision, Whisky Live Singapore 2017 has a theme of "Rare, Share, Pair". The different approach is refreshing as the event brings not just whisky but also the taste of other fine spirits such as gin, tequila, rum and much more in the form of cocktails. There are also different cuisines available at the event.
In addition, there will be an art gallery that showcases whisky and spirit art through the years. Expect to be awed by label designs, marketing art and bottle craft. The exhibition is featuring art pieces from well-known artists such as Stranger & Strangers, Neisson and Velier.
What to Expect at Whisky Live Singapore
The tickets for Whisky Live are almost sold out, so for those who have yet to buy the tickets, hurry over to Peatix to purchase your tickets! For those who have gotten the tickets, congratulations! You are going to enjoy yourselves!
Expect premier whiskies from various distilleries such as Old Pulteney, Balbair and Bruichladdich and for those with VIP tickets, hit up the rare whiskies in the VIP room. We heard that there are going to be some vintage whiskies from Old Pulteney (hint: a 25 years old), so be sure to visit their booth! If you have bought your tickets to the Masterclasses, expect the unexpected as you are going to be blown away by both the information as well as the spirits prepared just for you.
Oh, and do check out the Nikka Masterclass. The Nikka Coffey Malt has just won the Best Japanese Whisky in Jim Murray's Whisky Bible 2018. We understand that Nikka is now experimenting with a Coffey Gin and Coffey Vodka and will explain more in their Masterclass.
Whisky Live Singapore Important Dates
Dates: 25th and 26th November 2017.
Time: Doors open from 1.30pm. VIP ticket holders can enter one hour earlier to explore the tasting area.
Venue: 7213 Mohamed Sultan Road, Singapore 239007
Whisky Live aims to bring together the finest whiskies and spirits, great food and a range of education and entertainment to the participants around the world. Organised annually, this event offers the rare opportunity to sample whiskies from around the world as well as to discover exciting new spirits and distilleries. At the same time, it is the perfect chance to mingle with the experts in the field – producers, distillers and ambassadors.
La Maison du Whisky is a family-owned company founded in 1956 in the French capital. It is the specialist of rare whiskies, niche spirits, importation and distribution in France. La Maison du Whisky came onboard Singapore in 2006, bringing with them the passion and love for fine spirits and the distribution of rare and collectible products.
Like what you have just read?
http://www.whiskygeeks.sg/wp-content/uploads/2017/10/WhiskyliveSingaporelogo-small-1.jpg
800
800
Zerlina Zhuang
http://www.whiskygeeks.sg/wp-content/uploads/2017/07/logo_WhiskyGeeks-300x138.png
Zerlina Zhuang
2017-10-14 16:51:35
2017-10-14 17:36:42
More about Whisky Live Singapore