An Exclusive Interview with Stuart Harvey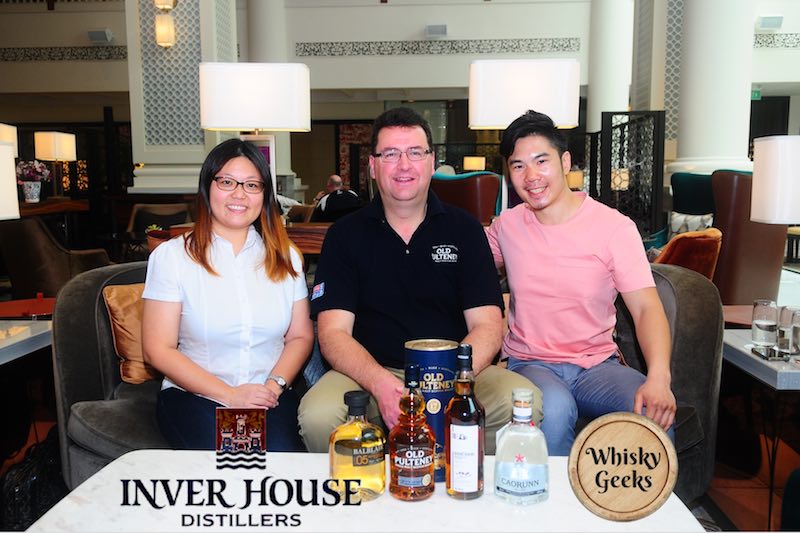 WhiskyGeeks met up with Mr Stuart Harvey, Master Blender of Inver House Distillers on Thursday, 12 October 2017 for a chat about whisky and the distilleries under the care of Inver House Distillers. La Maison du Whisky (LMDW) invited Stuart to Singapore to head a "by-invite-only" training session. The training inducted promising young talents into the world of whisky. Stuart was also involved in a  few whisky pairing dinner jointly organised by Inver House and LMDW.
Mr Stuart Harvey joined the brewing industry straight after graduation and in 1995, he joined the distilling industry. He was an experienced whisky blender when he joined Inver House Distillers in 2003. Becoming the Master Blender of Inver House was naturally the next step of his career.
WhiskyGeeks had a good chat with Stuart over coffee; most of them were related to the process of whisky making and his preferences for the traditional methods. Let us summarised some of the things we discussed.
Fancy Whisky Finishing
We asked Stuart if he has the intention to follow the trend of finishing whiskies in wine or port casks. Stuart replied immediately that he has no plans to do so because he is not a big fan of finishing. Stuart believes in the traditional methods of maturing new spirits in either American Bourbon cask or Spanish Sherry cask. The most he would do is to marry whiskies from these 2 types of casks before bottling.
Balbair Distillery
Balbair distillery is relatively famous in Singapore. It has a core range as well as some vintage limited release. The interesting thing about Balbair is their preference to put the year of distillation and bottling on their label instead of stating the number of years.
Stuart shared that as the master blender, he has to ensure that each batch of the core range stays similar to the previous one and that is one of the challenges that he faces in his job. Therefore, he trains his staff well so that they are able to pick the right casks for him to nose whenever they start a new batch so that the profile of each batch stays similar. However, for the vintage limited release, every batch is different as the whisky of a particular vintage is only from the year stated.
Stuart also revealed that Inver House is in the midst of repackaging Balbair to reduce the confusion caused by their choice of labelling. In the coming years, it is possible that Balbair will start to show the number of years on their bottles instead of the vintage for the Asian market as they realised that Asians do not take very kindly towards the vintage style labelling.
Balmenach Distillery
Balmenach distillery is one of the latest distilleries that Inver House acquired. In the buying over of this distillery, Inver House did not buy the stock of the whisky, and hence production for Balmenach single malt is still underway. However, they have bought some casks from independent bottlers and might be releasing some limited edition Balmenach single malts in the next few years. Eventually, they will release a core range of 12, 18, 21 and 25-year-old Balmenach single malts matured in Spanish oak cask. At the moment, we can only wait. Well, good stuff are worth waiting for!
Well, good stuff are worth waiting for!
Old Pulteney Distillery
Old Pulteney is popular in Singapore. Most of their whiskies are matured in bourbon casks. Stuart revealed that their original core range includes an 18-year-old and a 25-year-old. However, Stuart advised the marketing team to create a 17-year-old and a 21-year-old instead because he felt that the whiskies were just right. So, the core range of Old Pulteney is thus born, with a 17 yo and a 21 yo.
Stuart also shared that an Old Pulteney 25-years-old is coming to Whisky Live Singapore 2017! It is an interesting bottle because the liquid is matured for 21 years in bourbon casks before transferring to sherry casks for the remaining 4 years. We are excited to try that one!
Interestingly, our conversation led us to the whisky-making process for Old Pulteney where we understood from Stuart that Old Pulteney takes 6 hours to collect the wash from their copper mash tun. By doing so, they ensure a fruity and citrusy wash. During fermentation, they used Anchor's active dry distillers' yeast to retain the fruitiness of the wash. The worm tubs also help to retain the flavours of the new make spirit.
The influence of casks during maturation
The chat soon turned to the influence of casks. Stuart shared that many people did not know that different types of cask needed different treatment before they are used. WhiskyGeeks prompted Stuart to elaborate and he said that Spanish oak needs only gentle toasting to get the wood to open up. To get first fill Oloroso sherry casks, they only need to fill the casks with the sherry for 2 years. American oak takes more efforts and needs to be charred to open up the caramel/butterscotch flavours. These are used mainly in bourbon maturation. In the event that sherry is used, it is usually Fino or Manzanilla sherry instead of Oloroso sherry.
Plans for the future
WhiskyGeeks asked about the collaboration between Inver House Distillers and LMDW in Singapore. We understand that the focus for Inver House whisky brands will be huge in Singapore as LMDW values the quality of whiskies from Inver House and their choices to stick with traditional whisky-making methods. With their long working relationship and their close collaboration (LMDW houses more than a dozen whiskies from Inver House), the plans for the future is exciting indeed!
As a teaser, a 1983 vintage (24 years old) bottle of Old Pulteney is releasing soon as an exclusive from LMDW!
Personal Questions for Stuart
Lastly, before Stuart headed off for the rest of his busy day, WhiskyGeeks asked Stuart what his biggest challenges are as a Master Blender for Inver House. Stuart cheerily replied, "Logistics is part of the job, and the hardest one. I had to secure casks and resources for the whisky in the long term and ensure sustainability. That is my biggest challenge for the last 14 years and I believe it will continue until I retired!"
Well, leaving a legacy is always the hardest thing to do, isn't it?
Like what you have just read?
http://www.whiskygeeks.sg/wp-content/uploads/2017/10/Stuart_Harvey-small.jpg
667
800
Zerlina Zhuang
http://www.whiskygeeks.sg/wp-content/uploads/2017/07/logo_WhiskyGeeks-300x138.png
Zerlina Zhuang
2017-10-14 16:52:20
2017-10-24 14:49:15
An Exclusive Interview with Stuart Harvey