Whisky Review #43 – Highland Park Bicentenary 1977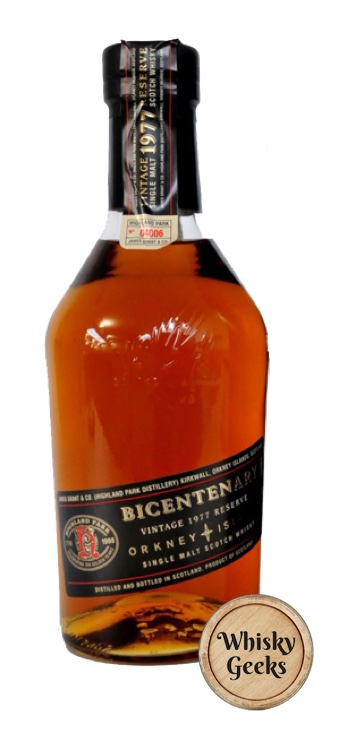 This.is.da.bomb! Exclusively bottled in 1998 as part of the celebration for Highland Park bicentenary year, this is a vintage 21 Years Old right from the warehouses of Highland Park. The historic milestone of a bicentenary year was not taken lightly so you can imagine the good stuff that goes into the bottles of the Highland Park Bicentenary 1977 Vintage!
Tasting Notes:
Colour: Deep Gold
ABV: 40%
Nose: Maple syrup on an aromatic French toast greets the nose before old-style sherry notes waft in. Blackcurrant, peated heather and some sea salt chocolate bring it to a close. (18/20)
Palate: Honeyed peat, guava and dark chocolate open the palate with maple syrup lingering in the background. A touch of herbaceous cranberry tea can also be found in the back. (17/20)
Finish: The finish is long with floral and fruity notes. Lingering maple syrup can be found in the background, making it almost perfect for the sweet tooth. (18/20)
Body: A really well-balanced whisky well worth its price! Fully rounded with maple syrup and the right amount of peat to make it a perfect dram to be enjoyed with friends and family. (37/40)
Total Score: 90/100
Comments:
Geek Spice: "It is a privilege to get a dram of this whisky considering it is a discontinued expression from Highland Park. The balance is amazing and I know anyone who has a chance to taste this exquisite whisky will love it!"
Note: This is a discontinued whisky expression from Highland Park and is not available for sale in the primary whisky market. Our understanding is that Highland Park has given a special bottle to Whisky Butler for their collaboration on Whisky Butler's October box. Anyone keen to try this can contact WhiskyGeeeks at slainte@whiskygeeks.sg to find out more.
http://www.whiskygeeks.sg/wp-content/uploads/2017/09/HP-1977-Bicentenary.jpeg
744
348
Zerlina Zhuang
http://www.whiskygeeks.sg/wp-content/uploads/2017/07/logo_WhiskyGeeks-300x138.png
Zerlina Zhuang
2017-09-29 20:53:26
2018-01-26 16:13:05
Whisky Review #43 – Highland Park Bicentenary 1977