Whisky Review #40 – Highland Park 12 Years Old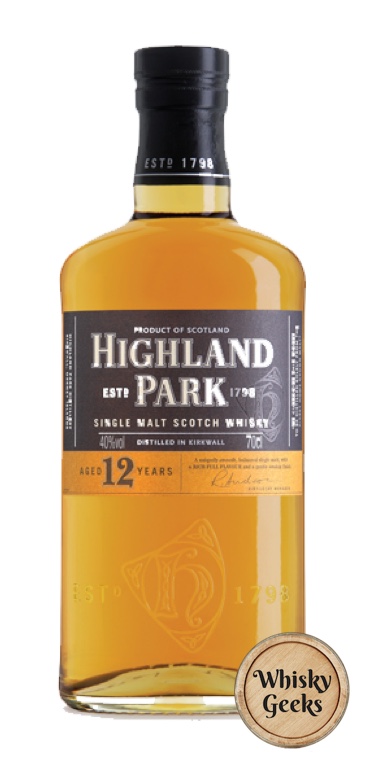 Highland Park needs no introduction. It is a popular brand globally and has won the hearts of many whisky lovers with their variety of whisky. For many years, the Highland Park 12 Years Old has delighted the nose and palate of many with its perfect harmony of aromatic smoky peat, sweet heather honey and rich fruit cake.
Tasting Notes:
Colour: Light Amber
ABV: 40%
Nose: The first sniff brings you heather-honey sweetness and smoky peat. The perfect mix of sweetness and smoke builds up an anticipation for the palate, inviting you to take a sip to wet the lips. As the nose opens up, orange squash and spiced yellow raisins come into the picture to build up the heather-honeyed peat, giving it more complexity. Hay and hints of nutmeg and cardamom come last to create a complete nose. (16/20)
Palate: A sip of this gold nectar brings a well-balanced smoky sweetness that delivers the full promise from the nose. Burnt grass with orange squash hits the palate before maltiness comes rushing in. Hints of honeyed raisins come after to round off the palate with the complexity from the nose. This is definitely good stuff from an ABV of 40%. (16/20)
Finish: The finish is medium long, which is interesting considering the low ABV. The lingering sweet and malty smokiness add to the appeal of this expression. (16/20)
Body: Highland Park 12 Years Old is a well-balanced expression with a good mix of sweet and smoke. Definitely a delicious dram and an easy drink. (30/40)
Total Score: 78/100
Comments:
Geek Spice: The 12 Years Old is an easy drink which can be taken as an after-dinner drink. The lower ABV also adds to its appeal as an after-dinner drink. 
Like what you have just read?
http://www.whiskygeeks.sg/wp-content/uploads/2017/09/HP-12-YO.jpeg
782
386
Zerlina Zhuang
http://www.whiskygeeks.sg/wp-content/uploads/2017/07/logo_WhiskyGeeks-300x138.png
Zerlina Zhuang
2017-09-29 20:51:22
2018-01-26 16:12:17
Whisky Review #40 – Highland Park 12 Years Old