Whisky Review #35 – Allt-A-Bhainne 1991 Gordon & MacPhail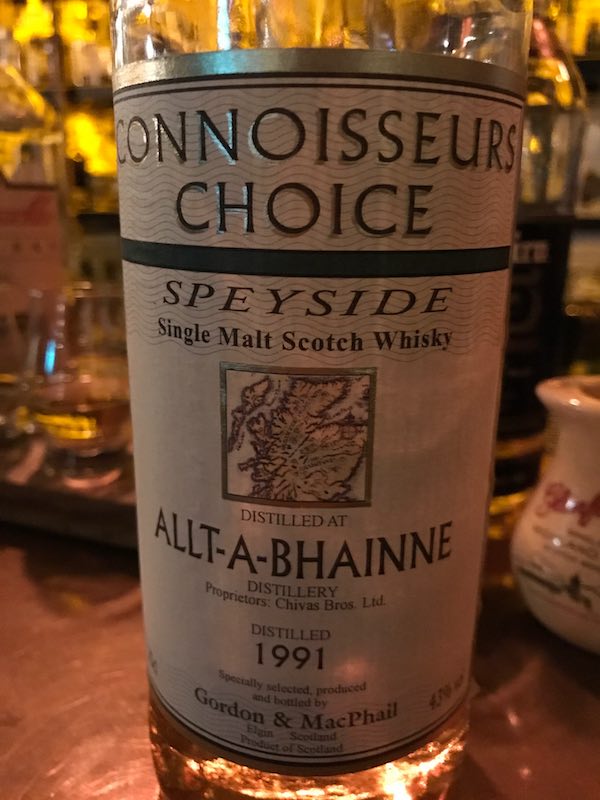 Allt-A-Bhainne is founded as a workhorse to supply whisky for blending houses. In 1975, Chivas Brothers commissioned the distillery to supply malt whisky as a component of the Chivas Regal brand. Allt-A-Bhainne makes light estery malt for blending houses regularly but produces a heavily-peated variant occasionally. Single malt variants are rare and few in between.
This particular expression of Allt-A-Bhainne was released as a single cask bottling by Gordon and MacPhail (G&M) during a brief closure of the distillery. Labelled as part of G&M Connoisseurs Choice, this expression is a rare single malt whisky from the Allt-A-Bhainne distillery.
Tasting Notes:
Colour: Pale Straw
ABV: 43%
Nose: Nature nose of grass, slightly flinty. Vanilla comes on strong in a short while with some citrus zest. Hints of smoke and nutmeg follow, making the nose spirity. (16/20)
Palate: Creamy vanilla ice-cream with citrus fruits combine with grass. Some nutmeg comes in to add some complexity to the palate. (17/20)
Body: Simple yet flawless as an easy drink. Not complex but refreshing and clean on the palate. Ideal as an aperitif or as a long drink. (33/40)
Finish: Medium to long finish with caramel and some sea salt. (17/20)
Total Grade: 83/100 
Like what you have just read?
http://www.whiskygeeks.sg/wp-content/uploads/2017/09/Allt-ABhainne-1991-small.jpg
800
600
Zerlina Zhuang
http://www.whiskygeeks.sg/wp-content/uploads/2017/07/logo_WhiskyGeeks-300x138.png
Zerlina Zhuang
2017-09-11 16:22:25
2018-01-26 16:11:00
Whisky Review #35 – Allt-A-Bhainne 1991 Gordon & MacPhail