Exclusive Interview with Khoon Hui, owner of Quaich Bar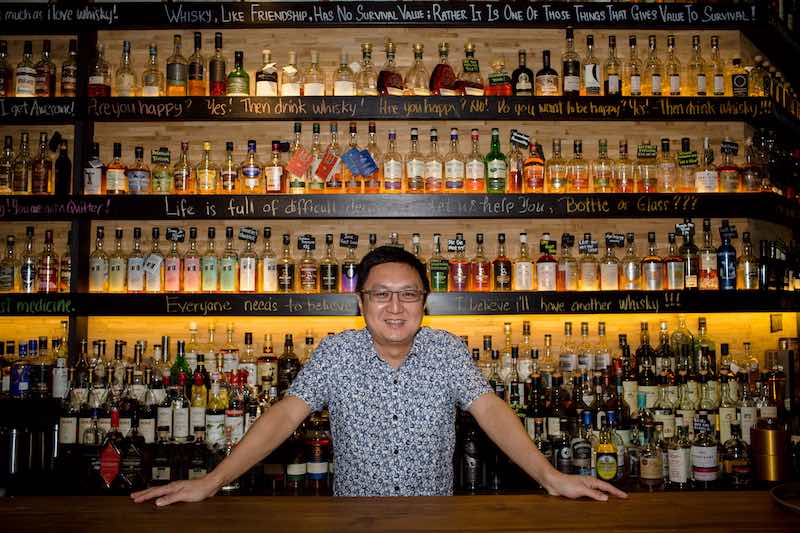 WhiskyGeeks is on the roll! After an exclusive interview with Bar Manager of The Single Cask, we are now back with another exclusive interview. This time, we spoke to Khoon Hui, owner of Quaich Bar.
We spoke on many things, but Khoon Hui's journey as a bar owner is one which truly inspires us. The story of Quaich Bar did not start with the bar's existence, but some years before that. Here's a lowdown of what we find out about this exquisite bar in Singapore.
Khoon Hui is an ex-auditor. Yes, he was one of those scary auditors who come around to companies to nose if there is some hanky-panky in the accounts once a year. Khoon Hui got tired of being the bad guy, and he thought that having a cafe or a bar might turn him into someone more welcoming. So, in 2002, Khoon Hui and his wife, Joyce, left their jobs and started their own business.
Khoon Hui and Joyce thought hard about what they wanted to do and finally decided on a cafe and bar. They leased a place in Winsland House and started their entrepreneur journey. For the next three years, Khoon Hui and Joyce poured all their efforts into their business and discovered that their bar was doing so much better than the cafe. Before they could change the direction of their business, they got to know someone who was working in the Bowmore Distillery in Scotland. This person introduced them to the world of single malts. It was that defining moment that Khoon Hui and Joyce decided that they have found their direction.
The couple took one of the biggest business risks that they had taken at that point of time and travelled to Scotland to learn more about whisky. They visited big and small distilleries to discover the secrets of whisky-making. Along the way, they also learned how to identify good whiskies when they taste it.
The Scottish journey started the predecessor of Quaich Bar. Khoon Hui and Joyce set up their first whisky venture in the form of a pushcart in Tanglin in 2005. They called their shop, "The Whisky Store". After a year, they moved to Cairnhill where they continued the same operative model.
In 2007, the couple decided to scale up the business. With their experience in running a bar, they decided to set up their very first whisky bar. They moved into the premises at Waterfront Plaza (located at Grand Copthorne Waterfront Hotel), where they set the standard of whisky bars in Singapore till this very day. In fact, Quaich Bar has been recognised by The Whisky Magazine to be a "Great Whisky Bar of The World" for their outstanding presentation, promotion and knowledge of great whiskies from around the world.
Quaich Bar is celebrating their 10 years anniversary this month. Weekly events have been arranged for the next one month and everyone is invited to join in the fun! More details about the anniversary can be found here.
Khoon Hui and Joyce also set up another branch of Quaich Bar at South Beach, the newly built office tower opposite Suntec City. They have another bar, named Cask 81, in Myanmar too!
Khoon Hui's Idea of the Modern Whisky Industry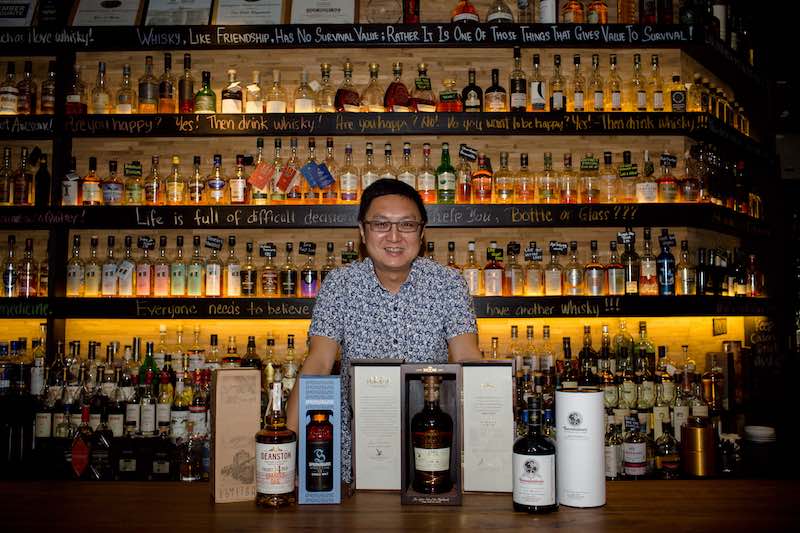 WhiskyGeeks decided to pick Khoon Hui's brain about the whisky industry since he is an experienced bar owner in Singapore. We asked him how the whisky industry has changed from 10 years ago when he first started his journey. He frankly told us that 10 years ago, it was easy to buy whiskies but hard to get people to try. In modern times, the challenge has swapped. Now it is easy to get people to try, but hard to convince the distilleries to sell the whiskies. This is especially true for the smaller distilleries as they do not produce enough volume to sell to everyone who wants to buy their whiskies. At the same time, the big boys such as Glenlivet and Glenfiddich demand large contracts that smaller bars may not be able to afford.
Khoon Hui's single wish for the Singapore Whisky Market
We ended our interesting interview with Khoon Hui by asking him what his wish for the Singapore whisky market is. He said,"I wish for more whisky bars to open in Singapore so that whisky drinkers have a wider variety to try. It is only through our collaborative efforts as whisky bars that we can encourage more people to understand this wonderful drink we call whisky."
Wow, what a wonderful sentiment! We certainly hope for that too.
http://www.whiskygeeks.sg/wp-content/uploads/2017/09/Khoon-Hui_Bottles-small.jpg
533
800
Zerlina Zhuang
http://www.whiskygeeks.sg/wp-content/uploads/2017/07/logo_WhiskyGeeks-300x138.png
Zerlina Zhuang
2017-09-10 00:11:54
2017-09-10 00:11:54
Exclusive Interview with Khoon Hui, owner of Quaich Bar