Whisky Review #26 – The Single Cask Glenrothes 19 Years Old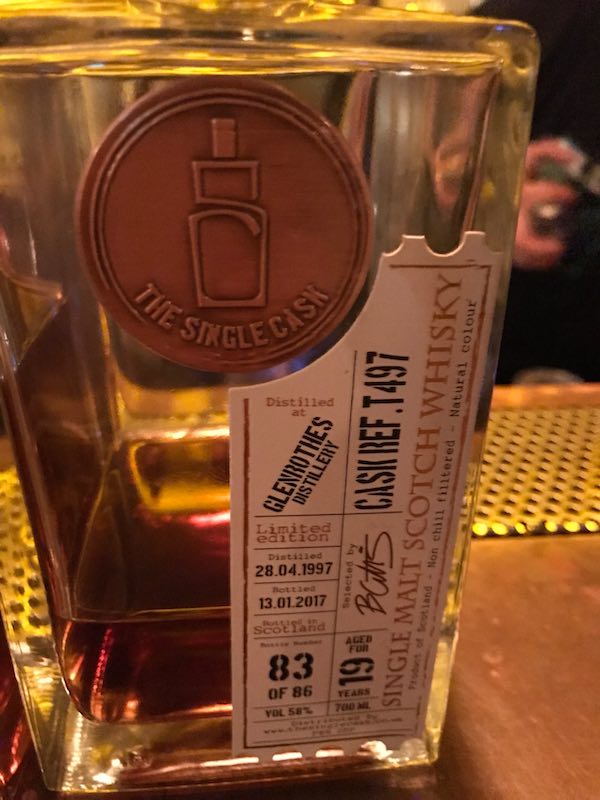 We have kept the rarest whisky as the last bottle from The Single Cask Masterclass. The Glenrothes 19 Years Old is a dark sherry whisky – generally considered as an expensive and hard to find whisky in the industry due to the lack of sherry casks. Bottled at cask strength in Speyside, Scotland, it is also a single malt Scotch. There is only 86 bottles produced because the guys behind The Single Cask has only bought 60 litres of this whisky (roughly about 10% of a whole cask). Imagine how unique this is! Moreover, this bottle is not for sale. You can only taste it if you head over to The Single Cask for a dram or two.
This dark sherry is from Glenrothes. The oldest distillery in Speyside, it was founded in 1775 and is still a functioning distillery today. It is owned by the Edrington Group today. The distillery started out as a blending house, supplying both the Famous Grouse and Cutty Sark. They use mainly bourbon casks, but kept some special sherry casks as well. 50 of these special sherry casks was released by Glenrothes in late 2016 for purchase, and that is how The Single Cask got their hands on this!
Tasting Notes:
Colour: Dark Red Sherry
ABV: 58%
Nose: Aeration of minimum 30 minutes is needed. After 30 minutes: sherried notes of rich Christmas fruit cake engulfs the nose completely, with no other companions. 40 minutes later: dark stone cherries start to develop, pushing the fruit cake to the background. 50 minutes and counting: the oaky notes start coming out, softening the overpowering sweetness. Now the dark stone cherries complement the rich Christmas fruit cake to present a pleasant sweetness that feels really pleasant. (17 points)
Palate: Rich dark sherry, dark fruits like red grapes and berries fills the palate like a Christmas fruit cake in a glass. Black pepper, nutmeg and clove stay in the background with hints of spices but overpowered by the sweetness. Paired with a 70% dark chocolate, the palate changes. Sweetness is reduced to allow the spices to come out. Nutmeg is especially pronounced after the chocolate pairing. (17 points)
Body: Well-balanced whisky that needs a lot of aeration. The nose, palate and finish of dark fruits and Christmas fruit cake is exceptional. (33 points)
Finish: Very long finish with dark fruits and Christmas fruit cake leading the way from the start to the end. Tingles of spices accompanied at the side of the palate, making it a very pleasant finish. (16 points)
Total Grade: 83 points
Comments:
Geek Choc: "It is a little too sweet for my liking (I prefer the Islay peats) but it is a pleasant and well-balanced drink. Due to its exclusivity and uniqueness, I would recommend that you go for a try to judge it for yourself."
Like what you have just read?
http://www.whiskygeeks.sg/wp-content/uploads/2017/08/Glenrothes-19-Years-Old-small.jpg
800
600
Zerlina Zhuang
http://www.whiskygeeks.sg/wp-content/uploads/2017/07/logo_WhiskyGeeks-300x138.png
Zerlina Zhuang
2017-08-14 00:10:23
2017-08-19 22:37:44
Whisky Review #26 – The Single Cask Glenrothes 19 Years Old