Upcoming Event – Spirits of Speyside Whisky Festival 2018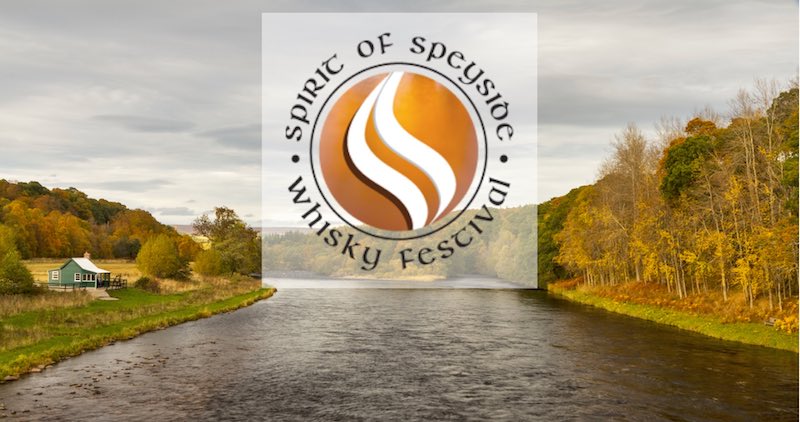 If you are planning to attend whisky events in 2018, here's one which you can start making plans for. The Spirit of Speyside Whisky Festival is going to be held from 3 to 7 May 2018 in Speyside, Scotland. This iconic whisky festival is one of its kind where the distilleries in Speyside will be open to visitors through special booking tours. The difficult to reach distilleries will also be accessible during this period as buses will be deployed to ply two different routes to the various distilleries located along the river Spey.
Speyside Distilleries
Speyside plays host to more than half of all distilleries in Scotland. With the highest concentration of malt whisky producers located in Speyside, you can expect a wide variety of whiskies in the region. We can broadly classify Speyside whiskies into two camps – the light, grassy "lunchtime" whiskies such as Glenlivet, and the rich and flavourful sherry whiskies of Macallan. While not all whiskies in Speyside fall into either one of the categories, most of the whiskies produced in this region can be loosely classified as such.
Distilleries in Speyside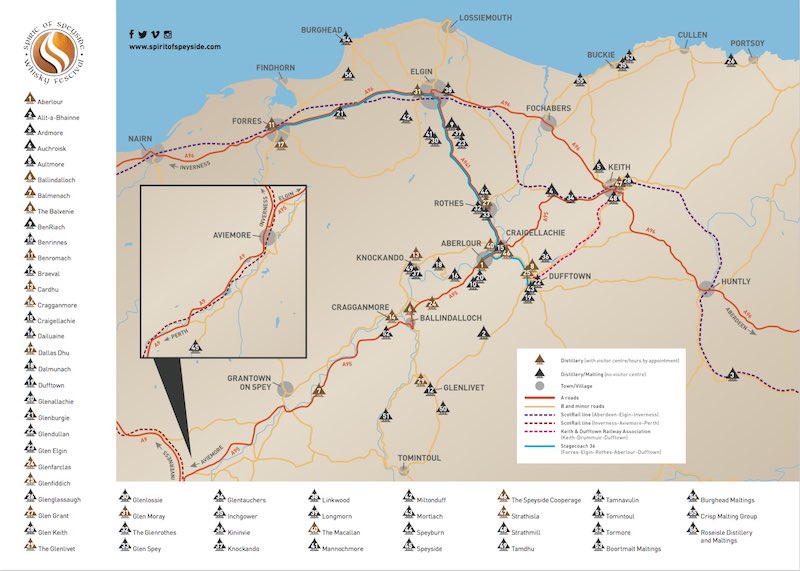 The map above shows all the whisky distilleries in Speyside and where each of them are located. The map has also marked out the key routes that you can take if you are driving, as well as the route that the buses will be plying if you intend to make use of the buses. On top of that, the Spirit of Speyside whisky festival will also be engaging local taxi companies to fetch visitors to distilleries that are not on the bus routes. If you have budget to spare and want to have a customised whisky distillery tour to your favourite distilleries, you can even engage local private hire companies to bring you for a first class experience!
Accommodation in Speyside
Accommodation in Speyside is not a problem due to its large number of accommodations. You can choose to stay in quaint little cottages, historic hotels, beautiful castles turned hotels, quirky DIY hotels, B&Bs or even camp in the great outdoors. A world class experience awaits you regardless of the type of accommodation you choose.
Dining Choices in Speyside
Food is just as important as the whiskies in Speyside, and visitors can expect a great variety of cuisines made with the best ingredients that are home-grown in Scotland. You can choose from fine-dining to rustic bites from the list here but we will recommend that you do your own research for more food options.
What to do in Speyside after the whisky festival is over
Well, visitors from Singapore and Asia in general are not going to travel all the way to Speyside and stay for just that few days, aren't we? There are more to explore in Speyside besides first-class whiskies. For the nature lovers, there are beautiful beaches, hiking, kayaking down the River Spey and mountain biking on famous trails. For the shopaholics, Speyside has a great shopping culture that involves exploring beautiful towns and quaint little villages for the best buys in Scotland.
How to travel to Speyside
The easiest way for Singaporeans and people living in Asia is to fly to either Glasgow Airport or Edinburgh Airport before making your way to Speyside. Access to Speyside can be by air – flying to Inverness Airport or Aberdeen International Airport. Once there, you can easily navigate by taxi, bus or private hire car as mentioned above.
If you are keen to take in the beauty of the countryside, the best way to travel to Speyside is to by rail, bus or car from Edinburgh or Glasgow. You can check out ScotRail, Scotland's National Railway, for the time table and prices. Citylink bus service provides safe passage from Edinburgh or Glasgow to Inverness and Aberdeen as well. If you prefer to travel in style, rent a car from Edinburgh or Glasgow and drive down to Speyside in your own leisure.
We hope that this article have given you enough information to start planning your trip to Scotland! The research has certainly pip our curiosity to head down to Scotland next May! Happy planning!
Like what you have just read?
http://www.whiskygeeks.sg/wp-content/uploads/2017/08/Spirit_of_Speyside_Whisky_Festival-small.jpg
422
800
Zerlina Zhuang
http://www.whiskygeeks.sg/wp-content/uploads/2017/07/logo_WhiskyGeeks-300x138.png
Zerlina Zhuang
2017-08-01 23:21:47
2017-08-01 23:21:47
Upcoming Event – Spirits of Speyside Whisky Festival 2018