The first time I visited BenRiach distillery was in Autumn of 2018, but a lot has changed since then, so Whiskygeeks sat with the Global Brand Ambassador for BenRiach, GlenDronach, and GlenGlassaugh,
The first time I visited BenRiach distillery was in Autumn of 2018, but a lot has changed since then, so Whiskygeeks sat with Stewart Buchanan, the Global Brand Ambassador for BenRiach, GlenDronach, and GlenGlassaugh, to have a chat about BenRiach distillery and their new bottlings. If you're curious about the new 2020 bottlings of BenRiach, you can find the article here! With the new bottlings of BenRiach popping out last year and some new bottlings coming out soon, why don't we take a look at BenRiach distillery's history and production?
History of BenRiach Distillery
In 1897, John Duff, who also built Longmorn and Glenlossie, started building the BenRiach distillery. In 1898, the BenRiach distillery was complete and started making whisky. Unfortunately, it closed 2 years later due to the Pattison Crash happening around the same time, which devastated many whisky businesses. It wasn't until 1965 that Glenlivet Distillers Ltd revived the distillery. Ownership of BenRiach continued changing hands until 1978 when Seagrams took ownership. They started peated whisky production and released BenRiach as a single malt. Pernod Ricard took over in 2001 until it was bought over in 2003 by an independent consortium. One of the co-owners is the famous whisky blender, Billy Walker. Billy Walker is also responsible for the capitalisation in the middle of the distilleries name, just like GlenDronach.
In 2016, Brown-Forman acquired the BenRiach Distillery Company Limited. Dr Rachel Barrie took over the role of master blender for BenRiach, GlenDronach and Glenglassaugh.
Barley
Back in 2018, I learnt that the distillery uses concerto barley. However, after speaking to Steward, we learn that BenRiach isn't using primarily concerto anymore. This isn't surprising as distilleries are now moving away from the concerto variant. As of early 2021, BenRiach uses a combination of 3 varieties of barley. Although not specified, we could make an intelligent guess by looking at UKMalt. The spring varieties for distilling malts: Laureate, KWS Sassy, and LG Diablo!
Whisky distilleries need to change the variant of barley it uses from time to time. Aside from the better properties, newer barley variants may possess, this stops diseases from adapting to any one barley variant. Therefore, this ensures that the whisky industry would not be affected by crop diseases, which is exactly the issue the banana industry is facing today.
The peat used to kiln the peated barley (at 45ppm) BenRiach distillery uses is also currently from Aberdeenshire, Tomintoul. This peat is more vegetal and more herbal than Islay peat. BenRiach distillery has also been quietly working on their floor-malted barley onsite! The floor maltings run for about 8 weeks a year, resulting in approximately 10 tonnes of floor-malted barley.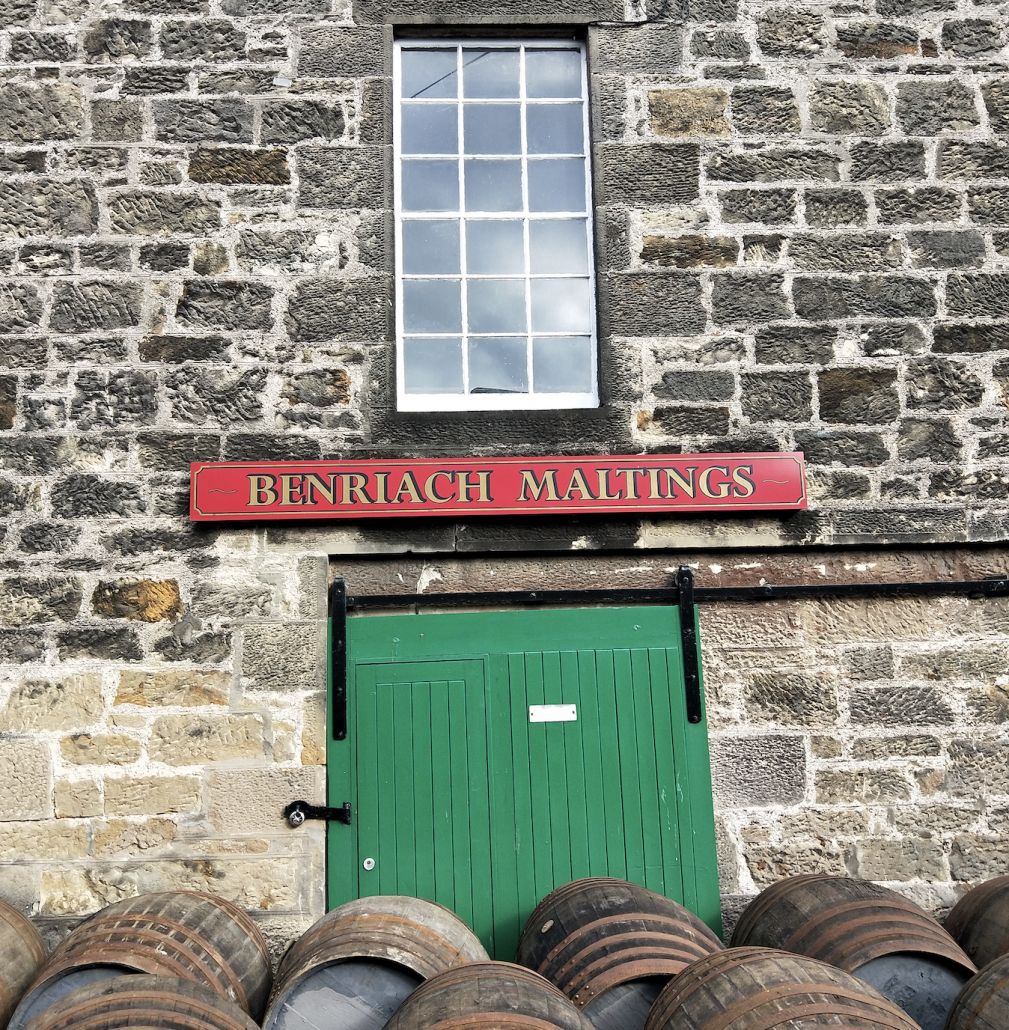 The malted barley is milled to become grist or crushed barley. This grist goes into a Traditional 'plough and rake' mashtun, much like those at Deanston and Bruichladdich. In the mashtun, the grist steeps in hot water to extract the barley sugars.
Fermentation & Distillation
Fermentation of wash at BenRiach depends on the workweek. The sweet sugary liquid, or wort, extracted from the barley spends 55-80 hours fermenting in Scottish Larch washbacks, together with some liquid 'creamed' yeast and becomes a strong beer called wash.
BenRiach distils 3 types of spirit. On top of the double-distilled unpeated and peated spirit, BenRiach triple distils their unpeated malt. Every year, the distillery dedicates 5 weeks to peated spirit production around the end of September and 1 week to triple distillation in the summer.
Unfortunately, in 2018, visitors could not take photos in the distillery building, but they did allow photos outside the building. So I snapped a photo of one of their stills!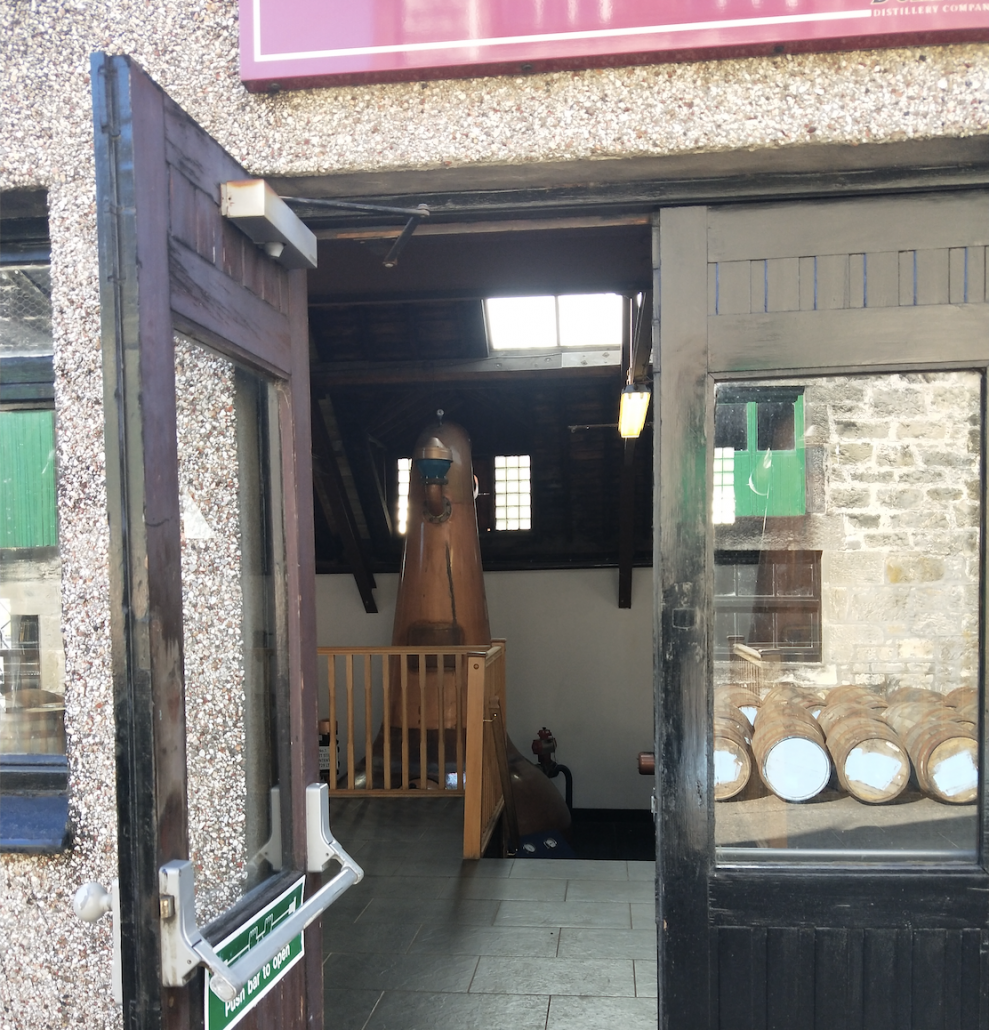 Maturation
Stewart assures us that BenRiach ships their ex-bourbon casks over to Scotland whole now and they are never looking back at flat-packed casks. Under Brown-Forman's ownership, BenRiach has many connections to Bourbon and Tennessee whiskey distilleries. Therefore, these casks coming to BenRiach distillery would undoubtedly be of high quality.
BenRiach has acquired the nickname of chameleon malt amongst some seasoned whisky drinkers. This is due to how well BenRiach fares when finished in another cask. To find out more about maturation and bottlings (old and new), click this link here!
Future of BenRiach
I am very excited about the new release of the BenRiach 16yo under Dr Rachel Barrie that has been hinted at. Floor-malted BenRiach whisky might take some time to mature before its eventual release. Still, with distilleries like Glen Garioch bringing back floor-maltings, BenRiach will be prepared, should floor-malted whisky be popular and in-demand. BenRiach has changed its bottles and the styles of whisky in them, much like a chameleon, and I'm absolutely excited about what BenRiach does next!
https://www.whiskygeeks.sg/wp-content/uploads/2021/03/Benriach-e1618316493713.png
606
866
Hong Fu Teo
http://www.whiskygeeks.sg/wp-content/uploads/2017/07/logo_WhiskyGeeks-300x138.png
Hong Fu Teo
2021-03-22 12:10:28
2021-04-13 20:22:16
BenRiach distillery