Whisky Review #91 – Clynelish 1995 Waxing Lyrical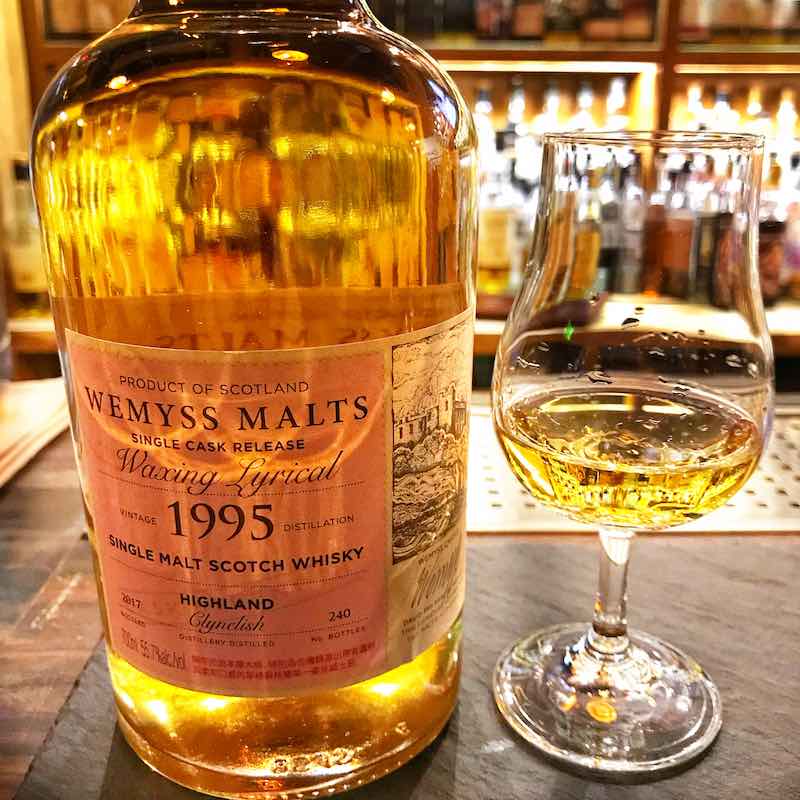 Wemyss Malts is an underrated independent bottler with some great bottles. They are not quite popular in Singapore yet, but in some countries like Taiwan, Wemyss is very well received. Flora was first introduced to Wemyss by our friend, Brendan, over at The Single Cask. Since the first tasting, we have tried more than a fair number of their expressions.
The particular expression for this review is one of those bottles which impressed us greatly. It is a 22 years old Clynelish; distilled 1995 and bottled 2017. It has an outturn of only 240 bottles. We like Clynelish well enough, but we do not usually go out of our way to try or buy a bottle. We have a couple of bottles at home, but it is not our first go-to distillery. However, after tasting this expression, we went all out to find a bottle of it to bring home with us. It was impressive.
How so? Let us find out.
Tasting Notes:
Colour: Pale Gold
ABV: 55.7%
Nose: Sweet tropical fruits, red apples, sweet pears and hints of melons come quickly. As it develops, pineapples notes began to surface in the background. Vanilla cream develops and forms a beautiful nose together with the other fruity notes. Spice hides in the background, rearing its head now and then. (19/20)
Palate: Gentle spice and sweet fruits envelope the palate completely. The sweet fruity notes turn into red apples, sweet pears and butterscotch. The spice goes to the back and provides a gentle warmth all the way down the throat. (17/20)
Finish: Medium finish with a little burning spice at first but it mellows out beautifully. Sweet notes linger for a while before some oakiness takes over. (17/20)
Body: Well balanced dram that is extremely flavourful and complex. The sweetness complements beautifully with the spice and makes it an enjoyable dram to nurse after a long day. (36/40)
Total Score: 89/100
Comments:
Geek Flora: "I love this Clynelish! It is fruity and yet the spice adds a challenging dimension to the dram. It encourages me to sip and savour this dram slowly, instead of drowning it out in one gulp!"
Geek Choc: "I do not like spice, especially the kind that burns! However, this Clynelish surprises me with its lovely complexity. The spice mellows quickly and is always in harmony with the sweetness of the fruits." 
Like what you have just read?
https://www.whiskygeeks.sg/wp-content/uploads/2018/06/Clynelish-1995.jpg
600
600
Zerlina Zhuang
http://www.whiskygeeks.sg/wp-content/uploads/2017/07/logo_WhiskyGeeks-300x138.png
Zerlina Zhuang
2018-06-28 21:30:30
2018-06-28 21:30:30
Whisky Review #91 – Clynelish 1995 Waxing Lyrical