Event: Private Tasting of Glendronach/BenRiach by Brown Forman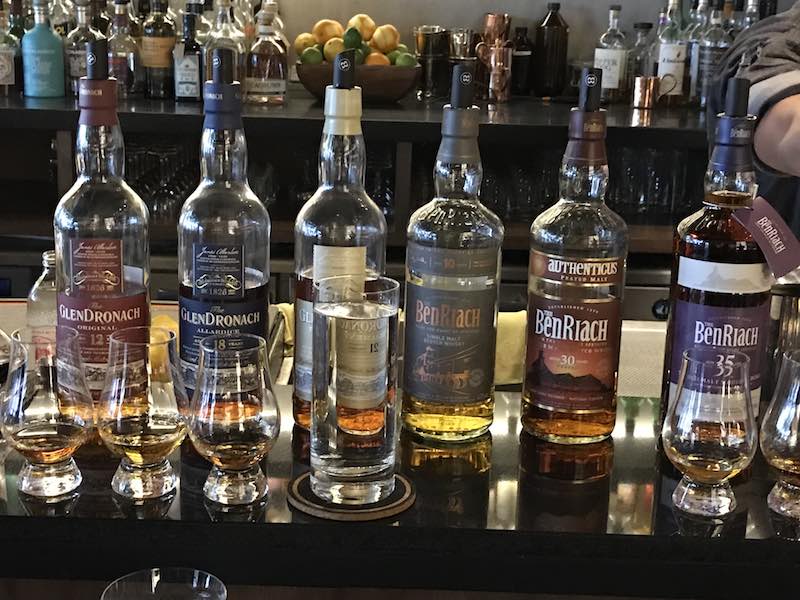 Glendronach and BenRiach distilleries are no strangers to our shores, considering the vast number of fans for the Glendronach single casks releases. We attended a private tasting session at La Maison du Whisky on 23 March 2018, hosted by none other than Stewart Buchanan, the global brand ambassador of Glendronach, BenRiach and Glenglassaugh. Alongside Stewart were a few other vital people of the brands. We had the pleasure to meet Finbar Boyle, the General Manager of Southeast Asia, Vincent Pantow, the Area Manager in South East Asia as well as Shirley Sum, the Trade Marketing Manager of Travel Retail, APAC.
Geek Choc and I were the first to arrive for the event, and we were soon seated and served with water while we waited for the rest to show up. As LMDW scheduled the event at 6 pm, it was natural for some participants to be slightly late due to work. Anyway, the rest of the gang soon turned up, and Stewart wasted no time and started the event promptly.
The Event Proper
The initial tasting planned was to try five different whiskies. Three of the Glendronach's core range – 12, 18 and 21, followed by two higher-end BenRiach – 30 and 35. The 30 Years Old was a peated whisky. Stewart, however, decided to add in a BenRiach 10, because he felt that it was essential for us to know how a "normal" BenRiach tastes like. We thought it was considerate of him, especially when some of the audiences have not tried a BenRiach before.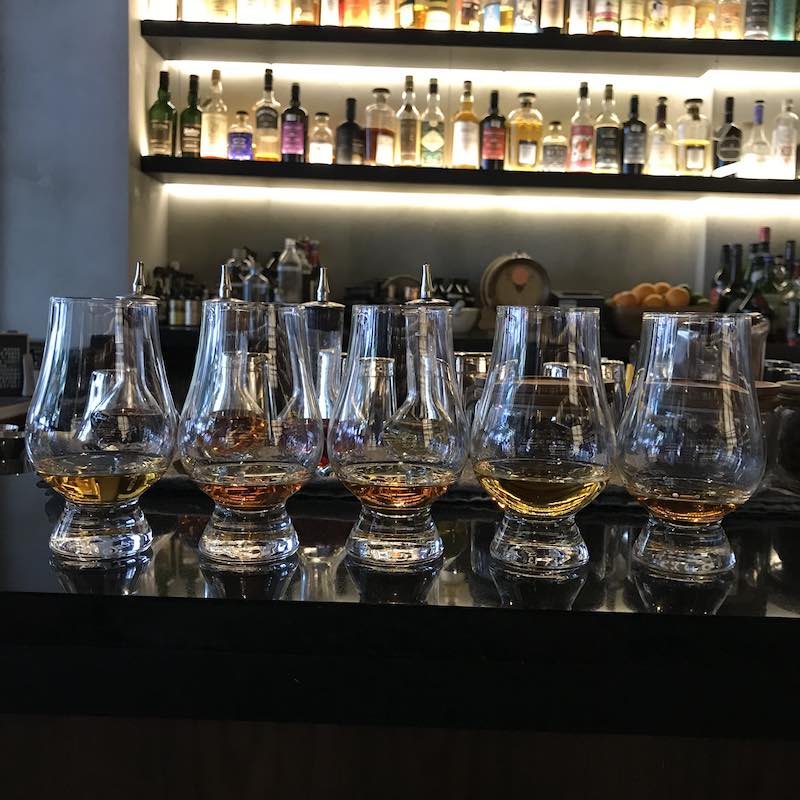 Glendronach
Glendronach distillery is one of the few fortunate distilleries that avoided a closure back in the 1900s. As a result, the distillery's use of sherry casks did not stop, and today, it is one of the most sought-after sherry bombs in the industry. As many of Glendronach's fans would say, "Nothing seems bad when you are sipping a Glendronach!"
For the geeky us, we were excited when Stewart started speaking of production! We understood from Stewart that the reason the Glendronach is rich and viscous is due to the way they run their production. The time that Glendronach seeps their barley, the hours of fermentation and even the way the casks are used all played a part to create the end product. Nonetheless, in Glendronach, casks are but a supplement to the rich spirit that they produce.
Glendronach 12 Years Old
Stewart started with the Glendronach 12 Years Old. A young whisky by the standard of what's on offer, the 12 Years Old does not disappoint. With 80% oloroso casks and 20% PX casks, the 12 Years Old boasts of caramel, spice and barley sweetness. The long finish is a bonus too.
Glendronach 18 Years Old Allardice
The Glendronach 18 Years Old Allardice was up next. The word 'Allardice' simply referred to the founder James Allardice. The 18 Years Old is made of 100% oloroso casks which make the whisky drier and spicier. The nose also holds some leathery notes while the long finish is tannic and astringent.
Glendronach 21 Years Old Parliament
Moving on, we came to the Glendronach 21 Years Old Parliament. Now, the name Parliament has a special story behind it. It has nothing to do with the government or politics. It actually means a flock of crows! A group of crows is called a parliament. Why is there a reference to crows? According to Stewart, the men operating on the illicit stills of the past depended on the ravens to alert them of excisemen in the area. As they hid deep inside the forest, any disturbance by the excisemen would cause the crows to make noise. That became a signal to the illicit stills operators!
The Glendronach 21 Years Old is again, made up of 80% oloroso casks and 20% PX casks. The prolonged maturation allows the PX-influence to shine, making this expression sweeter and yet, rich and robust. The long finish is a balance of caramel sweetness and tannic dryness.
BenRiach
Stewart moved on to BenRiach soon enough. BenRiach sat 600 miles from Longmorn and was mothballed in 2002. Fortunately, Billy Walker bought the distillery and reopened it in 2004. Since then, the distillery has been growing rapidly and moving from glory to glory. Today, BenRiach has some of the richest Speyside spirits and excellent peated ranges that are highly sought-after.
BenRiach also used water with more minerals, which produces more esters during long fermentation. As a result, BenRiach is very fruity even at a young age. Interestingly, BenRiach also has one of the most extended middle cut in their spirit bank, which makes for a fascinating distillery tour as you get to taste the different new make at different cuts.
BenRiach 10 Years Old
The BenRiach 10 Years Old uses a combination of bourbon, virgin oak and sherry casks. Boasting notes of honey, butterscotch, vanilla, grapefruits and zesty citrus, it is perfect as a dessert whisky. The long finish helps to keep the fruitiness in the palate long after you swallow it. This is one whisky that is ideal as an introduction to a non-whisky drinker too!
BenRiach 30 Years Old Authenticus (Peated)
The BenRiach 30 Years Old Authenticus is a unique peated expression. Peated at 55 ppm, it is considered a heavily peated whisky. Now, a highland peated whisky is different from an Islay whisky, mainly because of the peat that was used. Highland peat does not produce the iodine element that you usually associated with Islay peat, making it less pungent and more fragrant. This expression is a combination of American and sherry hogsheads.
The 30 Years old boast some spice notes before a breathe of smoky peat comes thru beautifully. Sweetness than comes in before turning into dry, herbaceous notes. The finish is long and dry.
BenRiach 35 Years Old
The BenRiach 35 Years old is a sherried expression. Unlike whiskies using first-filled sherry butts, this expression used a refill sherry hogshead. Stewart shared that sherry hogsheads are hard to come by, and are usually heavily-used. Hence, the BenRiach 35 Years Old likely used one which has been reused several times before.
That probably explains the unusual notes that we get. The 35 years old is both sweet and grassy with medium spice that dissipates quickly. A yummlicious whisky for sure, and one that may confuse you just a little!
Event Ending
The event ended fairly quickly after that and Stewart did a round of autographs before bidding all of us good-bye. It was a great insight into Glendronach and BenRiach, and we look forward to more tasting sessions in the future!
Like what you have just read?
https://www.whiskygeeks.sg/wp-content/uploads/2018/03/Glasses.jpg
800
800
Zerlina Zhuang
http://www.whiskygeeks.sg/wp-content/uploads/2017/07/logo_WhiskyGeeks-300x138.png
Zerlina Zhuang
2018-03-25 15:17:56
2018-03-28 20:39:15
Event: Private Tasting of Glendronach/BenRiach by Brown Forman